The E-Mini S&P may have hit the near-term high Tuesday. Some reports as of late such as retail sales, payrolls and housing numbers have been slightly better packed with hopes of some form of easing possibly coming from the central banks in September.
The market may simply drift within this upper channel until some of the meetings to come either solidify or null the potential stimulus expected. The US Federal Reserve meets September 12th and 13th. The European Central Bank has its next policy meeting on September 6th. The European Union finance ministers hold their meeting September 14th and 15th.
Wednesday @ 2pm EDT, the US Federal Reserve will release the minutes from the July 31st to August 1st meeting. The Fed has already embarked on $2.3 trillion in bond buying through QE1 and QE2. The markets are still looking for some fresh QE3 as the economy has fallen back from previous growth targets.
Any potential QE3 would pressure the US Dollar and create a "risk on" trading environment. It is thought that should the Fed initiate another stimulus plan that it may engage in buying mortgage-backed securities. Technology stocks led the market lower on Tuesday.
Hewlett-Packard is forecast to post a quarterly loss. The US chemicals sector, on the other hand, is anticipated to increase its growth in the third quarter. The American Chemistry Council reported the Chemical Activity Barometer increased by 0.4 % to 89.4 this month. The moderate growth relates to chemicals such as chlorine, alkalis, pigments, plastic resins and other industrial chemicals essential to the industry in the US.
Volume is light and the uncertainty is still evident in the trade.The CBOE Volatility Index increased 6.6% to 14.95 which is considered a fear gauge of sorts. Facebook was down 4.1% to $19.19. Best Buy Co. was down 0.7% to $18.04. Urban Outfitters was up 18.3 % to $37.00. Over the past 12 twelve trading sessions, 8 of those back to back session represented the tightest range in the Dow in the past 62 years.
The words of European Central Bank (ECB) President Mario Draghi still permeate the marketplace with hopes that the ECB will do what is necessary to keep the Euro FX and economic stability in the Euro Zone! It is thought that the ECB may initiate action to be sure that the Spanish and Italian borrowing costs remain sustainable. Yields on the Spanish 10-year bonds decreased to 6.24%. The Italian yields also dropped today. Greece is to meet with the European Union, International Monetary Fund and the European Central Bank leaders to secure their next bailout tranche despite the reform targets being unmet to date.
Greece is lobbying to extend the target reforms two years as the country is in a deep recession with unemployment high and further government cuts worth about 5.5% of their GDP. The monthly T-Bill sales seems to be Greece's total source of market funding with the ECB holding about $3.0 billion euros in government bonds.
Germany's Constitutional Court will announce its decision on the permanent Euro Zone bailout plan and the reforms on September 12th. As growth is monitored and austerity measures are imposed on the fragile nations, the market will regard action in the Euro Zone as positive. Any retraction from the Euro leaders may be regarded as extremely negative for the market.
On the stock side: JP Morgan Chase and Co. (NYSE:JPM) was up 2.47 % to $38.29. Citigroup Inc. (NYSE:C) was up 2.40 % to $30.70. Bank of America (NYSE:BAC) was up 0.37 % to $8.18. Alcoa Inc. (NYSE:AA) was up 0.23 % to $8.82. Boeing Co. (NYSE:BA) was down 0.76 % to $73.27. Caterpillar Inc. (NYSE:CAT) was down 0.39 % to $90.09. General Electric Co. (NYSE:GE) was down 0.24 % to $20.88. Halliburton Co. (NYSE:HAL) was up 0.46 % to $35.16. Hewlett Packard Co. (NYSE:HPQ) was down 2.69 % to $19.55. SPDR Select Sector Fund - Financial (NYSEARCA:XLF) was up 0.20 % to $15.20.
E- Mini S&P 500 Chart.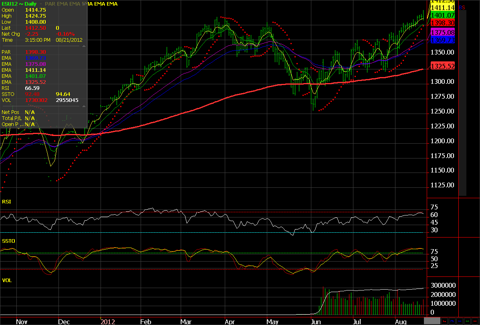 Click to enlarge
We maintain a bullish bias unless the (September) E-Mini S&P 500 penetrates $1398.25! We anticipate an inside to lower day. Tuesday's range was $1424.75 - $1408.00. The market settled at $1412.50. Our comfort zone or point of control for this market is to be $1416.00. Our anticipated range for Wednesday's trading is $1424.50 - $1401.50.
Disclosure: I have no positions in any stocks mentioned, and no plans to initiate any positions within the next 72 hours. I wrote this article myself, and it expresses my own opinions. I am not receiving compensation for it (other than from Seeking Alpha). I have no business relationship with any company whose stock is mentioned in this article.