BluePhoenix Solutions (BPHX) a leading provider of value-driven legacy modernization solutions was absolutely pounded Thursday on the heels of a couple of analyst EPS downward revisions. The Israeli company saw its stock fall more than 30% as analysts viewed the strong Israeli shekel as impacting earnings.
As reported in the Tech Trader Daily:
Roth Capital's Nathan Schneiderman notes that Blue Phoenix has nearly 30% of its headcount in Israel, vs. less than 10% of its revenue. He notes that the shekel has appreciated 5% against the dollar since the company provided guidance on May 1.

Craig-Hallum's Jeff Van Rhee made a similar call this morning, lowering EPS estimates "to reflect currency and increasing macro challenges internationally.
Both analysts lowered future earnings estimates. Schneiderman cut his estimates by about 7-8%. So why should the stock have gotten crushed by 30%? It's not exactly like BluePhoenix has been soaring and investors are being brought down to earth. It's not exactly a secret that the Shekel has been strong.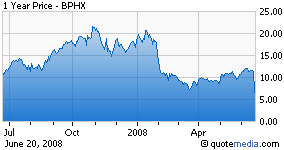 I find it hard to believe that investors were "shocked" to see that currency issues would impact earnings. At IOI we have been speaking about this issue for months. In fact both analysts have new $15 price targets. Even pre-rout that was a 50% premium to where it was trading, now at under $7/share we have a target more than 100% above the current stock price.
I am certainly not saying to run out and buy the stock. I am saying something strange is at play here. They are basing their call for '09 on continued shekel strength and too much exposure to the financial sector. Have these analysts turned in forex traders?
Are they predicting that the shekel will rise for another full year? Neither one of these issues is new, so why are they only waking up now and dropping numbers? After all the shekel has been surging higher for more than a year, and we all know that banks will probably chop some IT spending in order to cut costs.
Is this another case of analysts making a call after the fact? If so keep an eye on BluePhoenix, as it may potentially turn into a juicy contrarian play.
Disclosure: The author's fund has a position in BPHX as of June 20, 2008.