As Apple (NASDAQ:AAPL) has continued rallying to new all-time highs, some have questioned whether this company, and this stock, can continue to grow. Today, I'm going to look back at what has made Apple so great in recent years, look forward to show why there is still plenty of possibility for this name, and describe why this stock is still a must own. So here is Apple's strength, by the numbers.
487.59% - Percentage increase in 9-month net income over past three years:
One thing that investors don't realize when it comes to Apple is that net income has actually risen faster than you would think. Because Apple was not buying back shares, the diluted share count actually rose by about 40 million shares from the fiscal third quarter of 2009 to the fiscal third quarter of 2012. So, with the share count rising, net income was actually rising faster than earnings per share.
The following table shows both the net income and earnings per share growth for Apple in recent years, as well as a three year total increase. Now, this is only for the first nine fiscal months (three quarters) of the year, since Apple hasn't finished the year yet. Still, the numbers are quite impressive.

If you said that Apple grew its bottom line number by 463% over the past three years, you'd be shortchanging them by more than 24%. From the first nine fiscal months of 2009 to 2012, Apple's net income rose from $5.7 billion to $33.5 billion. That is quite impressive.
Why am I making such a big deal of this? Well, it is because Apple has had misleading growth - in a good way. Think about another large tech name, Cisco Systems (NASDAQ:CSCO). Cisco just reported earnings per share of $0.36 in its most recent quarter, up from $0.33 in the same quarter two years ago. Think that's good? Well, as I recently pointed out, Cisco's net income actually dropped by $18 million, or nearly 1%, over that time! Earnings per share only rose because they bought back so many shares.
We've seen this with other large tech names too, like Intel (NASDAQ:INTC) and Microsoft (NASDAQ:MSFT). Earnings per share are rising faster than net income just because of stock buybacks. So basically, Apple has performed even better than those names than you might think. Now, Apple has stated that it will begin repurchasing some shares to cover things like executive option dilution. We haven't seen yet if that will completely stop the rise in Apple's diluted share count, or if perhaps the diluted share count will actually start to decline. Until then, realize that Apple has done even better than most people realize!
5 - Full percentage point decrease in operating expenses as a percent of revenues:
One thing I notice when I pass by an Apple store is that there are always plenty of employees in the store. Compared to some other "traditional" retailers out there, it appears that Apple's in-store service is quite good. Now, does Apple have too many employees, and would a cut in employees be a good thing? I don't think so, especially if it would cause a drop in customer service. Recent rumors of some international layoffs were quickly dismissed. An Apple executive says that Apple is actually hiring retail workers, and that is the way to go.
If Apple had too many employees, its costs would be just way too high. Well, contrary to what you might think, Apple has actually found ways to decrease its operating expenses as a percentage of revenues over the past few years. Just look at the following chart showing both R&D expenses and selling, general, and administrative expenses as a percentage of total revenues. Again, this is for each fiscal year's first three quarters.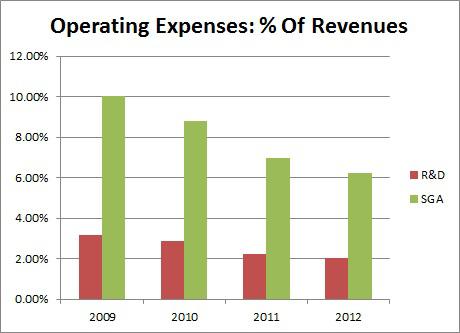 A four full percentage point drop in SG&A costs as a percentage of revenues combined with some relief in R&D costs has really helped operating margins, as seen in the table below. Apple's gross margins over the nine-month period have risen by more than 5.5% in the past three years, but operating margins have skyrocketed by 10.5%. Has this hurt Apple in terms of sales? Not really, and there is still some more operating expense relief that can be squeezed out.

4 - Number of main products, rank for iPod:
We all know about Apple's four main products: the iPhone, iPad, Mac, and iPod. Let's look at the iPod right now. That product is in the declining stage of its history, as the iPhone and other gadgets have rendered the iPod almost useless.
Right now, the iPod is on pace to do approximately $6 billion in revenues for Apple in the fiscal year. Now, when I say $6 billion, I'm just talking about sales of iPods. I'm not counting anything from iTunes or anything else, just iPod sales.
$6 billion puts the iPod as the lowest ranking of the four main products in terms of sales dollars. That might not surprise you, but this might. If the iPod was the only product that Apple sold, it would still have yearly revenues larger than an estimated 1/3 of the companies in the S&P 500 (within a few here and there, I haven't got an official total, but it is approximately 175 or so).
When your fourth best selling product outsells roughly 1/3 of the companies in the S&P 500, you're going to do quite well.
36 - Billion dollars in domestic cash:
Yes, Apple had approximately $117.2 billion in cash and investments on the balance sheet at the end of the latest quarter. But as they noted on the conference call, $81 billion of that was held overseas. Unless we get a tax holiday, it is unlikely for now that Apple will bring that $81 billion (and growing) back to the U.S. and pay taxes on it.
What is Apple going to use this domestic cash for? Well, they've already started paying a dividend, but they also have plans to buy back some stock. Apple expects to return about $45 billion to shareholders over the next three years. Of that, $10 billion was authorized for the buyback, meaning about $35 billion would be used for dividends.
But I wouldn't be surprised to see Apple spend a bit more than that. As I've been discussing with Apple, the buyback probably will only cover executive option dilution, and if they were to spend $10 billion over 3 years, it probably would still send the share count higher (wouldn't fully negate the dilution from executive options and the like). Also, Apple could raise the dividend a bit more if they really wanted to, because it's not like they don't have the cash. Now, I'm not saying that they will return $100 billion to shareholders in three years, but I wouldn't be surprised when all is said and done to see $50 billion to $60 billion, especially if the next iPhone does as well as many think it will.
So where does Apple's dividend stand up against other competitors and top tech names? Well, at $2.65 per quarter, Apple's current yield on Tuesday's close is 1.62%. I've compared it versus three tech names I've already mentioned, plus I've thrown in Dell (NASDAQ:DELL), Hewlett-Packard (NYSE:HPQ), and Oracle (NYSE:ORCL). Apple just started its dividend, and is already yielding more than Oracle. Dell also just started its dividend, and is yielding about a full percent more per year, but Apple is offering a lot more growth. While Apple probably won't challenge the yields of the other four names in the next year or two, it probably will have a competitive yield at some point. Until that point, you're getting a lot more growth than any of these other names.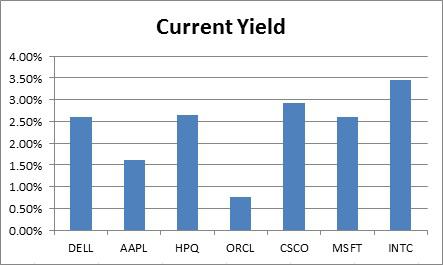 14.87 - Price to earnings valuation based on this fiscal year's expected earnings per share.
I keep reading articles about how Apple's P/E is so extremely low when compared to other names, to the market, etc. Interestingly enough, Apple's P/E right now is a bit higher than it has been, just because Apple hit a new 52-week high on Tuesday before turning lower. In fact, the stock is up about $80 since its post earnings low.
Based on the current expectation for $44.11 in earnings per share this fiscal year, which ends in September, Apple trades for 14.87 times that value. Where does that figure in against recent years? Well, I've compiled a table showing the highest and lowest P/E values for Apple, based on the actual earnings in that fiscal year and the highest and lowest prices of that year. Now, that means that the P/E could have been higher or lower depending on where expectations were, but these values represent where things ended up.

The four-year average, using all 8 of these numbers, is actually 13.66, meaning Apple is trading above the average. Now I'm not saying that Apple is overvalued here, not by a long shot. I'm just saying it is above the average at the moment thanks to the recent rally.
But in my opinion, I think that Apple's stock price going forward will be thanks to earnings per share increases, and not valuation increases. Don't forget, the stock buyback will start to help out earnings per share figures soon. I just don't see the stock trading at 20 times expected earnings again anytime soon. I've been stating in past Apple articles that I was giving my price targets for the name based on a 15 P/E multiple. Based on this year's expectations, that gives a target of $661.65 for the end of this fiscal year. Of course, if Apple beats those expectations, and ends up with say $45-$46 in earnings this fiscal year, the target would be slightly higher. If I apply that 15 multiple to next year's current analyst estimate of $52.49, you get a rough price target of about $787.
Conclusion - It's great being great:
Apple has obviously dominated in the past couple of years, and it doesn't appear to me that anything different will happen in the near future. A new iPhone is about to launch that will spur the next round of Apple's growth, and who knows what else they have in the pipeline.
Today, I've shown a bunch of Apple numbers that may not always appear in the headlines. They all point to one thing in the end, and that is Apple's greatness. Apple has two of the hottest products on the planet right now, and the company is now paying a dividend and buying back stock. There are several reasons to own this stock now.
As for Tuesday's pullback in the stock, it was inevitable. We all know that the stock would decline at some point, it can't continue up in a straight line. In fact, if we get some bad economic news, particularly out of Europe, I wouldn't be surprised if we retreated back to $625. At that price, about half of the recent run up would have been retraced. In the end, this is a name that all long-term investors must own (I'm a trader, so I don't own it right now). As I have recommended in the past, buy this name on pullbacks. The post-earnings one was a great opportunity, and I feel you're getting another one here.
Disclosure: I have no positions in any stocks mentioned, and no plans to initiate any positions within the next 72 hours. I wrote this article myself, and it expresses my own opinions. I am not receiving compensation for it (other than from Seeking Alpha). I have no business relationship with any company whose stock is mentioned in this article.