I made the case for a short position in Deere & Company (NYSE:DE) on July 9th after a 15% jump in the shares and a warning from the Food & Agricultural Organization (FAO) about weak agricultural production for this year. Investors had been betting that higher grain prices would put more money in farmers' pockets and lead to sales for the $30 billion equipment manufacturer. I wrote that high grain prices were a matter of supply constraint and not growth in demand so would not necessarily lead to increased revenues for producers.
Shares dipped more than 6% last week when the Illinois-based company missed per share earnings expectations and lowered its guidance for full-year profit on weakness in the international market and "short-tem manufacturing inefficiencies." While the company admitted to weaker overseas growth, sales forecasts for the United States and Canada were held constant and it is in these forecasts that I think threatens the shares with further downside risk.
Company Clings to Hope in the Domestic Market
Chairman and CEO Sam Allen was optimistic about sales growth in the domestic market saying that drought conditions could drive the need for the company's, "highly productive agricultural equipment." I would agree that higher productivity would help farmers minimize the effect of lower yields, but the farmers need to first have the free cash to buy the machinery. The drought has pushed yields down to historic levels and higher prices will only benefit those farmers that did not pre-sell portions of their crop in the futures market.
The stock rebounded 2.5% through the end of last week as the market bet that the selloff was overdone. Even with the drop in price last week, the shares are still relatively expensive versus peers in the industry. Deere & Company trades for 10.2 times trailing earnings versus 8.2 times for Joy Global (NYSE:JOY) and 9.2 times for shares of CNH Global (NYSE:CNH).
I called for a long position in Joy Global in the same article warning investors about weakness in shares of Deere & Company. Weakness in global mining and commodities has driven shares of the $5.9 billion manufacturer down more than 40% from highs this year even though the company has grown revenues by a compound annual rate of 14.4% over the last ten years. The company is extremely well run with a net margin of 13.2% last year, more than twice the average of 6.4% for peers in the industry. While buyout hopes for Joy Global have been taken off the table, any rebound in the Chinese economy and metal commodities will boost the shares.
The bet on Joy Global has returned 1.2% while the short in Deere has returned 4.9% for a total return on the position of 6%, beating a 4.7% gain in the S&P500 over the period.
Problems for Farmers Could Get Worse
One problem still on the horizon of which no one is talking about is the obligation of farmers to deliver grain sold in the futures market earlier in the year. Producers often use the futures market to lock-in a price for their crop and promise to deliver the grain later in the year. Many farmers are now looking at their fields with significantly lower yields and wondering where they will get the grain to deliver on those contracts. They may now need to go back to the market to buy back those contracts at higher prices.
Deere & Company had $19.45 billion in net financing receivables on its balance sheet (10-Q) at the end of the last quarter with less than $200 million in allowances for bad debt. What happens when farmers are faced with unexpected debts and unable to make payments or upgrade their equipment?
A historical perspective is helpful, though you have to go back more than two decades for comparison. Most have been comparing current conditions with the drought of 1988. From June to September of that year, shares of Deere lost more than 15% and underperformed the S&P500 by more than 10% on fears of a slowdown in agricultural spending.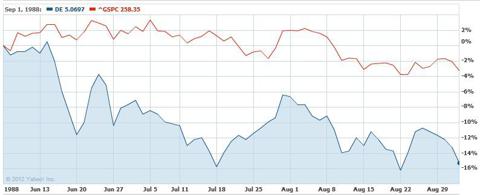 Even with recent weakness, the shares are flat for the year and up 8.5% since the beginning of June. The company's sales are more highly diversified internationally than they were in 1988 but North America still accounts for almost 60% of total sales. The company still managed to increase net sales in 1989 though sales for the two years after that were flat. This makes sense as the order cycle for heavy equipment is about one year advanced so pressures on farmer's pocketbooks should start to show in Deere's sales in coming quarters.
Disclosure: I am long JOY. I wrote this article myself, and it expresses my own opinions. I am not receiving compensation for it (other than from Seeking Alpha). I have no business relationship with any company whose stock is mentioned in this article.