As other fertilizer stocks rocketed towards new all time highs, Potash Corp (NYSE:POT) remains nearly 50% below the levels back before the crash from the financial crisis. In fact, CF Industries (NYSE:CF) hit a new all time on Monday.
The company produces and sells fertilizers and related industrial and feed products primarily in the US and Canada. The company is one of the largest producers of potash, nitrogen, and phosphate, all essential nutrients required to help farmers grow healthier, more abundant crops.
With a market cap near $37B, the company is a major global force in the above fertilizer markets with a primary share of profits coming from potash.
On the financial side though, the company has missed earnings estimates on a consistent basis the last year. The second quarter was no exception as earnings of $1.01 missed analyst estimates by $0.01.
Q2 2012 Highlights
The company reported the following highlights for Q2 2012:
Record second-quarter earnings prior to a non-cash impairment charge of $341 million ($0.39 per share1)
Second-quarter earnings reported at $0.60 per share
Offshore potash sales volumes of 2 million tones set a new quarterly record
Third-quarter 2012 earnings guidance of $0.70-$0.90 per share
Maintained full-year 2012 earnings guidance but revised to $2.80-$3.20 per share due to the adjustment for a second-quarter impairment charge
While earnings missed estimates, the company still reported record Q2 earnings. Sometimes investors need to focus more on the substance of the numbers versus the estimates.
The main growth driver remained offshore potash sales volumes combined with record contributions from nitrogen.
Market Conditions
The earnings call was full of positive market commentary especially with expectations for the U.S. and Indian markets to return to the market in 2013 in force after a couple of years of low potash applications.
The projections were that the potash market would grow in 2013 to 60 million tons from a rough expectation of 54 million tons in 2012. These forecasts from nearly a month ago still bear some merit as world demand for food is expected to continue growing. Also, India and the U.S. must return to the markets at some point. The long-term story surely hasn't changed much.
The drought conditions in the U.S. also back up a theory that record plantings will take place next year in order to make up for the destroyed crops this year.
Production Curtailment
Last week brought several news stories about production curtailments for potash.
Bloomberg reported that OAO Uralkali might cut Q3 output because of weak demand.
This follows news that Potash will shut the Lanigan mine for a month. The closure cuts production by 275K metric tons.
Vale SA (NYSE:VALE) also announced plans to postpone a $3B potash project in Saskatchewan. The mine is expected to produce nearly 3 million metric tones per year. Though just delayed, the company set no timeline for the construction to begin. Vale is a major world producer of iron ore that has come under pressure. It remains unclear whether the mine delay has more to do with iron ore or potash.
Stock Chart
The chart continues to show lower highs and lower lows. This formation is very bearish as the stock failed around $50, $48, $46, and now $44 in successive attempts to move higher. It could head much lower now.
12 Month Chart - Potash Corp.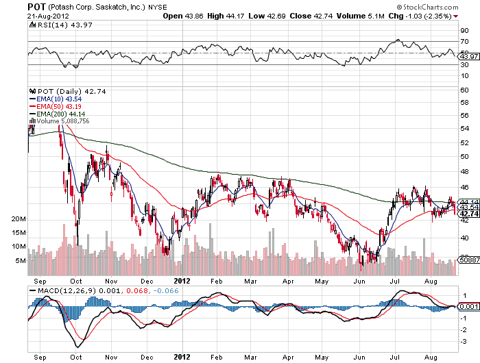 Conclusion
Significant long-term agronomic demand will continue to push the need for more fertilizer products offered by Potash. Unfortunately the timing of this scenario is far from certain.
No guarantee exists that the Indian subsidy will be altered to favor higher use of potash regardless of the forecasts of experts. Also, U.S. demand is not guaranteed to return anytime soon if the severe drought has reduced the use of existing potash applications.
Investors in fertilizer stocks should review the destruction in the coal stocks over the last year. The sector appeared to have unlimited demand for both thermal and metallurgical coal until it came crashing down due to lower nat gas prices and a slowdown in China.
Potash probably has a strong future as the company presented on the earnings call, but that doesn't mean the timing is a certainty or that the stock price will be higher months from now.
Buy this stock on weakness for long-term growth, but don't rush out to buy it anytime soon. Investors should wait until the stock suggests that demand growth has returned.
Disclosure: I am long VALE. I wrote this article myself, and it expresses my own opinions. I am not receiving compensation for it (other than from Seeking Alpha). I have no business relationship with any company whose stock is mentioned in this article.
Additional disclosure: Please consult your financial advisor before making any investment decisions.