The market for memory storage is experiencing a sea change, with popularity shifting from hard disk drives (HDDs) to a faster and less volatile technology called solid state drives (SSDs). This shift is leading to consolidation among companies producing HDDs, while offering new growth opportunities for those producing SSDs.
OCZ Technology (NASDAQ:OCZ) is one such company that stands to benefit greatly from this shift. San Jose-based OCZ has been a trailblazer in SSD technology for both the consumer and enterprise markets, and management is now looking for 80% revenue growth y/y for its current fiscal year. Meanwhile this high growth has not been fully priced in, and OCZ's market value is still lower than last year's sales of $366M. We believe the stock's untenable short position of 79% will lead to a short squeeze as other investors begin to appreciate OCZ's growth potential.
Long-term memory storage has traditionally been dominated by hard disk drive technology, which uses a mechanical device of magnetic heads and spinning disks - similar to a floppy disk - to read/write and store data. This structure makes HDDs vulnerable to mechanical problems not shared by solid state drives. SSDs use flash memory (via semiconductors) rather than mechanical moving parts, so the data is more reliable and isn't lost if the system's power source is interrupted. Although SSDs are more expensive and have lower capacity than HDDs, SSDs also have faster access and transfer speeds, they are more energy efficient, and they are less complex. SSDs should continue to eat at HDDs' market share as their capacities improve and their prices converge with those of HDDs - this relies on the evolution of semiconductors.
OCZ Technology has been a big force in the SSD movement, "being one of the first major consumer brands to bring solid state drives to the market," according to the company's website. OCZ was the first to implement the Indilinx Barefoot controller with SSD solutions to produce the Vertex Series. They then created two unique SSD series, Vertex Turbo and Agility, to focus on higher performance and greater affordability.
OCZ stock has been on a roller-coaster ride this summer after talk surfaced of a potential takeover by HDD-producer Seagate Technology (NASDAQ:STX). When the story came out in mid-July, OCZ spiked 22% to $5.57 a share. The story has since died down and today the stock trades at $5.26; however, the story underscores the fact that HDD-producing companies such as Seagate are realizing that they need to adopt SSDs as their HDD technology ages and semiconductor technology evolves.
Last month OCZ released their first quarter earnings report for FY13 that pointed to big growth on the horizon, but the market didn't bite. The quarter's bottom line came in lower than expected at $0.17 loss a share, leading to a swift and undeserved 20% drop in stock price over the following days. Net revenue was a record $113.6M for Q1, or an increase of 54% from the same quarter in 2012. OCZ also achieved record bookings of almost $140M, pointing to higher order activity with their Vertex 4 and Agility 4 product lines being launched that quarter. The lower-than-expected earnings were primarily due to higher marketing and R&D expenses as OCZ continues to seek market share from HDD producers.
Looking forward, OCZ expects net revenue for FY13 ending February 28, 2013 to be between $630-700 million, or approx. 80% growth at the midpoint. Consider that OCZ only has a market value of $355.84M as of last Friday's close.
Short sellers are still holding on, but perhaps not for long. OCZ's short position is at an unsustainable 79.3%.(Short position calculation based on 67.65M shares outstanding, 35.3M shares held by institutions and 0.41M shares held by insiders leaves 31.94M share float. 25.34M total shares shorted.) OCZ's high revenue growth is due to a long-term trend toward SSD technology. As the market accepts this and OCZ's revenue projections are realized, the company will begin to command a fairer valuation.
Below is OCZ's performance in 2012, from Yahoo Finance.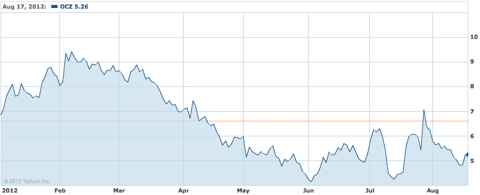 Disclosure: I am long OCZ and may change my position in the next 72 hours. I wrote this article myself, and it expresses my own opinions. I am not receiving compensation for it. I have no business relationship with any company whose stock is mentioned in this article.