At the end of July, Dynex Capital (NYSE:DX) issued a preferred stock. As many readers know, I like the preferred stock asset class and try to flesh out new and/or interesting investments within this asset class. Due to the preferred issuance, I began to look into this mREIT and found it was not as straightforward as many of its peers. Hence the somewhat cryptic title of this article/analysis.
Let me explain the title before I get into the company. Dynex Capital has been around for 20 years, which is a long time for a mortgage REIT to exist. During this lifespan, it cut the dividend for 10 years as a result of blowing up its portfolio (1998 - 2008). The company reinstated the dividend in 2008 and it currently yields 11%. Twenty, 10 and 11%.
Issuer Description:
Dynex Capital is a REIT which invests in mortgage loans and securities on a leveraged basis. The company invests in both Agency and non-Agency securitized mortgage products. The company also has investments in securitized single-family residential and commercial mortgage loans originated by the company from 1992 to 1998 (the blow up year). The company finances its investments through a combination of repurchase agreements, securitization financing and equity capital.
The Portfolio:
As of June 30, 2012 their portfolio was comprised of the following: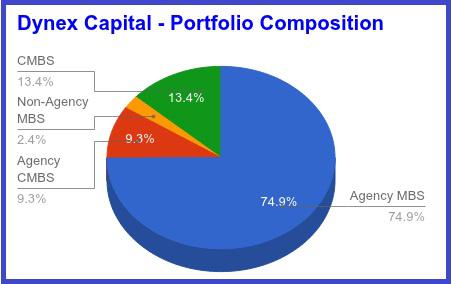 Note: Agency MBS are FNMA DUS, which are the agency equivalent of CMBS.
I do like the inclusion of FNMA DUS and CMBS as they will not have the same characteristics/attributes of the RMBS portfolio.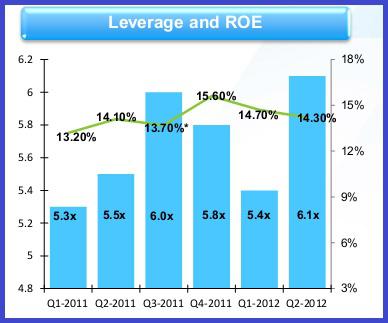 Dynex's operating policies limit the overall leverage of the company to seven times shareholders' equity capital, up to ten times equity capital invested in Agency MBS, and six times equity capital invested in non-Agency MBS. Currently, Dynex at 6.1x still has headroom to increase its leverage.

Click to enlarge
As the above table shows (from the 10Q), downside caused by rising rates is contained and manageable.
The Ugly Years:
Dynex discontinued its dividend in 1998 as a result of losses piling up in the commercial mortgage segment and its consumer finance sectors. During 1999, as a result of the difficult market environment for specialty finance companies such as the company, Dynex sold both its manufactured housing lending operations and model home purchase/leaseback business. Additionally, to conserve capital and to minimize its recourse borrowings, the company decided in the fourth quarter of 1999 not to extend approximately $255.6 million of forward commitments to fund commercial mortgage loans and to sell versus securitize the commercial loans the company held in inventory. At the same time, it exited the multi-familty business.
Management:
Thomas B. Akin (59) has been a director of Dynex Capital, Inc. since May 2003, Chairman since May 30, 2005, and on February 4, 2008 accepted the position of Chief Executive Officer of the Company. Mr. Akin also founded and has served as the managing member of Talkot Capital, LLC, which is the sole general partner of the Talkot Fund, L.P., located in Sausalito, California, since 1995. Mr. Akin is also a limited partner of the Talkot Fund, L.P. From 1981 to 1994, Mr. Akin held various positions at Merrill Lynch Institutional Services. Prior to Merrill Lynch, Mr. Akin was an employee of Salomon Brothers from 1978 to 1981.
The Talkot Connection. The Board of Directors has waived its ownership limitation with respect to Talkot Capital, LLC, of which Mr. Thomas B. Akin, the Chairman and Chief Executive Officer, is managing general partner. Per the terms of the waiver, Talkot Capital may own up to 15% of the outstanding common stock on a fully diluted basis, provided, however, that no single beneficial owner has a greater than two-thirds ownership stake in Talkot Capital.
In response to the improvement in the portfolio and the opportunity seen early in 2008, Dynex supplemented the management team. The company added Byron Boston to the mortgage asset management group as Chief Investment Officer.
Debt:
While Dynex does not have publicly tradeable debt, it is important to know some of the details of the borrowing vehicles as they often help determine operating policies and are, ultimately, the life blood of a levered mREIT.
On August 6, 2012 Dynex entered into a master repurchase agreement with Wells Fargo. The Repurchase Agreement provides for a two-year facility with an aggregate maximum borrowing capacity of $200 million and is set to mature on August 6, 2014, subject to early termination provisions contained in the Repurchase Agreement.
The Repurchase Agreement and the Guarantee Agreement contain representations, warranties, covenants, events of default and indemnities that are customary for agreements of these types. The Guarantee Agreement also contains financial covenants that require the Company to maintain at all times:
(NYSE:A) a ratio of "Consolidated Indebtedness" to "Consolidated Net Worth" not greater than 9.0 to 1.0;
(NYSE:B) "Liquidity "of not less than $30 million; and
Preferred Stock:
On July 27, 2012, Dynex issued 2 million shares of series A preferred stock (this is actually what made me look at this mREIT). Details of the offering are:

Click to enlarge
Here is how this preferred stock measures up relative to mREIT peers Annaly Capital (NYSE:NLY), American Capital Agency (NASDAQ:AGNC), MFA Financial (NYSE:MFA) and Armour Residential (NYSE:ARR):

Click to enlarge
Equity:
The first thing investors notice with this company is the dividend yield. Double digit yields can be enticing.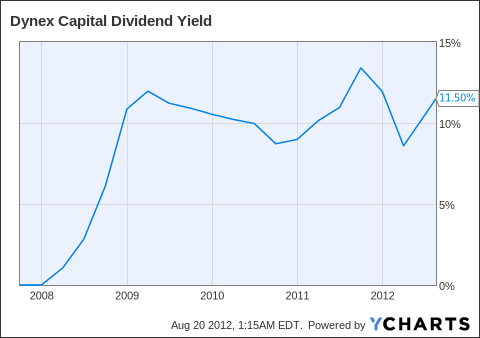 DX Dividend Yield data by YCharts
The company continued to pay dividends during the 2009-2010 period when most cut their dividends (of course, would they really hammer shareholders by cutting again?).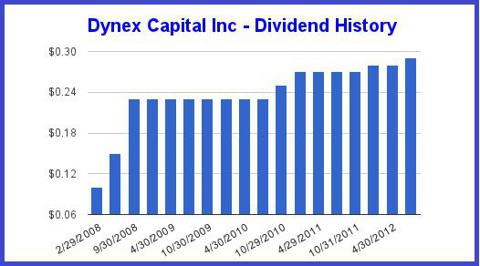 Click to enlarge
Something to be aware of however:
As a REIT, DX is required to distribute to shareholders as dividends at least 90% of taxable income, which is income as calculated for tax, after consideration of any tax net operating loss (NOL) carryforwards. However, unlike other mortgage REITs, Dynex's required REIT income distributions may be limited into the future due to the reduction of future taxable income by NOL carryforwards.
As a result of Dynex's common stock offering in February 2012, they have incurred an "ownership change," which limits the company's ability to utilize its NOLs to a certain amount per year. The company has determined that the ownership change will limit its ability to use its NOL carryforward to offset taxable income to an estimated maximum amount of $13.4 million per year. The NOL carryforward expires substantially beginning in 2019.

Click to enlarge
As the table above shows, Dynex's returns outpace all peers over time with the exception of American Capital Agency Corp.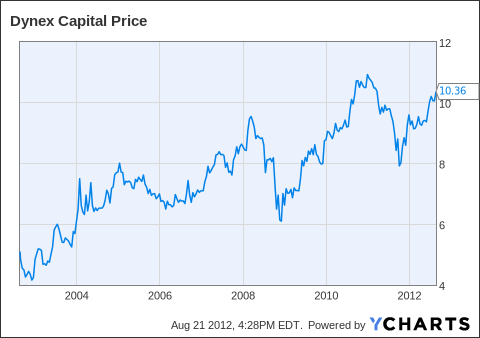 Bottom Line: Dynex's portfolio mix is compelling, given its use of FNMA DUS and CMBS to compliment its agency MBS holdings. While the company has been paying dividends for nearly four years, I am always suspicious of a REIT (or a company) that cost shareholders dearly for an extended period of time. Management is new, but the stigma remains.
The total returns have been favorable versus most of their mREIT peers and the portfolio's sensitivity to changing rates is modest. It must be noted, however, that the risk of this mREIT is not directly comparable to agency mREITs or CRE mREITs as it is somewhat of a blend of both. I like the portfolio composition and the hedged profile, but have a hard time getting past the lost decade. Because management has changed and the portfolio has changed from the ugly years, the REIT is a viable candidate for inclusion into an income focused portfolio, but must be watched closely.
Disclosure: I have no positions in any stocks mentioned, and no plans to initiate any positions within the next 72 hours. I wrote this article myself, and it expresses my own opinions. I am not receiving compensation for it (other than from Seeking Alpha). I have no business relationship with any company whose stock is mentioned in this article.
Additional disclosure: This article is for informational purposes only, it is not a recommendation to buy or sell any security and is strictly the opinion of Rubicon Associates LLC. Every investor is strongly encouraged to do their own research prior to investing.