In this article, I take a look at Pfizer Inc. (NYSE:PFE), a drug manufacturer. Following the executive summary, we'll examine the industry, the financial performance and position, and the valuations.
Executive Summary
Pfizer is trading near its high of the year. The valuations are extended, as we have seen the valuation multiples expand. Pfizer is overvalued. We haven't seen Pfizer's share price start to decline, but there are signs of investors distributing shares. I believe the valuation could decline 33 percent, but $19-20 is the initial potential support zone. I don't think the valuations will decline because of sales growth. We are in a low growth rate economy and sales probably won't increase fast enough to bring the valuation down. Pfizer's investors tend to be dividend investors, however, it takes buying to put up a stock. At this level, buyers probably aren't willing to purchase shares of Pfizer.
Industry
Typically, healthcare companies are non-cyclical. The companies typically have stable cash flows and high dividend yields. Drug firms have historically created value for investors. Their return on invested capital has been higher than their weighted average cost of capital. The industry typically has high barriers to entry. For drug manufacturers, there is the threat of substitute products when their proprietary drugs are off patent. Initially, their customers don't have much, if any, bargaining power. And the industry typically isn't supplied with unionized labor. The suppliers of labor don't have much, if any, bargaining power.
Pharmaceuticals is a mature industry with little or no growth, industry consolidation and high barriers to entry. Industry growth is limited to replacement demand and population expansion. The companies should have brand loyalty and efficient cost structures. The industry usually avoids price wars. Companies in the industry with superior products or services are likely to gain market share and experience above-industry-average growth and profitability. However, the industry does face a potential threat from biotech.
Rating System
Buy - Be long
Neutral - No position
Sell - Be short
(The ratings, research and analysis in this article should be considered as a starting point for further research.)
Pfizer -- Neutral or Sell
Investment Thesis
Pfizer is a fundamentally weak healthcare firm. Compared to Merck, Johnson & Johnson, and Abbott Labs, Pfizer is the weakest fundamentally. Pfizer investors should consider investing in Johnson & Johnson or Abbott Labs. Both are better investments. However, Pfizer investors may want to wait for a decline in the share price of the other healthcare firms before adding positions. Traders should look for short selling opportunities.
Company vs. Industry [TTM]
Return on Assets: 4.67 vs. --
Return on Investment: 5.59 vs. --
Return on Equity: 10.49 vs. --
(The management effectiveness ratios courtesy of Reuters.)
Enterprise Operations
Pfizer's sales in 2012's second quarter decreased 8.7 percent compared to the year-ago quarter to $15.05 billion. Operating income increased 24.6 percent to $4.48 billion. The operating margin expanded compared to the year-ago quarter. However, net income increased 24.5 percent to $3.25 billion. Comprehensive income attributable to Pfizer declined 76.6 percent to $867 million. During 2012's first six months compared to 2011's first six months, comprehensive income declined roughly 50 percent. A foreign currency translation loss of $1.98 billion caused the decline in comprehensive income. On a price-comprehensive EPS basis Pfizer is overvalued.
Current assets increased 3.4 percent compared to 2011's fourth quarter. Long-term investments increased 7.5 percent to $10.55 billion. Total assets decreased 2.7 percent to $182.84 billion. Total current liabilities increased 6.5 percent to $30.8 billion. Pfizer became less liquid. The current ratio decreased from 2.10 to 1.91. The cash ratio decreased from 0.92 to 0.79. Long-term debt decreased from $34.93 billion to $30.87 billion. Total liabilities were roughly unchanged. The long-term debt to equity decreased from 0.42 to 0.39.
More important than earnings is the quality of earnings, and Pfizer's earnings are high quality. However, the company didn't generate enough cash from operations to cover its investing activities and financing activities. Further, the firm issued $3.76B of short-term debt in the first six months of 2012. Pfizer is paying dividends and repurchasing shares by issuing short-term debt. Paying dividends and repurchasing shares by issuing debt is unsustainable. Cash decreased $151 million to $3.03 billion. The cash balance is less than the quarterly dividends and share repurchases.
The financial performance was weak. The financial position is solid. Cash flow management could be improved. Pfizer certainly isn't the best firm in the industry.
Segments
Pfizer has a well diversified portfolio. The established products and emerging market segment reported strong revenue growth in the second quarter of 2012 compared to the year-ago quarter. However, the primary care, and specialty care and oncology segments reported declines in revenue.
Litigation
There is an enormous amount of litigation Pfizer faces. The impact of the litigation could have a short-term material impact on earnings and cash flows. It doesn't seem as though the firm faces long-term adverse material impact from litigation.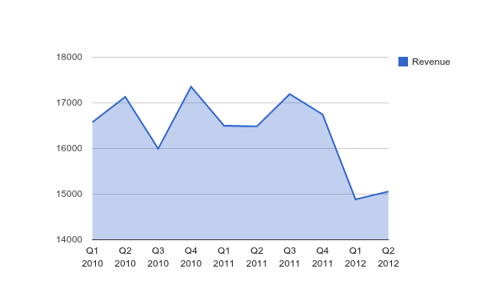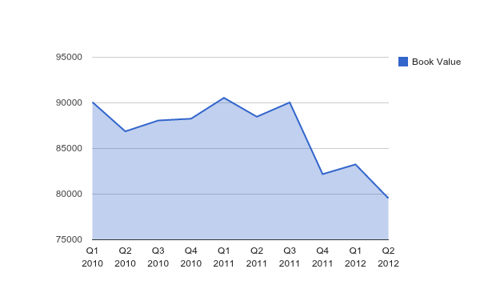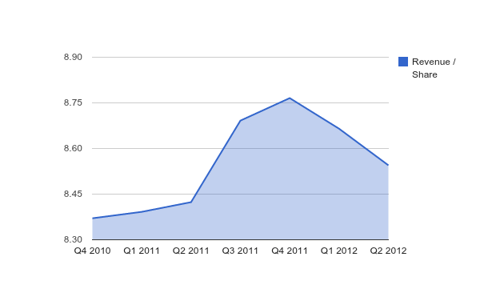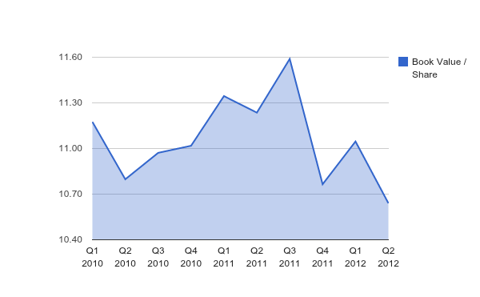 Revenue, book value, revenue-share, and book value-share are declining: The declines are bearish indications. The share price of Pfizer is diverging with the fundamentals of the firm. The divergence is unsustainable, and either the fundamentals will improve, or the share price will decline.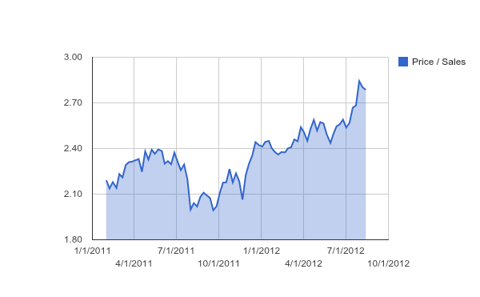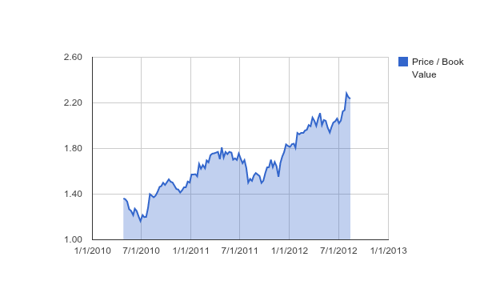 The price-sales and price-book value ratios suggest Pfizer is overvalued. Three times sales are expensive for shares of Pfizer. Investors should accumulate shares at roughly two times sales.
Disclosure: I have no positions in any stocks mentioned, and no plans to initiate any positions within the next 72 hours. I wrote this article myself, and it expresses my own opinions. I am not receiving compensation for it (other than from Seeking Alpha). I have no business relationship with any company whose stock is mentioned in this article.