Emerging economies have gotten caught up in the Eurozone drama, but a few have managed to confirm an uptrend. The countries and focused exchange traded funds of Poland, Taiwan and South Korea have managed to gain investors interest and are on a turnaround.
For example, the iShares MSCI Poland Investable Market Index (NYSEARCA:EPOL) yields 5.53% and is up about 18% the past three months. The fund is not heavily exposed to the financial services sector and leans toward energy and materials. The economy of Poland is not overly reliant on exports.
Poland is expected to post positive economic growth this year, possibly due to the fact that the economy can sustain itself domestically, reports The ETF Professor on Benzinga.
South Korea's economy was able to rebound in early 2012, mostly in response to the Greek Bailout Package in March and positive economic data coming from the U.S. The iShares MSCI South Korea Fund (NYSEARCA:EWY) is below its 52-week high of $66.43 a share, reports Jonathon Yates for Emerging Money. When Chinese economic growth recovers, EWY will rebound with the rest of Asia.
EWY is up 12% for the trailing month.
"The broad market slump after March 2012 has pretty much wiped out gains from the first quarter. However, this also means that presently the markets are trading at an attractive valuation at current levels, indicating good entry points. Presently the markets look oversold and there could be subsequent and sharp market rallies," Eric Dutram wrote for Zacks.
Another emerging market ETF that has managed to trend up is the iShares MSCI Taiwan Index (NYSEARCA:EWT). Similar to South Korea, the Taiwan ETF is sensitive to the growth patterns in China and any economic news stemming from the U.S.
Taiwan is still in danger of a recession, and the GDP forecast for 2012 has been reduced to 1.66%. Taiwan's local tech sector is a major force of growth for the economy but has faced stiff competition from Chinese exporters lately.
EWT has gained 9% the past month.
iShares MSCI Poland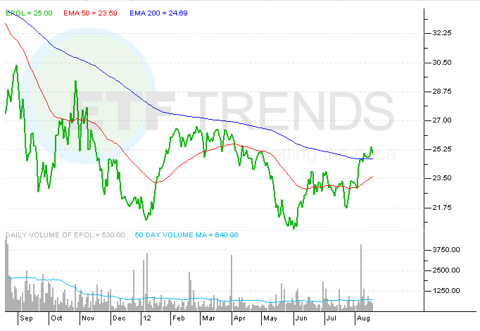 Tisha Guerrero contributed to this article.
Disclosure: I have no positions in any stocks mentioned, and no plans to initiate any positions within the next 72 hours. I wrote this article myself, and it expresses my own opinions. I am not receiving compensation for it (other than from Seeking Alpha). I have no business relationship with any company whose stock is mentioned in this article.