Commodity Chart Of The Day
Daily Cocoa
(click image to enlarge)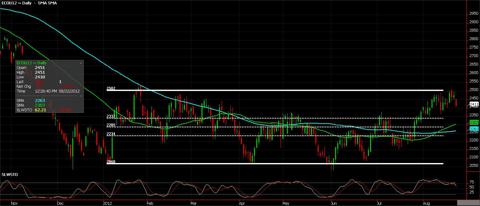 This week, cocoa prices came very close to challenging their January highs, failing just a few dollars short, as seen in the chart above. Prices are off 3% in the last three sessions, as it appears they are making their way lower.
My suggestion is to have bearish exposure in this contract, as long as prices remain under 2500. Use the Fibonacci levels as your downside targets. A 50% Fibonacci would drag prices back under 2300, a level last seen in late July. If the U.S. dollar finds its footing, do not rule out a trade under 2200.
Risk Disclaimer: The opinions contained herein are for general information only and not tailored to any specific investor's needs or investment goals. Any opinions expressed in this article are as of the date indicated. Trading futures, options, and Forex involves substantial risk of loss and is not suitable for all investors. Past performance is not necessarily indicative of future results.
Disclosure: I have no positions in any stocks mentioned, and no plans to initiate any positions within the next 72 hours. I wrote this article myself, and it expresses my own opinions. I am not receiving compensation for it (other than from Seeking Alpha). I have no business relationship with any company whose stock is mentioned in this article.