In this article I take a look at Chipotle Mexican Grill, Inc. (NYSE:CMG), a restaurant. We are going to evaluate Chipotle as an equity investment. We'll examine the industry, valuations, and financial statements.
Industry
Chipotle operates fast-casual Mexican food restaurants. The firm most closely competes with Taco Bell. Additionally, Chipotle also competes with McDonald's (NYSE:MCD), Wendy's (NYSE:WEN), Burger King Worldwide (BKW) and other fast-casual restaurant operators. Chipotle is in the services sector.
Typically, firms in the services sector are less geared to the economic cycle. Chipotle is growth non-cyclical. The industry is mature: The fast-casual restaurant industry in the U.S. isn't going to have high sales growth rates. In some countries the industry is in the growth stages. Additionally, some firms within the industry are growth firms and some benefit from growth in high growth countries. Chipotle is a growth firm that primarily operates in mature markets.
The fast-casual restaurant industry is competitive in terms of the threat of substitute products and the bargaining power of customers. The supply chain of fresh, naturally grown ingredients may not be scalable and suppliers of ingredients have pricing power. The industry has low barriers to entry and rivalry can be intense. There is an oversupply of restaurants which leads to price cutting.
The restaurant industry is a tough business to earn a profit. Chipotle is a valued brand and is increasing revenue and net income annually. Chipotle has the potential to become one of the largest fast-casual restaurant chains in the United States.
Rating System
Buy - Be long
Neutral - No position
Sell - Be short
(The ratings, research and analysis in this article should be considered as starting point for further research.)
Chipotle -- Buy
Investment Thesis
When I consider the valuation, financial performance and position, and the industry, I think Chipotle is a good investment. Valuations can decline more and the share price hasn't formed a technical bottom yet. That said, the play is to wait for a bottom and get long Chipotle. Fundamentally it is a good company.
Enterprise Operations
According to the company's financial statements, current assets increased almost 24 percent in the second quarter of this year compared to the fourth quarter of 2011. The increase in current assets is mostly attributable to an increase in income tax receivable and investments. Total assets increased 15.7 percent to $1.64 billion. The increase in total assets is mostly attributable to an increase in long-term investments and net plant, property and equipment. Total current liabilities declined 4.7 percent to $150 million. Chipotle became more liquid as the current ratio increased from 3.18 to 4.13. The decline in total current liabilities is mostly attributable to a decline in income tax payable. Total liabilities increased 1.6 percent to $387 million. The increase in total liabilities is mostly attributable to an increase in deferred rent. Chipotle isn't carrying debt and is firmly solvent.
Total revenue in the second quarter, compared to the year-ago quarter, increased 20.8 percent to roughly $691 million. Operating expenses increased 14.2 percent to $557 million. The operating margin increased from 14.7 percent to 19.4 percent. Net income increased 61 percent to $81.7 million. Comprehensive income increased 58.8 percent to $80.6 million.
In the first six months of 2012 earnings were high quality. Cash from operations wasn't enough to cover cash used in investing activities. However, the cash provided from an excess tax benefit on stock-based compensation was enough to increase the cash balance during first six months of the year. The cash balance at the end of the first six months was $404.80 million. Cash from operating activities was roughly the same as cash from operating activities during the year-ago period. The cash flow performance ratios declined during the period as financial performance exceeded operating cash flow performance.
New Restaurants
The total number of restaurants increased 16.4 percent in 2012's second quarter compared to the year-ago quarter. If Chipotle continues to open restaurants at a double-digit growth pace, the valuation may continue to represent the premium investors pay for growth. Revenue grew faster than total number of restaurants increased.
Legal Risks
There isn't any long-term material risk from legal cases that the company is disclosing.
Company v. Industry [TTM]
Return on Assets: 18.01 v. --
Return on Investment: 19.83 v. --
Return on Equity: 23.84 v. --
(The management effectiveness ratios are courtesy of Reuters.)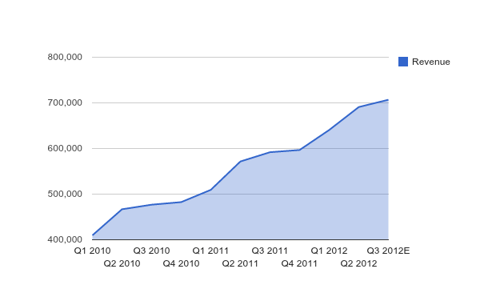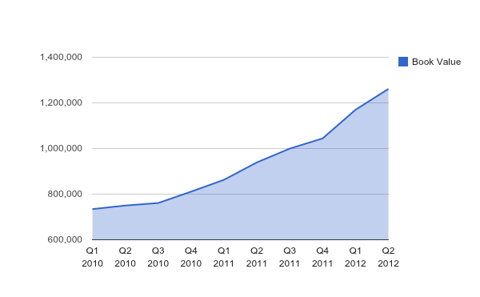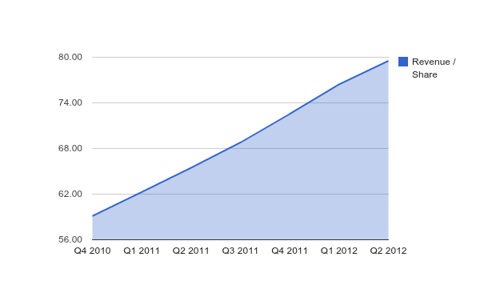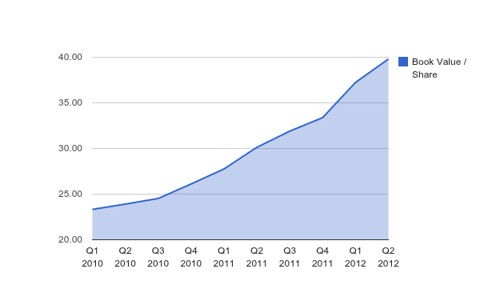 The fundamental indicators presented suggests investors accumulate shares of Chipotle. In other words, revenue and book value are increasing which is bullish for the share price of Chipotle.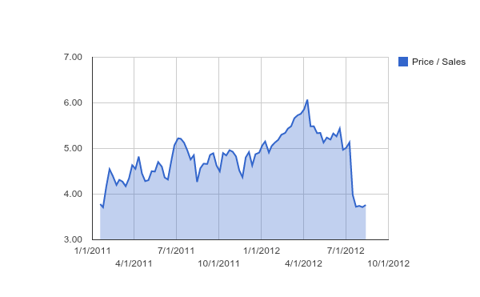 The price-sales valuation metric declined recently. Typically, I like firms to trade in the 1-3 times sales range. I consider some growth firms to be solid investments in the 3-5 times sales range. There is substantial room for Chipotle's valuation to decline, however, I feel comfortable with the valuation in the current range.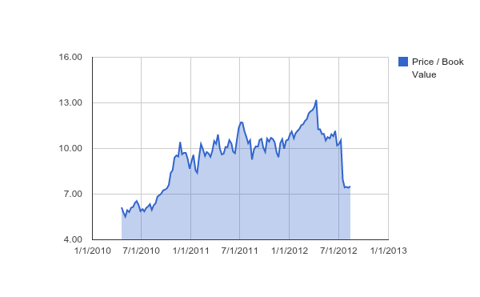 The relatively high price-book value ratio suggests investors perceive the growth opportunities of Chipotle to be favorable. Further, the valuation metric declined nearly 50 percent from its peak and is at pre-2011 levels.
Disclosure: I have no positions in any stocks mentioned, and no plans to initiate any positions within the next 72 hours. I wrote this article myself, and it expresses my own opinions. I am not receiving compensation for it (other than from Seeking Alpha). I have no business relationship with any company whose stock is mentioned in this article.