Small cap healthcare companies are quite often speculative, offering no profit but tremendous potential upside. Finding one that is already profitable and has a lot of upside would be nice, of course. Finding one that is already really profitable and offers upside would be even better. Are there any stocks like that?
We ran a screen on Yahoo Finance and got back 12 healthcare companies with a market capitalization between $100 million to $4 billion and a Price-to-Earnings multiple under 10. They are:
| | | |
| --- | --- | --- |
| Company Name | Ticker | P/E |
| Universal Health Services | (NYSE:UHS) | 9.508 |
| Wellcare Health Plans | (NYSE:WCG) | 8.794 |
| Community Health Services | (NYSE:CYH) | 8.722 |
| Taro Pharmaceutical Industries | (NYSE:TARO) | 8.605 |
| Health Net Inc. | (NYSE:HNT) | 8.633 |
| PDL BioPharma | (NASDAQ:PDLI) | 5.646 |
| Spectrum Pharmaceuticals | (NASDAQ:SPPI) | 7.95 |
| Exelixis Inc. | (NASDAQ:EXEL) | 9.977 |
| SciClone Pharmaceuticals | (NASDAQ:SCLN) | 6.762 |
| China Cord Blood | (NYSE:CO) | 9.573 |
| Five Star Quality Care | (NYSE:FVE) | 3.132 |
| MedCath Corporation | (NASDAQ:MDTH) | 2.404 |
Spectrum Pharmaceuticals jumps out as one that might be the most intriguing. In another article we laid out 3 reasons to buy Spectrum, but in the end urged caution. Here are three reasons why to sell Spectrum:
1) The CEO is Dumping Shares
Sell Spectrum, everyone else is!
(click to enlarge)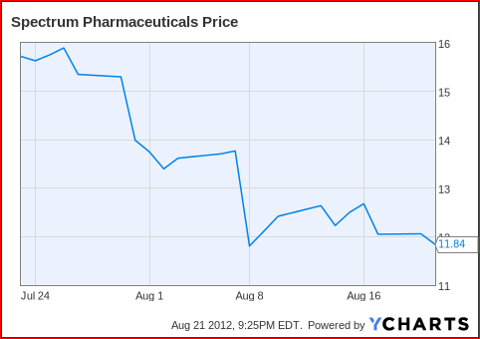 Click to enlarge
The stock has really been getting hammered, shedding 25% of its value in the last month alone. That didn't stop CEO Rajesh C. Shrotriya from selling several million dollars worth in the mid 12's last week:
(click to enlarge)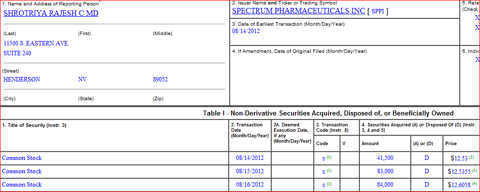 Click to enlarge
That's a lot of shares to sell off after a huge decline, right? You would think a CEO would be buying shares after a pole-axing like that. Indeed, this self-same CEO has his firm buying shares back - a lot of them:
Spectrum Pharmaceuticals, a biotechnology company with fully integrated commercial and drug development operations with a primary focus in hematology and oncology, today announced that the Company's Board of Directors has approved an increase in its stock repurchase program authorizing the repurchase of up to a total of $100 million of the Company's common stock. The Company was previously authorized to repurchase up to $25 million of its stock.

"Spectrum's Board of Directors and senior management have confidence in our Company's prospects and believe repurchases of Spectrum stock represent an attractive opportunity to enhance long-term shareholder value," stated Rajesh C. Shrotriya, M.D., Chairman, President and Chief Executive Officer of SpectrumPharmaceuticals, Inc. "This program gives us the opportunity toinvest in our stock as we need to. We believe that the current shareprice represents a significant discount to the intrinsic value of the Company. We will be starting to purchase stock today."
This looks terrible. On August 10th the CEO says "Spectrum's Board of Directors and senior management have confidence in our Company's prospects," so he authorizes using shareholders cash - nine figures worth! - to buy back shares. Uh, his own shares apparently because within a week he sells more than $2 million worth of his own shares - right into the teeth of a sell-off. This looks really bad.
On the message boards people have been defending "Raj" (some have, most are critics) selling his shares because:
he still has plenty of shares
he is in his 70s
it was part of a 10b5-1 plan enacted in July
To which I say:
True, but so what? He's the CEO.
True, but he is still working. His compensation last year from Spectrum was almost $3 million in cash. He does not need the income or have any need to behave (financially) like a typical 71 year old. He very likely wanted to sell, not needed to sell.
True, but those plans can be cancelled at any time. He wanted to sell and knew the price he would be getting if he did not cancel.
This alone is enough for me to say stay away from Spectrum, at least for now.
2) The Allos Deal May Be Doomed
Spectrum has been trying to get its hands on Allos Therapeutics (NASDAQ:ALTH) for its lymphoma drug Folotyn all Summer long, and it is not going well. They have made offers and extended the deadline again and again, most recently last week:
The offer, which was previously scheduled to expire at 5:00 p.m., Eastern time, on Monday, August 20, 2012, has been extended until 5:00 p.m., Eastern time, on Tuesday, September 4, 2012, unless extended for an additional period.
It may be for the best, AMAG Pharmaceuticals, Inc. (NASDAQ:AMAG) tried to merge with them last year and could not work it out. Rich Duprey:
sales of Folotyn are less than stellar and some question where AMAG failed to go.

Spectrum offered Allos $1.82 a share, along with the prospects of an $0.11-per-share cash boost if it got approval in Europe, but European regulators just killed off that option so there's no chance there will be a milestone payment being made. Spectrum has had to extend its tender offer for Allos' shares four times since the bidding began, but the number of shares tendered have actually fallen since the original tender date expired on May 24. Back then, more than 85 million shares were tendered, or 80% of those outstanding; the current amount tendered after the latest extension stood at more than 63.5 million shares, or 59% of the total.
This will-they-or-won't-they could end in heartbreak, it is not going well and it could mean more pain for Spectrum's share price.
3) Fusilev Has Competition
Spectrum's main drug Fusilev is not alone, there is competition coming from generics, Rich Duprey:
With Teva Pharmaceutical (NYSE:TEVA) and other generic-drug makers diligently working to overcome manufacturing issues with a generic version of Fusilev, the market has started a countdown to when the drug's sales begin to falter.
Adam Feuerstein notes that Spectrum has slashed Fusilev's price to compete with generics:
The decision by Spectrum to offer deeper Fusilev price discounts in the second quarter suggests company executives are more concerned about competition from generic leucovorin than they state publicly. Fusilev sales have soared due to chronic supply shortages of the less expensive but clinically equivalent leucovorin. But if leucovorin supply returns to more normal levels, doctors treating their colon cancer patients might stop using the more expensive Fusilev and switch back to the cheaper generic alternative.
Fusilev is not Spectrum's only drug, but it is their main one and it could be in trouble.
Conclusion
Spectrum's CEO dumped millions of dollars worth of shares right after the recent pole-axing and days after announcing a mammoth buyback. The share price continues to slide. Spectrum has also been trying to acquire Allos Therapeutics for what seems like forever, and can't seem to close the deal. Add to that Fusilev's competition from generics and this company is problematic.
But, small healthcare companies like Spectrum can offer a lot of growth potential, and Spectrum is the rare one that is profitable. Not only are they profitable now but they have a ton of cash. They are executing and there are things to be excited about for this business.
Spectrum has valid reasons to go short or go long. In that situation you have to stay on the sidelines, there are better stocks to grab at these levels. One profitable play I like in this space is Obagi Medical Products (NASDAQ:OMPI). They have a growing prescription-grade skin care line, and as Scott Matusow has pointed out in the past they may be getting a tender offer.
Disclosure: I have no positions in any stocks mentioned, but may initiate a long position in OMPI over the next 72 hours. I wrote this article myself, and it expresses my own opinions. I am not receiving compensation for it (other than from Seeking Alpha). I have no business relationship with any company whose stock is mentioned in this article.