Below is an updated snapshot of where the various Wall Street strategists think the S&P 500 will end the year. Each week, Bloomberg surveys these strategists for their year-end S&P price targets. At the start of the year, the average year-end price target was 1,343.92. This would have corresponded to a 2012 gain of 6.86%. At its current level, the S&P 500 is up nearly double that at 12.4% year to date. So where do strategists as a whole currently think the S&P 500 will end the year. As shown below, the average year-end price target right now is 1,385.58. That's below where the S&P is currently trading, so they're collectively looking for a decline of 1.67% through year end.
At the moment, seven strategists have year-end targets that are higher than the S&P 500's current level, while five strategists have targets that are lower than its current level. A strategist whose current price target is highlighted in green has been increased since the start of the year, and vice versa for red.
As shown, HSBC currently has the highest year-end target at 1,490. This computes to a gain of 5.74% from now through year-end. Deutsche Bank is the second most bullish with a 1,475 target, while Bank of America and Oppenheimer are both at 1,450.
Morgan Stanley and Goldman Sachs are by far the most bearish on the market through year end. Goldman's year-end target is 1,250, which would be a decline of 11.29% from here, while Morgan Stanley's target of 1,167 is 17.18% below the S&P's current level.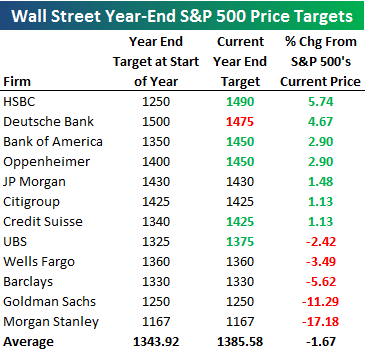 Below is a chart showing how the consensus year-end price target has changed throughout the year. As shown, the S&P caught up with the year-end price target quickly out of the gate and moved well above it by the start of the second quarter. Interestingly, strategists didn't lower their price targets when the market swooned this spring as they have done in the past. Instead, they have remained pretty steady around the 1,380-1,390 mark since May.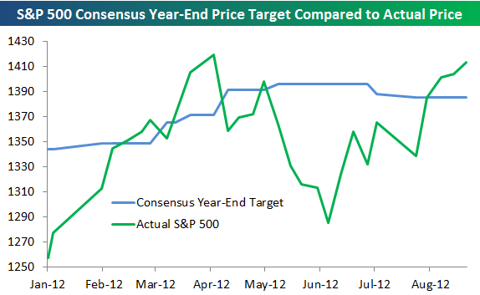 Click to enlarge