Wells Fargo (NYSE:WFC) is in a strong uptrend, but it's rather overbought at present -- so it would make sense to wait for a pullback before jumping in. From a long-term perspective, there are many reasons to like this bank. Its second-quarter earnings were one cent above Zack's consensus estimates, and this marked its 10th consecutive quarter of growth. Net income for the second quarter came in at $4.6 billion, up 9.5% sequentially and up 18% year over year. EPS for the second quarter came in at $0.82, up 17% year over year.
Here are some additional reasons to consider Wells Fargo:
Net income increased from $12.6 billion in 2009 to $16.2 billion in 2011.
EBITDA increased from $27 billion in 2009 to $30.2 billion in 2011.
It has a quarterly revenue growth rate of 5.10% and a pretty good quarterly earnings growth rate of 17%.
It sports a stellar dividend history, as it has been paying a dividend since 1939.
Annual EPS before NRI increased from $2.38 in 2007 to $2.82 in 2011.
It sports an income growth of 29% for the last 12 months.
If net income continues to come in at the current rate for the next two quarters, it will exceed the $17 billion mark, surpassing the total net income generated for 2011 by roughly $800 million.
Total return over the last 12 months of 41%.
It has a low payout ratio of 22%, which means it has plenty of room to increase its dividend.
$100,000 invested for 10 years would have grown to $179,000. If the dividends were reinvested, the rate of return would have been higher.
Other Highlights From the Second Quarter
Wells Fargo experienced strong loan and deposit growth. Total loans increased to $775.2 billion (up 1.1% sequentially) as of June 30, compared to 766.5 billion as of March 31, 2012. Its core loan portfolio increased by $13.8 billion from March 31, 2012.
Non-interest expenses dropped to $12.4 billion, a drop of 4.6% from the prior quarter.
Book value per share improved to $26.06 from $25.45 in the prior quarter.
It also completed the acquisition of BNP Paribas North American lending business.
Tier 1 common equity under Basel 1 increased to $101.7 billion, representing an increase of $2.2 billion from March 31, 2012.
It purchased 53 million shares of common stock in the second quarter, and is expected to purchase an additional 11 million shares through a forward purchase transaction that should be completed by the third quarter.
Checking and savings deposits increased by $12.5 billion from the prior quarter.
Net interest income for the quarter came in at $11 billion, up 1.4% sequentially.
Click to enlarge images.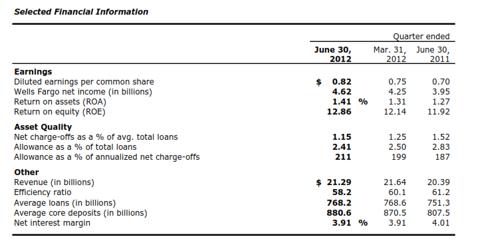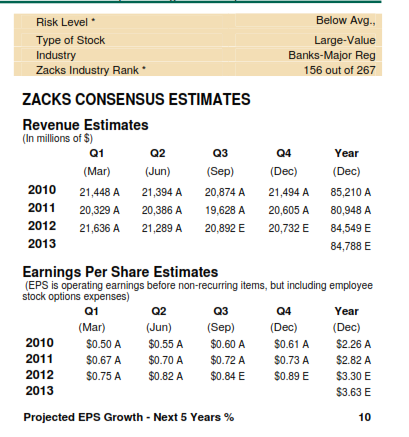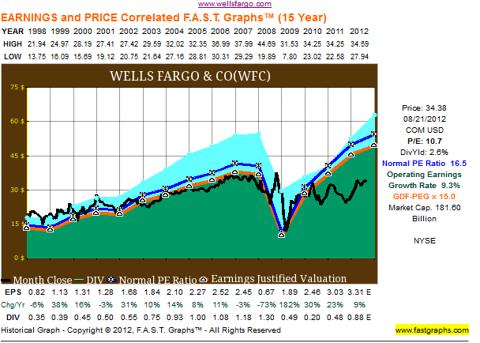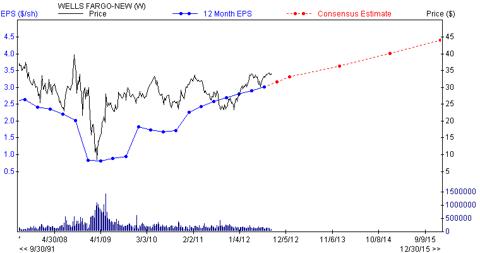 Technical Outlook
The stock is rather overbought at present, so it would make sense to wait for a pullback before jumping in. On the other hand, the market is still in a strong uptrend and after a minor pullback should trend higher. In this scenario, it would be best to divide your money into two lots.
Consider deploying one lot on a test of the $32.00-$32.50 range. Deploy the second lot if it trades down to the $29.00-$29.50 range. Alternatively, one could sell in-the-money puts if it trades down to the suggested ranges. If the shares are assigned to your account, your net cost will be significantly lower due to the premium you received. One good thing about selling puts is that if the shares are not assigned to your account, you at least get paid for your efforts.
Conclusion
The markets are in volatile phase right now. The SPX could very easily pull back to the 1360-1375 range before trending higher. It ran into resistance when it tried to break out past 1420, and if it does not close above this zone soon, there is a real possibility of it testing the 1360-1375 range.
Alternatively, a close above 1420 (especially on a weekly basis) should take it to the 1450 area. Wells Fargo is in a strong uptrend, so it should perform well if the market trends higher. Investors can either wait for the stock to trade to the suggested ranges or wait for the SPX to trade in the suggested ranges before committing new money to this play. When you compare it to large banks such as Citigroup (NYSE:C), Bank of America (NYSE:BAC), and JPMorgan Chase (NYSE:JPM), it is in much better shape from a fundamental and technical perspective.
EPS charts and some research data concerning second-quarter results obtained from Zacks.com. Second-quarter earnings data and selected financial information on Wells Fargo was sourced from WellsFargo.com

Disclosure: I have no positions in any stocks mentioned, and no plans to initiate any positions within the next 72 hours. I wrote this article myself, and it expresses my own opinions. I am not receiving compensation for it (other than from Seeking Alpha). I have no business relationship with any company whose stock is mentioned in this article.
Disclaimer: It is imperative that you do your due diligence and then determine if the above strategy meets with your risk tolerance levels. The Latin maxim caveat emptor applies -- let the buyer beware.