Shares of specialty finance company KKR Financial Holdings LLC (KFN) are up more than 19% over the past year. However, there are three reasons why KFN can continue to rally.
Options Activity
Option Monster reported on the high level of bullish options activity recently: a healthy number of January 10 calls were purchased. In total, more than 5,700 contracts traded against previous open interest of just 638 contracts. Overall, during the session, call volume outnumbered put volume 6,200 to 30. The large block trades likely represent institutional money. Institutional money is usually smarter, thus worth following. In summary, the recent options activity points to more upside ahead for KFN in the medium term.
Dividend Yield
Despite trading near a three year high, KFN still offers a solid 9.19% dividend yield. While the dividend yield does vary based on operating performance, recently, KFN has been, as shown by the chart below, increasing the dividend. Given the current interest rate environment, I expect funds to continue flowing into high yielding names such as KFN.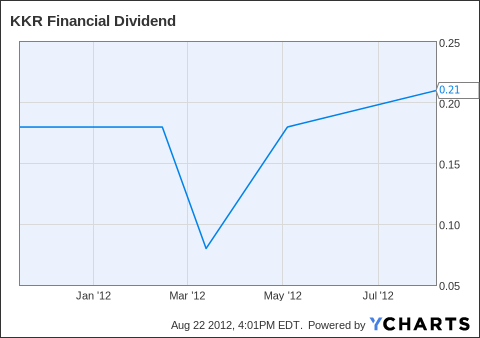 KFN Dividend data by YCharts
Valuation
As shown by the chart below, based on price to book value, KFN is not trading at a historic high. While it is difficult to make the argument that KFN is cheap based on this metric, it is also difficult to say KFN is overvalued based on this metric. Currently, KFN is trading at 0.935 times book value. In the past, KFN has traded at more than 1.25 times book value. KFN can continue to move higher without becoming expensive on a historical basis.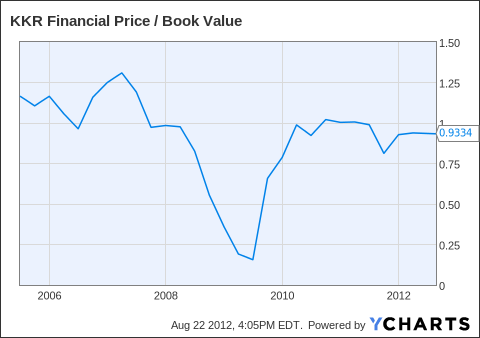 KFN Price / Book Value data by YCharts
Risks
The biggest risk for KFN going forward is weakness in the economy leading to an increased rate of defaults. KFN, with more than $6 billion in debt and just $1.6 billion in equity, is a highly leveraged investment. However, as shown by the junk bond market chart below (represented by ETF SPDR Barclays Capital High Yield Bond ETF, JNK) credit risks does not appear to be a worry right now. If investors start to lose faith in junk bonds, it could signal worries about the credit markets. Right now, that does not seem to be the case.
Conclusion
While KFN shares are up 19% over the past year, I believe the stock can continue to rally. The bullish options activity, high dividend yield, and fair valuation are all reasons why KFN can continue to rally. One risk that investors should monitor is the health of the credit markets.
Disclosure: I have no positions in any stocks mentioned, and no plans to initiate any positions within the next 72 hours. I wrote this article myself, and it expresses my own opinions. I am not receiving compensation for it (other than from Seeking Alpha). I have no business relationship with any company whose stock is mentioned in this article.