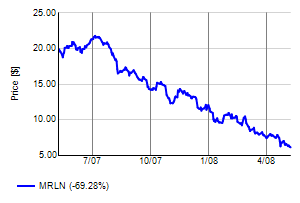 The first quarter results for Marlin Business Services (NASDAQ:MRLN) were issued late Thursday, after the stock market closed. Early in the morning, investors reacted with the stock falling to an all time low of $5.85. Later it closed at $6.12, lower than Thursday's $6.17. There appeared no rush to buy this stock on the hopes that the company would become more profitable.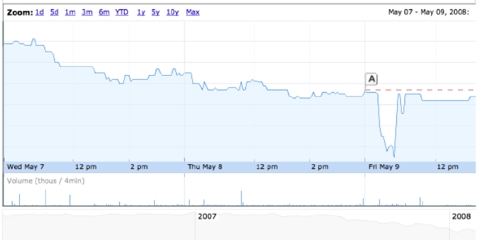 The first quarter net income was $1,359,000 compared to $5,027,000 the previous year's quarter.
Worse, yet, first quarter 2008 lease production was $70.6 million, based on initial equipment cost, compared to $102.7 million for the first quarter of 2007.
The full SEC filing was filed on Friday, May 9th, perhaps during the time of the conference itself. It has more details than the press release. The numbers also don't jive with the spin put on by Marlin, indicating in black and white that it is more than a lower approval percentage that is resulting in lower gross and net profit. It is not just that they may be turning down more leases. Their overall sales are down, while their expenses are up. It may be true they are turning down more applications, but at the same time, they are receiving less applications.
Numbers in quarters since March 31, 2007 to March 32, 2008:
The volume in leases per quarter (note decline not in percentage of approval ratio, as well as the rising expenses and number of employees.)
--all going down---

(in thousands of dollars)
$102,652
$97,260
$86,167
$87,670
$70,550
Average Monthly Sources
1,337
1,279
1,180
1,186
1,091
Number of Leases:
8,639
8,423
7,609
7,615
6,836
Approval Percentages
62%
58%
60%
56%
50%
Net income (in thousands)
$5,027
$5,178
$5,028
$3,053
$1,359
--going up--
Salaries and Benefits Expense (thousands of dollars)
$5,716
$5,113
$5,257
$5,243
$5,870
Total personnel end of quarter
311
324
331
357
354
Sales Personnel
96
97
105
118
108
Friday morning at 9am EDT, the three senior officers held a 50 minute "first quarter 2008 Earnings Call." Daniel P. Dyer, Chairman of the Board, Chief Executive Officer & Treasurer George D. Pelose, Executive Vice President, General Counsel & Secretary and Ms. Lynne C. Wilson, Senior Vice President & Chief Financial Officer were part of a fifty minute telephone dial in with six representatives, perhaps seven, stock brokerage firm representatives.
There appeared to be no press, no stockholder, no employee who owns stock, who asked questions,*let alone former president Gary Shivers who was forced to resign on December 20, 2006 with a lump sum of $365,500.00 on August 1, 2007, and bi-weekly payments thereafter of $28,810.59 until the 18 month anniversary of the Separation Date, as well as other reimbursements plus health benefits for 24 months. He also was to receive 138,390 "exercisable by Mr. Shivers for 90 days following the Separation Date, and options to purchase 45,191 shares will remain exercisable for two years following the Separation Date." It was worth over $3 million when he left.
Those who asked questions actually had statements to make, such as advising the three executive officers the company should purchase more stock at the low price it is now. They did not respond. Many of the questions centered on the "covenants with present bank lenders," which never received a direct answer, as well as the new industrial bank in Utah that is now part of Marlin Business Services.
Dan Dyer stated he saw no problem in obtaining access to capital from banks or other lenders, if need be.
George Pelose answered many of the questions regarding the Industrial bank. $11 million of their portfolio is there now, and it could go as high as $35 million in the next period, with a limit of $69 million, depending on audits, the health of the bank, and the portfolio itself.
The May 8th press release on year-end states:
The Bank has funded $18.5 million of leases through its initial capitalization of $12 million and its issuance of $10 million in certificates of deposit at a weighted deposit rate of 4.17%.
Pelose was asked several times about the write-off percentage. Pelose said it was less than the others in the Equipment Leasing and Finance Survey MLFI-25 in the over 60 day column for the last six months. He also stated a survey they paid Paynet to conduct showed a healthy low write--off compared to other leasing companies. The companies were not named, nor the actual results.
The May 8th press release states:
Leases over 30 days delinquent were 3.05% as of March 31, 2008, a 32 basis points improvement compared to 3.37% as of December 31, 2007. Leases over 60 days delinquent were 1.09% as of March 31, 2008 and 14 basis points higher compared to 0.95% as of December 31, 2007. Net lease charge-offs in the first quarter were $5.3 million, or 2.90% of average net investment in leases on an annualized basis compared to $4.7 million or 2.55% of average net investment in leases on an annualized basis as of fourth quarter 2007.
Pelose was questioned about an 18% decline in dealer approvals and basically repeated the line that credit approvals were higher and therefore fewer transactions were approved.
The message from Chairman Dyer that was repeated several times during the telephone conversation, almost in a broken record fashion: the company was both looking for "better quality, higher yields." This was his number one message, almost if quality and higher yields went together.
Marlin was said to be fortunate to have a 13.56% yield in April (new production year-end was 13.29%, according to the press release.)
George Pelose echoed Dyer, telling those on telephone line the FICO scores in the past averaged "703," but they were now "713." He stated the average time in business before was 18 years and now it was 21 years in business. He said the quality was improving. No one asked what FICO was, assuming it was a scoring system, or what other leasing companies FICO and/or Beacon were as well
as the norm with other leasing companies, let along asking if the industrial bank portfolio residuals were $1.00 option, PUT, fair market value options, or leases had "Evergreen clauses," which reportedly the copier leases utilize (Marlin's extra payment income was brought up as "extra income," but not explained.)
Asked about the near future, no one could guess what it would be, but they would continue to consider leases with "better quality, higher yields."
Near the end, they were questioned about improving the net profit. Dyer responded they would also be cutting expenses, starting with staffing. He did not elaborate.
*This was a closed forum, versus an open forum. The moderator chooses who speaks, and often can inquire about the question in advance, deciding to accept it or not to call upon the caller. The rules stated at the beginning were one question and one follow-up question only, which was not followed by the moderator. It is not known if there were others who had questions.
Disclosure: none