Since its IPO in 2007, Vanguard Natural Resources LLC (NYSE:VNR) has rewarded investors with a steadily increasing dividend and a significantly higher share price. However, over the last year-and-a-half, the share price growth has stagnated, pushing the yield on VNR shares well above its peers.
Vanguard Natural Resources is an E&P energy company with an emphasis on the P - production. The company's business model is to purchase producing oil and gas assets with long projected production lives and some potential for increased production through drilling. It its short history to date, Vanguard Natural Resources has completed a total of 15 acquisitions out of the 50 or so the company evaluates each year. After the most recent acquisition of natural gas assets in the Arkoma basin, the company has 136 MMboe of proved reserves. About one-third of the reserves are crude oil and about 14% natural gas liquids - NGL's - leaving just over half in natural gas.
Vanguard Natural Resources attempts to hedge the majority of its oil and gas production. Currently 80% of crude oil production through 2014 is hedged with a price floor of $90.89. For natural gas, 85% of projected production through the first half of 2017 at $5.11 MMbtu. About half of the crude hedging is done with collars, allowing some upside price participation.
Distributable Cash Flow Growth Slows
The current $2.40 annual dividend rate - 60 cents paid in July - is 4% higher than the dividend paid a year earlier. The distributable cash flow coverage was 1.4 times for the 2011 distributions and the company is forecasting a coverage ratio of 1.25 times in 2012 at the $2.40 annual rate. The current 8.5% dividend yield can be viewed as an indicator the market also believes dividend growth will be subdued. Still, 8.5% is a very attractive yield and any increases through then end of 2013 will be a positive sign.
Speaking of dividends, Vanguard has just announced the company is switching to a monthly dividend payment. During the recent earnings conference call, management indicated the change was made as a benefit to income investors and to allow the company to more quickly pass along distributable cash flow increases.
Investment Potential
Vanguard Natural Resources is an interesting alternative to the investor favorite in the L.P. energy E&P sector, Linn Energy LLC (LINE). Much of what Vanguard does is similar to the Linn business model. Currently LINE has a dividend yield of 7.4%. The share price of both LLC companies has been relatively level since the end of 2010. Investors looking for the extra yield and monthly dividends may consider Vanguard Natural Resources over Linn Energy.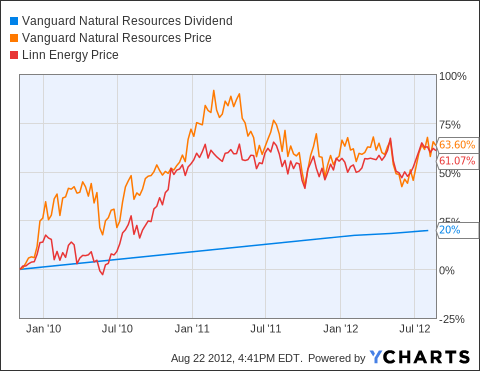 VNR Dividend data by YCharts
Additional Reading: Linn Energy Buying Cheap Assets From Struggling Competitors To Support Long-Term Growth
Disclosure: I have no positions in any stocks mentioned, and no plans to initiate any positions within the next 72 hours. I wrote this article myself, and it expresses my own opinions. I am not receiving compensation for it (other than from Seeking Alpha). I have no business relationship with any company whose stock is mentioned in this article.