Shares of Philip Morris International Inc. (NYSE:PM) have run up a very steady return of 32.23% over the past 12 months. The stock is now trading just slightly off from its 52-week high of $93.60 attained recently. A lot of investors favor Philip Morris due to its solid dividend yield of 3.4%, which appears to be well supported by the company's robust FCF (see below), as well as the company's solid market position in the defensive cigarette sector. However, after the rise, the stock's valuation has been elevated to a level that may have fully reflected all of PM's merits, and as such, a continuation of the current price momentum may look questionable. In this article, I will walk you through the thoughts that help to formulate my investment decision.
Click to enlarge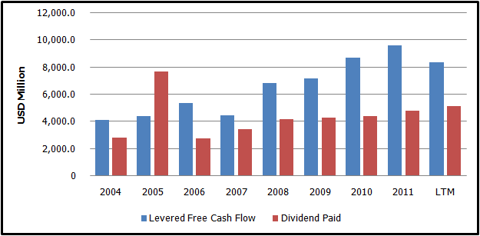 Click to enlarge
My value analysis includes Altria Group (NYSE:MO), Lorillard (NYSE:LO), and Reynolds American (NYSE:RAI) as PM's comparable peers. Let's first look at PM's relative financial performance.

Click to enlarge
1. Philip Morris is more profitable relative to its peers, but the difference is just marginal. PM's LTM gross margin is significantly higher than the peer average. But its EBITDA, EBIT, and net profit margins are only marginally better than the averages. PM's LTM ROE appears to be high at 339.7%, however, that is somewhat distorted by the company's high financial leverage - a debt to capitalization ratio of 99.3%. Lastly, compared to the peer average ROIC of 25.0%, PM's level at 39.9% is indeed very excellent (see table above).
2. Philip Morris has a strong capability in generating FCF, but the company's debt level remains a concern. The company has a superior LTM FCF margin, however its debt to capitalization ratio of 99.3% is significantly higher than the peer average of 76.1%. One bright spot is that PM can still maintain a healthy interest coverage ratio even with a heavy debt load. But both the current and quick ratios are substantially below the averages, suggesting a relatively mediocre balance sheet (see table above).
3. PM's growth potential is somewhat below the peer averages. Analysts forecast the firm's revenue, EBITDA, and EPS to rise by 2-year CAGRs of 3.6%, 4.5%, and 8.7% over the current and next fiscal years. Although the revenue estimation is higher than the 2.8% average, both PM's EBITDA and EPS growth is likely slower than the group's (see table above).
Overall, PM's financial performance and growth prospects are not much better the three peers'. Now, let's make some valuation observations.
1. At $90.85 per share, the stock is trading at 1.6x PEG, a lower level compared to the peer average of 1.9x.
2. PM's current price implies a valuation premium of 21.3% over the five peer-average trading multiples (assuming the valuation multiples have equal weights in determining the stock value) (see below). I am of the view that the stock appears to be fully valued with such a valuation gap, and therefore the investment's margin of safety may not be significant.

Click to enlarge
3. PM's key financial estimates are mostly at the same level as where they were 6 to 9 months ago (see below), but both the stock's P/E and EV/EBITDA multiples have expanded over the same horizon (see below) - an indication suggests that the stock is becoming expensive than before.

Click to enlarge

Click to enlarge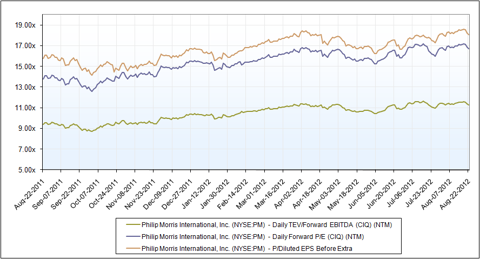 Click to enlarge
In conclusion, PM's fundamentals remain healthy, but may not completely justify the current stock valuations. One possible reason could be that yield-hungry investors have been pouring funds into stable dividend stocks, amid the volatile market environment. Given the decent dividend yield and the company's defensive nature, I am still a buyer, but only at a lower price. As such, I would wait for a likely pullback or sell out-of-money puts to establish a long position.
Comparable analysis and relative valuation tables are created by author, all other charts are sourced from Capital IQ, and all financial data is sourced from Morningstar and Capital IQ.
Disclosure: I have no positions in any stocks mentioned, but may initiate a long position in PM over the next 72 hours. I wrote this article myself, and it expresses my own opinions. I am not receiving compensation for it (other than from Seeking Alpha). I have no business relationship with any company whose stock is mentioned in this article.