As I wrote on June 3rd, Oilsands Quest (BQI) has now broken out. I'm not an extreme technician and not looking for any kudos, but I am happy for the recognition this powerhouse has finally achieved.
You see, the world clearly needs oil and the companies that are doing their part to solve the problem should be richly rewarded for their efforts.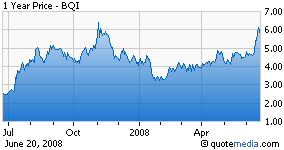 Oil is not water and when it is burned it is gone forever. That's a fact any smart investor can take as truth. What can't be taken as truth until confirmed are terms like speculation and Peak Oil. Plain and simple, oil burns, it's finite, and get used to it!
So, basing an investment on the confirmed truth that oil is finite should yield you some serious gains and that's where Oilsands Quest comes into play. They have the oil, 10 billion barrels of it, and they have the attention as of this week.
Even the street barker Jim Cramer has finally come to recognize this little darling of Saskatchewan. On Friday I had the extreme displeasure of watching him return from break sitting in a mini sand box with oil pylons in it. I got a little bit sick in my mouth when he mentioned my little darling and now I'll tell you why.
He tends to be a little scuzzy and uniformed at best. Here he is pumping my favorite and deepest investment and he doesn't even get the facts straight. A great pumper he is but a fact checker he is not! Ask the kind folks on the IV board if you want facts. That is a community of the most educated and dedicated investors I have ever seen. Pardon my digression and forgive my ramblings I'll proceed to the meat. Jim, you uninformed pumper, Oilsands Quest has had an independent evaluation of Axe Lake. McDaniels and Associates had responsibility for this evaluation and you can read it here.
Wait, I'll make it easy for you - this represents a small portion of OIlsands Quest's land. From the report:
Discovered Resources of Original Bitumen in Place
   Low Estimate    (P-90):   1.117 billion barrels;
   Best Estimate   (P-50):   1.344 billion barrels; and,
   High Estimate   (P-10):   1.547 billion barrels.
Jim, I'd take the high side and maybe multiply it a couple of times If I were you. Suddenly, your little "real estate play" has a third party confirmation and real oil. Make that conservatively 10 billion barrels of oil. But hey Jim, I got a deal for you, you buy it for the real estate and I'll be buying for the oil. Your valuation might factor a 153% increase where mine is looking for 400% at least. And regarding your comment that there is now news coming....oh Jim, how could you? News is coming believe you me. It's coming Jim and it's going to involve a lot more than real estate.
Think Jim, think!
Winter drilling results
Joint Venture agreement
Reservoir testing
Axe Lake 1,2, and 3
Ravens Ridge
Wallace Creek
SAGD maybe better
Petrobank donut hole
Buyout/Merger
Oh Jimmy boy, I'm probably speaking greek to you, but I don't want to make it too easy. Do your homework you owe it to your investors. What if the cap rock issue was really an issue? It's not of course but would you know?
Here is what I believe to be true (not confirmed):
Oilsands Quest is undervalued by several billion dollars
Oilsands Quest has 10 billion plus barrels of oil
Joint Venture agreement is probably sooner that most think
OIl ain't gettting any cheaper
There is so much upside to this incredible company and management team that it's not possible to cover it all here. As usual, I suggest investors to do their own due diligence before buying.
Disclosure: Long