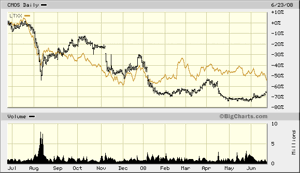 Semiconductor test companies Credence Systems (CMOS) and LTX Corp. (LTXX) Sunday night announced a deal to merge the two companies. Terms of the deal call for Credence holders to receive LTX shares at a ratio to be determined that would give Credence holders 50.02% of the combined company, with LTX holders to get the other 49.98%. As of June 20, the conversion ratio would be 1 share of Credence=0.6133 shares of LTX.
Credence CEO Lavi Lev becomes executive chairman of the combined company for a transitional period following the merger. LTX CEO David Tacelli will remain CEO after the merger, and LTX CFO Mark Gallenberger will retain his post. Credence CFO Casey Eichler will remain though a transition period. The board will include 5 members named by LTX, and four named by Credence.
The companies said the deal should provide $25 million in annual cost savings at the end of the integration period. The deal is expected to close in September.
Monday, CMOS is up 9 cents, or 7.2%, to $1.34, while LTXX is down 21 cents, or 7.5%, to $2.60.