The CEO of Peabody Energy (BTU) is famous for proclaiming the Super Cycle in coal. A funny thing happened on the way to realizing this proclamation.
The company produces and sells thermal and metallurgical coal to customers in more than 25 countries on six continents.
Market data still shows healthy demand for coal in Asian countries that continue to build coal-fired power plants. Unfortunately for coal producers, a chain of events from slowing growth in China to the advances in production of natural gas in the U.S. has slowed down the short-term demand for coal.
The encouraging part about coal is that demand appears to have hit bottom along with the stocks this summer. This is what separates coal stocks from fertilizer stocks such as Potash (NYSE:POT) that was highlighted in a recent article.
Q2 2012 Highlights
The company reported the following highlights for Q2 2012:
Consolidated revenues of $2.0 billion lead to adjusted EBITDA of $453 million
Diluted EPS from continuing operations totals $0.78; adjusted diluted EPS of $0.73
2012 U.S. production remains fully priced; 70% to 75% priced for 2013 at current production levels
2012 capital targets reduced $200 million since January to $1.0 billion to $1.2 billion
Repurchased $242 million of debt and $100 million of shares during the quarter
The biggest concern for this stock was the weaker guidance for Q3. The company is facing severe cost pressure in Australia while also seeing weaker demand from China.
Within the last 60 days, analysts have dropped earnings estimates for 2013 from $3.60 to $2.60. That large of a drop appears extreme as the market is likely to work higher next year as China bounces back.
Market Conditions
The market for both thermal and metallurgical coal remains weak for different reasons. At the same time though, coal now accounts for 30.3% of global energy consumption, the highest share since 1969.
Coal consumption in Europe is up dramatically as countries close gas-fired generation plants in favor of the cheaper coal. According to this Bloomberg article, Germany has seen a 4.9% rise in coal consumption since announcing plans to exit nuclear energy.
The main reason for the shift to coal is that natural gas is a very expensive alternative in Europe unlike in the U.S. German utilities are set to lose about 10 euros a megawatt-hour from burning gas, according to Bloomberg.
Peabody expects 90 gigawatts of new coal-fueled generation to come on line worldwide in 2012. On top of that, the company projects over 390 gigawatts of new coal-fired generation by 2016, which would require more than 1.3B tones of additional thermal coal.
Metallurgical coal demand is also expected to rise 25% by 2016 as BRIC countries continue to urbanize.
The Super Cycle appears in tack long-term, but as mentioned in the potash article, demand can be precarious short term. Imbalances take place as supply ramps up while demand pauses. Unfortunately, similar to 2009, the curtailments and cut backs in capital expenditures will ultimate lead to spiking coal prices when demand returns and stalled projects can't come online fast enough.
EPA Rule
According to this article, the U.S. Court of Appeals for the District of Columbia Circuit overturned an EPA rule on air quality. This is a major victory for coal producers and utilities with coal-fired power plants.
Any stability in the U.S. utility market would be a huge welcome to an industry that had been under constant pressure by the current EPA to reduce coal-fired power plants.
Stock Chart
The chart finally shows some sign of a reversal of the continuous downward trend since April 2011. The stock peaked over $70 back then and now doesn't even fetch $24.
2 Year Chart - Peabody Energy
Click to enlarge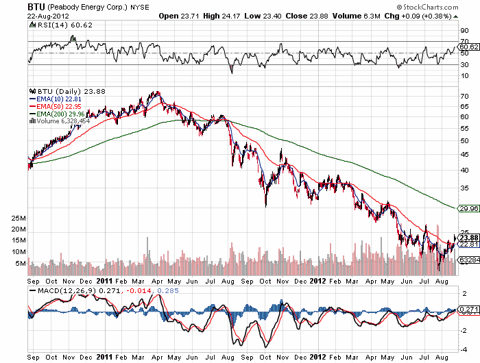 As the chart shows, the stock finally has a higher high and a lower low. Not to mention, the 10ema might move above the 50ema in a bullish sign. Any attempt to move higher from here would be very bullish.
Conclusion
In the short term, coal demand remains uncertain due to the numerous reasons outlined in the article and the earnings release of Peabody Energy. The stocks of coal companies appear very attractive after taking massive hits since the highs of 2011.
More importantly, on a relative basis, the coal stocks have underperformed the fertilizer stocks making this sector more attractive. Peabody Energy is the best positioned for a turnaround while Alpha Natural Resources (ANR) is a more speculative play on metallurgical coal rebounding.
Disclosure: I am long ANR. I wrote this article myself, and it expresses my own opinions. I am not receiving compensation for it (other than from Seeking Alpha). I have no business relationship with any company whose stock is mentioned in this article.
Additional disclosure: Please consult your financial advisor before making any investment decisions.