Insider buying is often a sign of potential positive developments within a company, particularly if the insiders who are buying have a good track record with respect to their own buying. This is, however, only a secondary indicator and should not be relied upon solely when making the decision on whether to purchase a security. Insider buying in and by itself will not make a stock move higher, but can provide a further clue if all the other pieces of the puzzle - e.g., earnings, sales, return on equity, profit margins, etc. - are in place.
I screened for companies where at least one insider made a buy filed on August 22. I chose the top five companies with insider buying in dollar terms. Here are the five stocks:
1. Molycorp (MCP) is a leading rare earths and rare metals company, and combines a world-class rare earth resource at Mountain Pass, California, with world-class ultra-high-purity rare earth and rare metal materials processing capabilities. With 26 locations across 11 countries, Molycorp is vertically integrated across the global rare earth mine-to-magnetics supply chain. It produces rare earth magnetic materials as well as a variety of high-purity, custom engineered products from 13 different rare earths (lights and heavies) as well as five rare metals (gallium, indium, rhenium, tantalum and niobium), and the transition metals yttrium and zirconium. Through its Molycorp Magnequench subsidiary, the company is a leading global producer of neodymium-iron-boron (NdFeB) magnet powders, used to manufacture bonded NdFeB permanent rare earth magnets. Through its joint venture with Daido Steel and Mitsubishi Corporation, Molycorp expects to begin manufacturing next-generation, sintered NdFeB permanent rare earth magnets in early 2013.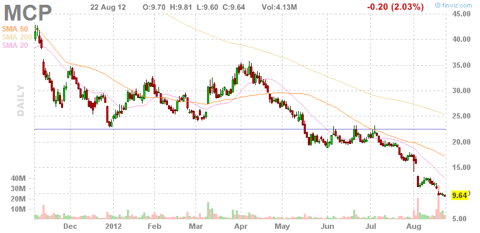 Insider buys
Molibdenos Y Metales S.A. purchased 4,500,000 shares on August 22 through a secondary offering and currently holds 17,000,000 shares of the company. The company had 99.2 million shares outstanding as of June 30 which makes Molibdenos Y Metales S.A. a 17.1% owner of the company.
Financials
The company reported the second-quarter financial results on August 2 with the following highlights:
| | |
| --- | --- |
| Revenue | $104.6 million |
| Net loss | $0.71 per share |
| Cash | $369.3 million |
Earnings decreased substantially from the prior year period as a result of lower product volumes, lower prices, costs related to the Project Phoenix transition, and other transaction costs related to acquiring Molycorp Canada. Adjusted loss per diluted share of $0.03 reflects operational expansion items, out-of-ordinary business expenses, and certain non-cash items as compared to U.S. GAAP loss per share, such as $52.8 million related to the acquisition of Molycorp Canada, $19.5 million in consolidated inventory write-downs, and $8.4 million in purchase accounting adjustments impacted earnings, among others.
Outlook
As of August 2, 2012, the company is re-affirming its annual production of REO equivalent products to be in the range of 8,000 mt to 10,000 mt for the full year across its Mountain Pass, Sillamäe and Tolleson facilities, which does not include production from its newly acquired Molycorp Canada operations. The company continues to believe it is well positioned for year-over-year sales growth given the Mountain Pass ramp-up, existing customer orders, a growing pipeline of global business opportunities, and its acquisitions.
Capital expenditures for Project Phoenix Phase 1 and Phase 2, commissioning and start-up, and other capital projects at the company's Molycorp Mountain Pass facility are expected to be approximately $289 million on an accrual basis for the remainder of 2012. All other capital expenditures across the company (including Molycorp Canada) are expected to be approximately $17 million for the remainder of 2012.
My analysis
I wrote an article about Molycorp on June 16. The stock is currently down 50% from the June 2012 period. I believe the long-term potential is still the same and would recommend buying the stock at the current levels. The stock is currently trading at a forward P/E of 5.16.
2. Sonus Networks (NASDAQ:SONS) helps the world's leading communications service providers and enterprises embrace the next generation of SIP-based solutions, including VoIP, video and Unified Communications through secure, reliable and scalable IP networks. With customers around the globe and 15 years of experience transforming networks to IP, Sonus has enabled service providers to capture and retain users and both service providers and enterprises to generate significant ROI. Sonus products include session border controllers, policy/routing servers, subscriber feature servers and media and signaling gateways. Sonus products are supported by a global services team with experience in design, deployment and maintenance of some of the world's largest and most complex IP networks.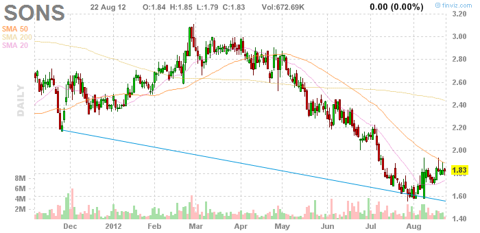 Insider buys
Empire Capital Management purchased 413,382 shares on August 20, 415,919 shares on August 16-17, 143,468 shares on August 14 and 428,163 shares on August 10. Empire Capital Management currently holds 35,450,000 shares of the company. The company has 280 million shares outstanding which makes Empire Capital Management a 12.7% owner of the company.
Financials
The company reported the second-quarter financial results on August 7 with the following highlights:
| | |
| --- | --- |
| Revenue | $57.6 million |
| Net loss | $0.04 per share |
| Cash | $340.8 million |
| Cash per share | $1.22 |
Outlook
For the third quarter of 2012, management provides the following outlook on a non-GAAP basis:
Total revenue of $51 million to $53 million
SBC total revenue, including maintenance and services, of $17 million to $19 million, up 23% to 37% from the third quarter of 2011
SBC product revenue of $14 million to $16 million, up 35% to 54% from the third quarter of 2011
Gross margins between 58% and 59%
Operating expenses of $39 million to $40 million
Loss per share of $0.03
Basic shares of 280 million
Cash and investments of approximately $300 million, assuming the NET acquisition closes in the third quarter
My analysis
The company has a strong cash position of $1.22 per share compared to the current share price of $1.83. I would expect the $1.2 level hold for the stock and would recommend buying the shares around $1.5 level. Empire Capital Management has purchased 6.9 million shares since May 1.
3. Hi-Crush Partners (NYSE:HCLP) is a pure play, low-cost, domestic producer of premium monocrystalline sand, a specialized mineral that is used as a "proppant" (frac sand) to enhance the recovery rates of hydrocarbons from oil and natural gas wells. The company's reserves consist of "Northern White" sand, a resource existing predominately in Wisconsin and limited portions of the upper Midwest region of the United States, which is highly valued as a preferred proppant because it exceeds all American Petroleum Institute (NYSEMKT:API) specifications.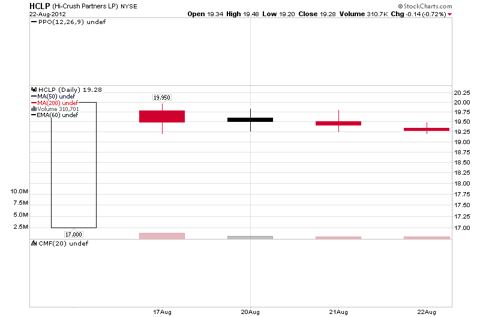 Insider buys
Financials
The company's first six months ending June 30 financial results include:
| | |
| --- | --- |
| Revenue | $34.2 million |
| Net income | $22.3 million |
| Cash | $21.0 million |
The cash position does not include the $179.5 million raised in the Initial Public Offering on August 15.
Outlook
The North American proppant market, including raw frac sand, ceramic and resin-coated proppants, was approximately 22 million tons in 2011. Industry estimates for 2011 indicate that the raw frac sand market represented approximately 17 million tons, or 77.2% of the total proppant market by weight. Over the past five years, proppant demand by weight has increased by 28.0% annually, and the market is projected to continue growing by 7.2% per year through 2016, representing an increase of approximately nine million tons in annual proppant demand over that time period. The total North American proppant market size in dollars was $3.7 billion in 2011 and is projected to grow 10.5% annually through 2016, according to The Freedonia Group. The following chart illustrates historical and forecasted proppant demand for certain years from 2001 to 2021.

My analysis
The stock has traded only since August 16. The company did report very good earnings for the first half of the year and the outlook looks promising as well. I might take a position in the stock.
4. Opko Health (NYSEMKT:OPK) is a publicly traded healthcare company involved in the discovery, development, and commercialization of pharmaceutical products, vaccines, and diagnostic products.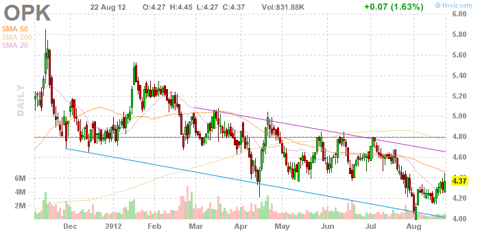 Insider buys
Phillip Frost purchased 80,000 shares on August 21, and currently controls 131,150,400 shares of the company. The company has 297,836,707 shares outstanding, which makes Frost a 43.9% owner of the company. Phillip Frost is the CEO and chairman of the company. Frost has been a buyer almost every day this year. His net worth was $2.3 billion as of March 2012.
Financials
The company reported the second-quarter financial results on August 9 with the following highlights:
| | |
| --- | --- |
| Cash | $55.3 million |
| Net loss per share | $0.04 |
| Cash per share | $0.19 |
Upcoming Milestones
The company expects to begin marketing its test for Alzheimer's disease in 2013. The company believes that this test could initially be useful in stratifying patients for ongoing clinical trials of potential Alzheimer's drugs, as well as to confirm the diagnosis in a clinical setting and to track the progression of the disease or effectiveness of a therapeutic in a clinical trial.
The company has already obtained a CE Mark for its point-of-care diagnostic test for prostate specific antigen (NYSE:PSA) using its system in Europe, and the company intends to launch the PSA test in Europe in the second half of 2012.
In December 2011, the company commenced a multi-center study in the U.S. for the PSA test, which is designed for 510(k) clearance and potential waiver under The Clinical Laboratory Improvement Amendments of 1988. The company intends to submit its application to the Food and Drug Administration for clearance of the PSA test in 2012 and expects to begin marketing the test in the U.S. in 2013.
News
On August 22 OPKO Health was awarded a contract and selected to participate in a development project directed by NASA to implement the OPKO point-of-care diagnostic platform (Claros-1) with the objective of in-orbit use on the International Space Station.
OPKO will provide a panel of assays, including Vitamin D for bone metabolism, immune health, and inflammation to be used on its Claros-1 portable analyzer. According to Phillip Frost, M.D., OPKO's Chairman and Chief Executive Officer:
"This contract is an opportunity to demonstrate the robustness and ease-of-deployment of the OPKO point-of-care system as well as the wide range of complex and high performance diagnostic tests which can be rapidly implemented for use in any environment."
My Analysis
The company has several catalysts pending for 2012 and 2013. I would be watching the $4 level closely to see if it holds or not. The 200 day moving average is currently at $4.8 which could act like resistance for the stock. Phillip Frost has been buying about 10% of the shares traded each day.
5. Immersion (NASDAQ:IMMR) is the leading innovator in haptic technology; the company's touch feedback solutions deliver a more compelling sense of the digital world. Using Immersion's high-fidelity haptic systems, partners can transform user experiences with unique and customizable touch feedback effects; excite the senses in games, videos and music; restore "mechanical" feel by providing intuitive and unmistakable confirmation; improve safety by overcoming distractions while driving or performing a medical procedure; and expand usability when audio and visual feedback are ineffective. Immersion's TouchSense technology provides haptics in mobile phone, automotive, gaming, medical and consumer electronics products from world-class companies. With over 1200 issued or pending patents in the U.S. and other countries, Immersion helps bring the digital universe to life.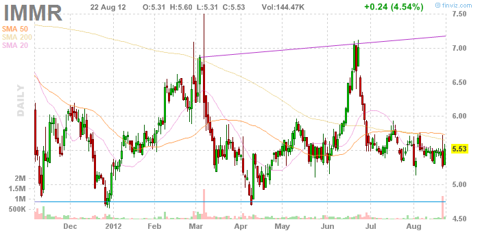 Insider buys
Rima Senvest Management purchased 50,000 shares on August 21 and currently holds 3,271,485 shares of the company. Rima Senvest Management is a 11.79% owner of the company.
Financials
The company reported the second-quarter financial results on August 2 with the following highlights:
| | |
| --- | --- |
| Revenue | $6.5 million |
| Net loss | $2.2 million |
| Cash | $52.4 million |
Outlook
Immersion CEO Victor Viegas commented on August 2:
"Based on our current outlook and taking into account potential Basic Haptics royalty agreements and payments from new and/or existing customers prior to the end of the year, we are broadening our expected revenue range for fiscal 2012 to $32 to $38 million, and we continue to expect to achieve positive Adjusted EBITDA for the year."
My analysis
The stock has a $13.25 price target from the Point and Figure chart. The stock did see insider selling at a $7-$10 range in 2011. I have a neutral bias for the stock currently.
Disclosure: I am long MCP, OPK. I wrote this article myself, and it expresses my own opinions. I am not receiving compensation for it (other than from Seeking Alpha). I have no business relationship with any company whose stock is mentioned in this article.