American Public Education Inc. (NASDAQ:APEI) offers online postsecondary education to 25,000 students in 50 states and 130 countries for the military and public sector. This company has the best of both worlds as it enrolls students from both the armed forces which ensures the company profits even when the civilian market slows down. 
For now, however, there is nothing slowing down for APEI as the growth engines are hitting on all cylinders. Even though the stock is new to the Nasdaq, the company has been around since 2002 and earnings have recently been growing at a phenomenal rate. So much so that this online education company is #1 in its commercial services-schools group based on earnings growth.
EPS has grown 400%, 300%, -50%, 267%, 300%, 63%, over 999%, and 73% the past eight quarters. Along with the current growth, 2008 and 2009 EPS estimates are for the stock to gain 33% and 47% respectively. This kind of earnings growth can not be found in any other stock in the group other than DeVry (NYSE:DV), ITT (NYSE:ESI), and Capella (NASDAQ:CPLA). And those three companies are nowhere near APEI's status as a growth stock with its EPS growth rate a phenomenal 86% over the past 5 years.  
Sales growth has been just as impressive, with the past eight quarters sales growing 32%, 45%, 63%, 72%, 85%, 73%, 64%, and 65%. This helps give the stock a whopping 36% ROE with a $0.68 cash flow. That earnings power on top of the company having 0% debt to shareholder equity has a lot of mutual funds taking an interest in this stock. 
The past two quarters have seen mutual fund ownership jump from 30 funds to 50 funds. This strong ownership growth now gives funds a 25% total of the shares outstanding. That combined with the 38% that management still owns shows that the smart money still has a vested interest in seeing this stock rise higher.  
The stock does have a high p/e ratio at 66. But my study of the best performing stocks the past 125 years shows that the best stocks have high p/e ratios BEFORE their biggest runs. So the 66 p/e with this incredible EPS and sales growth does not have me nervous, even though it is in the middle range of its 5-yr p/e ratio range of 45-88. 
The stock's great fundamentals are confirmed by Investor's Business Daily as the EPS rating is 99, the Relative Strength rating is 89, the group RS rating is 66, the SMR rating is an A, the Acc/Dis rating is an A-, the composite rating is 96, the timeliness rating is an A, the stock's mutual fund sponsorship rating is a C, and the earnings stability is 55.  
This is a fantastic stock with amazing fundamentals and I would love to get long with a low volume pullback to the 50 day moving average. If it is high volume, I will wait for another base and then a breakout, as I will have to see the sellers drop out of this stock before I go long. For now, if I get my low volume pullback, followed by a higher volume bounce off the 50 day moving average, I would love to make APEI a significant holding in my portfolios. 
click to enlarge image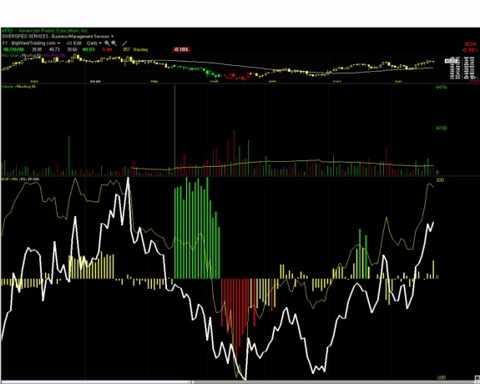 Disclosure: At the time of publication, Joshua had no position in APEI