Sirius XM (NASDAQ:SIRI) is on a PR campaign lately, the scope of which we have not seen in quite some time. Today the company announced that it had recently passed 50 million satellite radio installations in cars. This is quite an impressive number, but what does it really mean?
The essence of this news is in the details. Why this news was released can be a matter of speculation. First, it is no real secret that satellite radio penetration is at about 65% when it comes to equipping satellite radio into new cars being manufactured. In fact, at the annual meeting this year Sirius XM offered up a slide that illustrated the pace at which satellite radio equipped cars are running and it clearly showed that 50 million would be reached this year. I have included the slide in several articles in the past.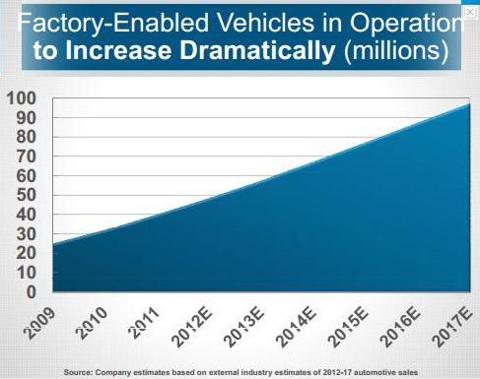 Click to enlarge
(Click to enlarge)
As you can see, the company is right on pace. In a recent article I called the Sirius XM Used Car Program a hidden gem, because there is a fast growing influx of satellite radio equipped cars that are making up the used car market in combination with a company program that is growing even faster. The latest example of the potential of these satellite radio equipped cars came with an announcement regarding Volkswagen (OTCPK:VLKAF) dealers across the U.S. There is no denying that news confirming the company projections for satellite radio equipped cars should be well received. In fact, the company could be announcing 60 million cars in late 2013 or early in 2014! Yes, the market is growing, and the supply pool of potential subscribers has years left before it levels off!
The next real question does not center around this news proper, but more along the lines of the behavior of Sirius XM of late. For quite some time Sirius XM had really tapered off in doing press releases relating to company performance but lately we are seeing a flurry of them. While they certainly help to defend the share price, it is something that had been missing for quite a while and a natural question may be why now.
Looking back over the past couple of months, the company announced:
July 9th - pre-announced over 600,000 subscribers in Q2 and raised revenue guidance
July 25th - Company announced intent to retire $186 million in debt
August 7th - Q2 results
August 8th - Announcement of $400 in debt refinancing
August 8th - Announcement of pricing of $400 refinancing deal
August 21st - Announcement of plan to retire $681 million in debt (relates to the $400 million refinancing announcements)
What we are seeing are strategic announcements that in some cases are simply the same news we had prior. For example, the press release about retiring $186 million in debt was announcing on July 25 that the debt would be retired on September 1. Will we see another press release on September 1 confirming what we already knew was going to happen? I believe so. Will September 20 bring on another round of news about the retirement of $681 million in debt? I would venture to say yes.
My guess is that the company is trying to get as much out of these news items as possible. It is something that bodes well for maintaining the stock price between newsworthy events and quarterly call and has been a missing ingredient in the past.
Sometimes it is said that defending a stock price should not be the course taken by a company, but I believe that the more you can get on the table the better. It is good to see Sirius XM doing its part to keep itself in the limelight.
What does this mean to shareholders? It means that there are several positive press releases waiting in the wings that can be announced in the time between calls. It means that Sirius XM may actually be doing its part to bolster the company and ensure that the word gets out. It means that even if there is technical weakness in the stock that it will may be simply a healthy adjustment and consolidation rather than the huge corrections we have seen in the past. With the company actually defending the share price, buying on dips may be something that investors will want to consider
Disclosure: I am long SIRI. I wrote this article myself, and it expresses my own opinions. I am not receiving compensation for it (other than from Seeking Alpha). I have no business relationship with any company whose stock is mentioned in this article.