We still find ourselves amused that the name of the BlackBerry vendor is Research In Motion (RIMM). Based on its performance since last year, we believe that the parent company's name is false advertising, or at least if you have been long RIMM's stock during that time. We believe that "Research in Immobility", or "Research in Regression" would be more apropos, considering RIMM's rapid revenue declines and swing from profitability to loss. We think that even Blind Willie Johnson can see that Research In Motion is in deep trouble. We think that although Buffett disciple Prem Watsa of Fairfax Financial (OTCPK:FRFHF) has doubled down on the company, investors should not follow his lead. Even Watsa believes that it will take 3-5 years for Research in Motion to right the ship.
In the technology sector, 3-5 years is a lifetime. In 6 years, Apple (NASDAQ:AAPL) has introduced 5 iPhone smartphone models and is planning on introducing another one on September 12. Apple has introduced 3 iPad tablet computer models as well. We suppose that Apple's last three to six years has been a lot more productive than RIMM's last three to six years. Here are the accomplishments of RIMM's management during the same time period.
2007, RIMM announced a $250M earnings restatement due to back-dating management stock options
2011, RIMM introduced the Playbook tablet computer but unfortunately was not able to get a major telecom firm to agree to carry it
2011, RIMM oversaw a terrible Four-day service outage due to a core switch failure
2006-2011, RIMM made at least eight acquisitions of different companies
2006-2012, RIMM's management tried to acquire a hockey team in order to relocate it to nearby Hamilton, Ontario.
We can conclude that RIMM's product under the Lazaridis/Balsillie regime was as good as the on-ice product of the nearby Toronto Maple Leafs under the Harold Ballard regime.
We love how all kinds of rumors have been flying around lately about RIMM. Since we analyzed and evaluated its dreadful Q1 performance, we've been hearing a number of rumors. First, an analyst at Jeffries wrote a report suggesting that Samsung could possibly license the BlackBerry 10 operating system or even acquire RIMM outright. That same analyst also wrote that after trying out the developer preview of BB10, he doesn't think it offers much that will prove superior to Apple's forthcoming version 6 of its "iOS" software, nor to Google's (NASDAQ:GOOG) Android operating system (which Samsung currently uses). He conceded that BB10 was better than BB7, but considering the low quality of BB 7, BB10 outperforming BB7 isn't exactly much of an achievement to be proud of.
The next rumor was that IBM (NYSE:IBM) was interested in RIMM's enterprise server division. Considering that IBM already offers email security through its Lotus Notes products, and considering that RIMM is broken beyond repair, we don't see IBM ponying up billions of dollars to do this deal. The last rumor involved RIMM selling off NewBay, which it acquired for $100M last October.
We were absolutely stunned that RIMM's directors were reelected with substantial majorities, despite the morass and muck of mediocrity that RIMM is muddling around in. Or maybe the people who would be most likely to vote against RIMM's management have already sold their shares. At least it is selling one of its corporate jets and the sale of the jet will bring in an eye-popping $7M. RIMM also introduced its newest BlackBerry PlayBook tablet with 4G-LTE capabilities on August 9th and it is currently for sale only in Canada. Well, we guess that every little bit helps.
Prem Watsa and FairFax are not the only notable investment management managers and institutions who have a major stake in RIMM. We noted that three respected institutional asset management companies have a significant long position in RIMM and those companies are as follows:
Hamblin Watsa Investment Counsel (FairFax Financial Subsidiary) 10.1%
PRIMECAP Management Company (Vanguard PRIMECAP) 5.2%
Yacktman Asset Management (Don Yacktman's Fund) 2.2%
Despite the fact that we have tremendous respect for PRIMECAP, Prem Watsa and Don Yacktman, in our opinion, those legendary managers are underestimating the disasterpiece that is Research Immobilized and its broken business model. We believe that Watsa is whistling past the graveyard when he praised the company's assets and talent. We can see why David Einhorn sold off the rest of Greenlight's position last quarter. We believe that RIMM CEO Thorsten Heins is absolutely blinkered after saying that most of the Q4 business is "prepaid" customers. That thesis is exactly why Apple generates its biggest smartphone sales volumes in Q4, even though it didn't start selling the iPhone to prepaid customers until June of this year. Maybe when they said that Q4 was mostly prepaid, they were thinking about Q4 in terms of Apple's Q4 (which is July-September). Heins said that RIMM's BlackBerry Enterprise Server network is a key strategic asset when asked about IBM offering to buy it out. We believe that if a highly successful company like IBM is contemplating acquiring assets from a broken growth company like RIMM, RIMM should do whatever it can to help facilitate the transaction.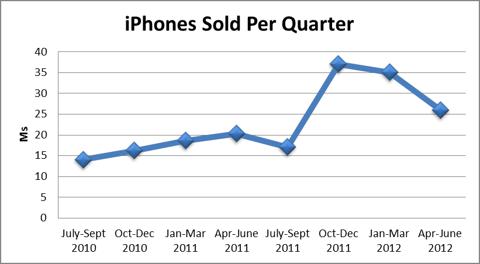 Source: Apple's last 8 earnings releases
Disclosure: I am long AAPL. I wrote this article myself, and it expresses my own opinions. I am not receiving compensation for it (other than from Seeking Alpha). I have no business relationship with any company whose stock is mentioned in this article.
Additional disclosure: This article was written by an analyst at Saibus Research. Saibus Research has not received compensation directly or indirectly for expressing the recommendation in this article. We have no business relationship with any company whose stock is mentioned in this article. Under no circumstances must this report be considered an offer to buy, sell, subscribe for or trade securities or other instruments.