As many readers probably know, I maintain a list of 100 stocks that I follow closely (my watchlist). Now this isn't a stagnant, written-in-stone group of stocks. I continually review the names to make sure that they are still worth following. I had a few that weren't, so I was considering adding several new names and ended up replacing three last week.
Two of the stocks I was considering adding had a lot in common. Besides sharing partially a common name, they also are both leveraged to North American agriculture. If you read my write-up on Raven Industries (NASDAQ:RAVN) last March, you know that's a theme I like. As an aside, that stock has returned to the March levels after having increased sharply.
The two companies I contemplated? Titan International (NYSE:TWI) and Titan Machinery (NASDAQ:TITN). I think both of these Titan's are cheap. I ended up adding TITN and will skew the conversation towards that the stock, which in Seeking Alpha parlance is the "focus" of this article.
Before I go on, here is the price action of these two stocks over the past two years:
Click to enlarge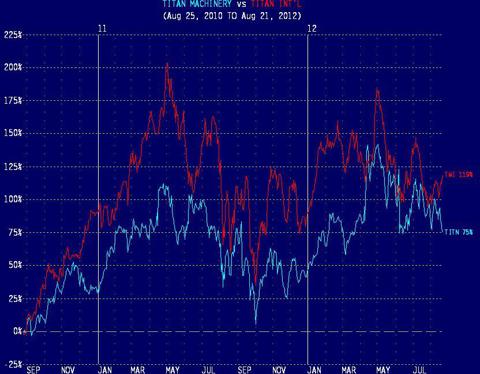 Click to enlarge
They have both been rockets - the S&P 500 is up "only" 35% over the same time-frame, but the relative performance took a strange divergence over the past couple of weeks, with TITN dropping and TWI rallying. In general, they sure seem to track each other quite well. If one goes back to late 2007, when TITN first went public, the story is a LOT different. While TITN is up 165%, TWI is flat (and the S&P 500 is down just slightly).
Let's take a look at the fundamentals now: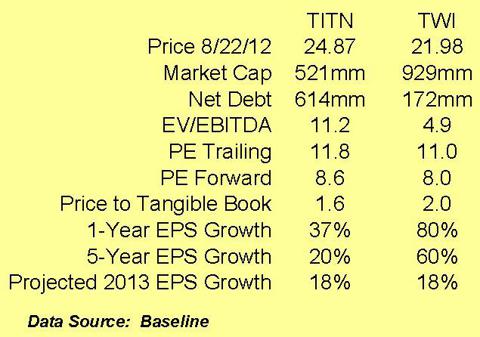 Click to enlarge
On the surface, TWI looks to be cheaper: More historical growth, lower P/E, lower EV/EBITDA. TITN wins only on P/TB, which is really more of a potential downside risk indicator than a real value measure. I will address the TITN valuation below, as there is a major philosophical point to make about their debt, which is floorplan financing. As far as the historical growth, TWI historically has volatile earnings, and it looks like the strong growth is somewhat of an illusion.
I do think TWI is cheap, and I also like their business generally, which is tires and wheels for primarily agriculture and construction. According to the 10-K, in 2011, the company derived 64% of sales from agriculture, 21% from earthmoving/construction and 15% consumer. In the earthmoving product, they manufacture a 63-inch diameter wheel, and their tires can be as large as 13 feet and weigh up to 6 tons.
Part of why their growth has been so high over the past year is the acquisition of Goodyear's Latin America farm tire business. The company is considering a purchase of Titan Europe - they already own 22%. As I said, there's a lot to like, so why did I opt not to add this one to my watchlist? Quite simply, management. The CEO, a former Republican Presidential Candidate, has been running the firm since 1990. He has a board of directors that has tenure dating back to at least 1999, so it's not exactly independent. He seems to run the place like a one-man show, though he hired a CFO from the movie industry two years ago. His sister, who is 64, is General Counsel (since 1994). He paid himself a $2mm bonus, 10X what the CFO earned. For 22 years, only 1.5% ownership seems trivial. His sister, one of the highest paid execs at the firm, owns only 7K shares. The new CFO owns less than 3K. OK, enough. I respect what he has done, but I don't like corporate governance here.
Now before I go on, let me share that I used to own this stock in my Top 20 Model Portfolio, but I sold at 10.70 in April 2010 after having bought it at 8.10 a few months earlier. Seemed smart at the time! The point is that just because one isn't a huge fan of management doesn't mean the stock can't triple! I want to reiterate that the stock seems cheap to me and well positioned vs. larger, less focused rivals.
So, why did I go with TITN, adding it to my watchlist? I guess it starts with management. I really like the story here, and not just at the top. The company really empowers the store managers. If you do more research, make sure you understand the Titan Operating Model. Before I go on, let me describe what the company does, which is operate equipment dealerships, primarily Case Construction and New Holland Agriculture, manufactured by CNH Global (NYSE:CNH), which accounts for almost 80% of sales.
The company reports in four segments, including new and used equipment sales, parts sales, repair and maintenance services and equipment rental. TITN operates in 106 stores as of year-end in nine states (and two European countries). The company is very acquisitive, acquiring 68 of their stores since the IPO at the end of 2007.
The company derives most of its sales in Agriculture, which is predominantly in the Dakotas and Minnesota (areas spared by the drought). In Ag, sales rose 47% last year, with 27% same-store-sales growth. The Construction segment, which is more geographically diverse but driven by Bakken-related construction from what I understand, grew 83% last year (42% same-store-sales growth).
The company is on a January fiscal year-end and will report Q2 results in early September. As of Q1, Agriculture sales slowed to 13.4% on a same-store-sales basis and grew 25.5% including acquisitions. Construction grew 85% and 35% on a same-store-sales basis.
The CEO, who founded the company in 1980, owns almost 14%, and insiders own almost 20% in aggregate. I think that the company has an excellent culture, and the secret sauce follows: Exceptional customer service.
OK, I want to conclude with a discussion of the balance sheet, which may not be as leveraged as it looks. While the table above cited a pretty big number ($614mm), most of this ($575mm) is floorplan financing. Much of their financing is provided at no cost through CNH. The total borrowing charge on about $400mm average inventory was about $8mm. I mentioned earlier that the company trades below 2X TBV. Analytically, I think valuing the cash flows against the Enterprise Value may be a bit off. Perhaps it makes sense to exclude the floorplan financing from the debt (and EV). In this case, the EV/EBITDA plunges to about 5X. On the other hand, the valuation should likely account for how intertwined they are with CNH, which also provides financing to TITN customers.
So, I think we have a very high quality company here, growing quite rapidly in its main Agriculture market as well as in Construction. It's almost shocking to see a single-digit P/E on a company with such rapid growth, including rapidly growing same-store-sales. I think that some may be penalizing the company for its high debt, though it's tied to the inventory. I would like to better understand the downside risk with their inventory. In practicality, they are a huge customer of CNH, so it's hard to imagine them not providing some sort of "soft" protection. As I said, the company reports Q2 in a few weeks, giving us a little more time to figure it out.
I like the opportunities for both of the "Titans", but I think TITN is the winner of this Small-Cap Smackdown due to better management, stronger organic growth and more exposure to Agriculture.
Disclosure: I have no positions in any stocks mentioned, and no plans to initiate any positions within the next 72 hours. I wrote this article myself, and it expresses my own opinions. I am not receiving compensation for it (other than from Seeking Alpha). I have no business relationship with any company whose stock is mentioned in this article.