Clearwire (CLWR) is one of the most controversial stocks in the market, and is the subject of much debate between those who are bullish and those who are bearish on the company. While the stock may be down over 15% so far in 2012, Clearwire is up over 78% since bottoming on July 25. Clearwire's rally has certainly been notable. However, not everyone is impressed. But now, RBC has stepped in with its own opinion.

On Wednesday, August 22, RBC analyst Jonathan Atkin cut his rating on Clearwire to underperform from sector perform and set a $1 price target. RBC raised a number of issues in its downgrade, and argues that the risk/reward in Clearwire is not favorable at this point in time. We, however, disagree, and believe that the firm is confusing the rally in Clearwire with increased risk. Analyst Jonathan Atkin met with Clearwire's management and says that while he is more convinced of the company's spectrum value down the line, he sees further downside (frankly, we think that those two opinions are contradictory).
Downgrading on a Rally
It would be one thing if RBC's call was based simply on the sharp rally that Clearwire has seen. After all, few stocks rise by 100% in under a month unless there is a takeover deal or the company is a biotech that has reported wonderful clinical trial data. Clearwire's rally, however, was (and is) due to the fact that the stock has been sold of relentlessly in 2012, even when there is no news whatsoever regarding the company (we have written about this issue several times before). But, to be fair to critics, a 100% rally may be too much in such a short amount of time, even if Clearwire's relative strength index is at 58.61 as of this writing (traditionally, stocks are considered overbought when their RSI's rise above 70). While we continue to believe that Clearwire is undervalued, we can at least see how a downgrade based on valuation alone could make sense. After all, such downgrades happen frequently on Wall Street. RBC, however, used Clearwire's rally as an additional layer of justification for its downgrade, as opposed to framing its core thesis around it. RBC raised several issues regarding Clearwire's fundamentals, and we believe that the firm's analysis is flawed.
Will Sprint Remain in the Picture? All Signs Say Yes
A key component of RBC's downgrade is a belief that Sprint will abandon Clearwire as the nation's #3 carrier rolls out its own 4G LTE network. RBC also writes that were Sprint to purchase either MetroPCS (PCS) or Leap Wireless (LEAP), that could draw the carrier's gaze away from Clearwire. In our view, both possibilities are unlikely, at least for the time being. As we explained in a prior aritcle on Leap Wireless, Sprint is indeed a possible suitor at this point in time, but a takeover of Leap is far from certain. Sprint has a great deal on its plate, and may not want to add a large merger integration to the list of what CEO Dan Hesse and his lieutenants have to deal with. And Sprint's board has already rejected a deal for MetroPCS once before, in February, just hours before it was set to be announced. Dan Hesse may be reluctant to try pushing for that deal so soon.
RBC argues that as Sprint rolls out its 4G network, it will need Clearwire less. We disagree. Clearwire is an integral part of Sprint's 4G strategy,and the carrier needs it to compete with both AT&T (NYSE:T) and Verizon (NYSE:VZ).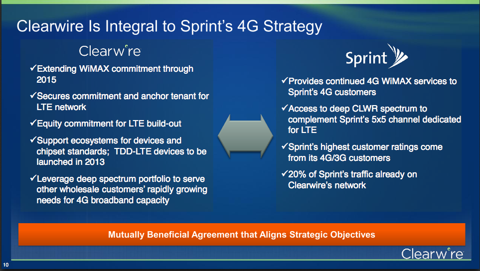 A key component of Clearwire and Sprint's LTE efforts is that Clearwire's own network will serve as an overlay to Sprint's, especially in dense urban markets. Sprint itself has said that Clearwire's efforts will focus more on capacity than coverage, and Clearwire's initial LTE launches will take place in dense cities such as New York and San Francisco. Sprint has said that Clearwire will end the need for the carrier to offload traffic to Wi-Fi networks, which had previously been part of its Network Vision program. We follow Clearwire closely, and have seen no indications that Sprint is moving to abandon the company. Clearwire's management said on the company's Q2 earnings call that the 2 companies are working closely on Clearwire's LTE network, and said nothing to suggest that Sprint is moving to abandon the company. Sprint's recent offering of $1.5 billion in 2020 notes explicitly states that, "Sprint intends to use the net proceeds from the offering for general corporate purposes, which may include, among other things, redemptions or service requirements of outstanding debt, network expansion and modernization and potential funding of Clearwire Corporation and its subsidiary Clearwire Communications LLC." To us, that does not sound like something Sprint would do if it intended to remove Clearwire from its future plans. We believe that RBC is mistaken in assuming that Sprint is abandoning Clearwire. The 2 companies need each other to succeed in the wireless market at the present. While that may change in the long run, there is little sense for them to sever ties at this point in time.
Verizon's Spectrum Deals: Much Ado About Nothing
Like many firms, RBC views any spectrum transaction anywhere as a negative for Clearwire. The truth is not that simple. The mere act of carriers buying and selling spectrum, on its own, is neither good nor bad for Clearwire. Investors need to analyze who is buying and selling and what spectrum is being bought and sold. RBC's downgrade of Clearwire includes arguments that Verizon's planned sale of A and B 700 MHz spectrum sale, should it be complete, will hurt Clearwire. We have covered this issue at length in a prior article on Clearwire.
The spectrum that Verizon plans to sell amounts to just 7.5 MHz of the company's 700 MHz spectrum. As Bernstein noted at the time, Verizon's spectrum sale is more of a strategic maneuver to convince the FCC to approve its larger spectrum deal with a number of cable companies, as opposed to a true desire to part with that spectrum. Bernstein, at the time, wrote that, "A carrier does not just wake up one day and decide to sell some of the best spectrum it has at a time when it argues the industry is facing a spectrum crunch." In our view, analysts continue to overstate the effects of Verizon's planned spectrum sale on Clearwire. Even if it were to go through, it would make Sprint more dependent on Clearwire, as its relative marker position would become weaker (that being said, we remain bullish on Sprint as a long-term investment). Verizon's spectrum sale does little to change Clearwire's fortunes, and we think that as investors realize this fact, this pressure point on the stock will be removed.
Spectrum Monetization & Auctions
RBC's downgrade also included arguments that there are "few prospects for near- or medium-term spectrum monetization, as the most significant potential purchasers appear focused on other spectrum sources." Had RBC been a part of Clearwire's Q2 confernece call, it may have a different outlook. CEO Erik Prusch and CFO Hope Cochran acknowledged investor concerns with the company's spectrum plans, and made it clear that the company is working on a "strategic solution," something more than just another wholesale deal. Specifically, CEO Erik Prusch Q2 confernece call, "as we have mentioned in the past, we have been and remain in active discussions with various parties who are interested in leveraging our assets to address the growing demand for broadband data in various ways, including, but not limited to spectrum acquisition. While we understand investors are anxious for additional details chronicling our progress, we believe it is in the best interest of the company and its shareholders to remain discreet on such matters. And while we have a sense of urgency in arriving at a strategic solution, we also believe our strong cash position provides us runway to be patient enough to strike not just any deal, but the right deal or set of deals for the company and its shareholders." Such a statement by Clearwire's CEO suggests that the company is in fact working on monetizing its spectrum in the near and medium-term. As we stated in last article reviewing Clearwire's Q2 earnings, the next 12 months will likely be transformative for Clearwire. The company has essentially admitted that it is working on some sort of solution that will unlock at least some of the value of its spectrum portfolio.
RBC also argues that future potential spectrum auctions will depress the value of Clearwire's spectrum. The reality, however, is not so simple. In our view, who buys that potential spectrum matters more than the fact that it is being sold. Auctions are won by those who can bid the most. And in the wireless industry, that is AT&T and Verizon. Having those 2 carriers claim the majority of new spectrum would actually help Clearwire, as it would deny smaller carriers that spectrum, and force them to look elsewhere. And Clearwire just happens to have more spectrum than any other company, including both AT&T and Verizon. What would happen if the FCC would force a level playing field, robbing AT&T and Verizon of their financial advantage? The 2 carriers are currently arguing with the FCC over proposed regulations that would essentially prevent AT&T and Verizon from bidding on spectrum. If that is the outcome, Clearwire's position should not change dramatically. Someone will come out the loser in an auction (we think it highly unlikely that every carrier will be happy with the results of any spectrum auction), and those carriers will still need to access spectrum. And in the long run, that source of spectrum should be Clearwire.
A Word on Dish & Conclusions
RBC's downgrade also included arguments that that Dish (NASDAQ:DISH) could launch its own wireless network. And here, we will concede that it is too early to tell what will happen. Speculation regarding the relationship between Dish and Clearwire has swirled in recent weeks, as it is widely believed that Dish now owns hundreds of millions of Clearwire's debt. Dish and its CEO Charlie Ergen (one of the shrewdest dealmakers in the communications industry, if not all of corporate America) have been coy about exactly what they will do in the wireless market, but we expect that Dish's path will become clearer by the end of 2012 (and so will Clearwire's).
In closing, we believe that RBC's downgrade is unwarranted, and think that Clearwire's upside potential is as strong as ever. The company's financial profile is improving, and its LTE network is on schedule. Sprint remains committed to Clearwire, and we see nothing that would suggests that its commitment is wavering. As we stated in our last article on Clearwire, the next 12 months will be transformative for the company. We continue to hold that belief, and think that the company's best days are ahead of it.
Disclosure: I am long CLWR, LEAP. I wrote this article myself, and it expresses my own opinions. I am not receiving compensation for it (other than from Seeking Alpha). I have no business relationship with any company whose stock is mentioned in this article.