One of my favorite parts of the Oscar winning movie My Cousin Vinny was when Judge Haller (played by Fred Gwynne) asks Vinny (Joe Pesci) whether or not he remembered what the judge told him the day before about dressing appropriately.
"You were serious about that?" Vinny replies, in stunned disbelief. The scene cuts to Vinny gazing stoically out of a prison bus window.
The same thought went through my head when Intel announced its partnership with Google (NASDAQ:GOOG) to develop the Android operating system for x486: Google was serious about that? Chrome OS isn't predicted to have an impact on the market until 2015. Linux has been around since 1991, and it's barely made a dent in the market. At its height, Apple's (NASDAQ:AAPL) OSX took only about 10% of the OS market.

When you think about it, though, 9% can be game changing. It saves Apple billion dollars of dollars a year in licensing fees. That's nothing to Apple these days, but in 2002 licensing fees would have ate up a significant portion of the company's total annual revenue. Having its own operating system also gave Apple control over the user experience of its products, something millions of Macbook Air users are immensely grateful for.
Apple's OS market share used to be lower, too. Much lower. According to StatMarket, OSX accounted for only 2.4% of the OS market in 2002. So what was the driver behind OSX's return to relevance? Intel.
In June 2005, Steve Jobs announced that Apple was switching the Mac line to Intel processors. OSX programmers worked directly with the legions of engineers Jobs had imported from Intel, which allowed Apple to make the transition in record time. Steve Jobs had hacked the Wintel monopoly. Mac sales took off.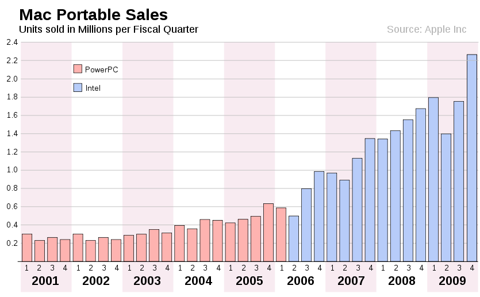 Google has decided to take a page from Apple's playbook. In February, it was revealed that Google had recently filed a patent for mapping trackpad operations to touchscreen events, similar to the multi-touch trackpad gestures on the Macbook, Macbook Air and Macbook Pro.
According to sources inside Intel -
Intel is working directly together with Google and providing patches to Google. I think this will also help the android-x86 project, because they are getting their sources from Google to work with.
The Android x-86 project is Android for notebooks and netbooks. Android is already the leading smart phone OS. As of today, there are 400 million devices running Android, with 1 million new activations per month and a 250% annual growth rate.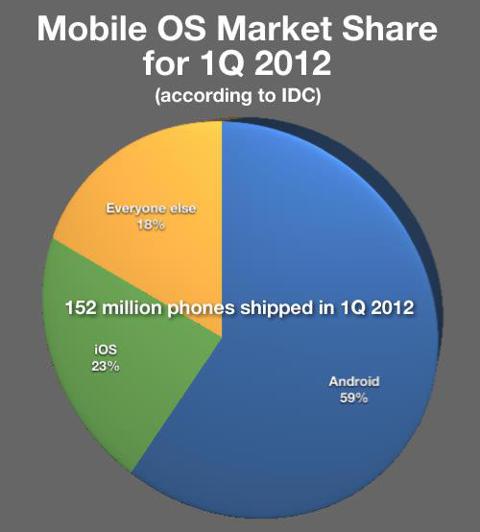 Will Google Do It?
That depends on Microsoft (NASDAQ:MSFT). In "Microsoft's Make Or Break Moment," I noted that Acer was lashing out at Microsoft over the Surface. Campbell Kan, president of PC global operations for Taiwanese computer maker Acer (OTC:ASIYF) said:
If Microsoft ... is going to do hardware business, what should we do? Should we still rely on Microsoft, or should we find other alternatives?
I wrote:
...disloyalty is a two edged sword that can cut both ways. That "other alternative" is undoubtedly Google (GOOG).
It wouldn't be a stretch to suggest that Acer would be open to a new arrangement, especially since J.T. Wang, Acer's Chairman and CEO, continues to give Steve Ballmer the finger in public. To say that we are still waiting for (any) signs of consumer enthusiasm (for Windows 8) on an earnings call is not the act of a friend.
Both Toshiba (OTCPK:TOSBF) and Acer have indicated they intend to sit out the Windows RT launch. If Windows 8 flops, Google will be uniquely positioned to take a bite out of Microsoft's OS market share by merging elements of Chrome OS with Android. Google co-founder Sergey Brin has already suggested that Chrome OS and Android would converge in the future.
Threat? What Threat?
Microsoft CEO Steve Ballmer takes a dim view of Chrome OS and Android.
I don't know if they can't make up their mind or what the problem is over there, but the last time I checked, you don't need two client operating systems. It's good to have one.
Lest we forget, Microsoft CEO Steve Ballmer is famous for his bad calls. Remember his prediction about the iPhone? How about his 2005 prediction that Google would be gone in 5 years?
Conclusion
PC makers may not switch to Linux or Android OS if Windows 8 tanks, but they may be less willing to invest in new PC architecture, which would accomplish the same thing by pushing consumers even faster into tablets and other iDevices. That would be an early Christmas present for Google, with its market share dominance of smaller form factors, and a nightmare for Microsoft. The fact that Google has most of the pieces already in place, as well as Intel's knowledge base to draw on, should give Microsoft's bombastic CEO more pause. This is not 1995.
Disclosure: I am long AAPL. I wrote this article myself, and it expresses my own opinions. I am not receiving compensation for it (other than from Seeking Alpha). I have no business relationship with any company whose stock is mentioned in this article.