Destiny Media Technologies (OTCQB:DSNY) is a technology company based in Vancouver, Canada. The shares are listed in the U.S. as well. It has one dominating product (Play MPE), which already generates positive cash flow. That product has just been upgraded and still has a lot of upside.
The company uses the cash flow it generates from its existing product to fund the development of a potential break-through product (Clipstream G2). A public prototype went live on August 22.
The company has no debt, it is profitable and generates positive cash flow. Intrigued? We were, when we got to know the company, so let us introduce it. At $40M market cap, we believe this is a truly low-risk, ground-floor opportunity.
What does it do?
It has a product, play MPE that, at present, generates 95% of its revenues. Play MPE is:
... a digital delivery service for moving broadcast audio, video, images, promotional information, and other digital content through the Internet. Its Play MPE is used by the recording industry for transferring pre-release broadcast music, radio shows, and music videos to trusted recipients, such as radio stations, media reviewers, VIP's, DJ's, film and TV personnel, sports stadiums, and retailers. [Yahoo]
And they have a new, potential break-through product called Clipstream. The breakthrough is the fact that it enables streaming media without a player, streaming servers, conversion cost, and all the while increasing resource efficiency (necessary bandwidth use) up to tenfold.
Their website is excellent, it provides many research reports and presentations which explain how the products work and what the advantages are.
Some core metrics
Litigation settlement
The Q1 figures which showed a loss and negative cash flow, are marred by litigation cost. However, reading the Q2 10Q (page 22), most of these costs disappear as the biggest case has been settled. There will also be a pay-out of over $1M. With some understatement, the company concludes that:
Consequently, the Company expects that litigation related costs will dramatically reduce going forward. [Q2 2012 10Q]
The case was against Shooting Star of Australia:
In April 2011, Shooting Star entered into an exclusive agreement by which it agreed to market, promote and sell a rival media distribution service in Australia, thereby allegedly breaching its agreement with Destiny. This led to the litigation, with Destiny terminating its agreement with Shooting Star, and seeking damages as a result. A trial was pending on 5 March 2012 in Melbourne.

The litigation has now been resolved to the satisfaction of all parties concerned, without the need for a court determination. Shooting Star has agreed to pay Destiny $825,000 in damages over six years at a rate of 10.25% compounded interest secured against assets of the defendants and a mortgage on real estate in Sydney. Shooting Star has also agreed that it will not approach any of Destiny's named existing clients with the rival media distribution system.
Or from the May 2012 10Q filing:
Our litigation costs primarily consist of fees associated with an Australian claim against a former marketing representative and a wrongful dismissal claim from a former employee. Both of these legal claims were successfully resolved during the third quarter and we expect our legal costs will dramatically decrease moving into our fourth quarter.
The negative cash flow from operations was "primarily due to an increase in operating costs, timely payment on accounts payable and an increase in accounts receivable." They are increasing developmental efforts of their new product, Clipstream. This isn't something to worry a great deal (in fact, quite the contrary). Here is Hardman:
We expect an all-time record sales revenue in Q3, of approximately $1.2m, and a return to profit as G & A spending more than halves, while R & D expenditure should also be lower. The quarter will include the benefits of the favourable settlement of the legal action in Australia.
Play MPE
This is their core product generating over 95% of revenues (see here for a good description of how it works). It's a de-facto monopoly, according to Mossberg. It provides broadcast quality delivery (which is much better than MP3) with inbuilt proprietary security in the form of lockdown (limiting the copy of the media file to a single computer) or a proprietary watermark.
The delivery process is highly automated which makes it high margin and subject to economies of scale, ongoing growth is likely to lead to disproportional bottom line gains.
They already have an impressive customer list with EMI, Warner, Sony Music, all their labels and some 1000 independent music labels having signed up. This isn't a surprise, as this digital distribution has several important advantages:
It's much cheaper (previously, CD's were delivered by FedEx, the industry spend $300M a year on this)
It's much more direct (instant) and save, due to the inbuilt customizable security features due to their unique watermark
It provides feedback on the use of the files
Now, if you consider the client list, you might wonder whether this product has room for expansion. They already seem to have the "who is who" of the music industry on-board. However, there is still much room for geographical expansion. For instance, in an interview with ThomsonReuters media, the CEO said that they were just rolling out in Japan and Germany, and embarked on a trial run in the Philippines.
There is still a good part of the world for Destiny Media to explore. The company is strong in the U.S., Northern Europe, and Australia, but there is sufficient room for growth elsewhere.
They can also open up new users, besides radio stations. For every radio stations, there are 10 journalists, and for every journalist there are 10 DJ's, for instance, at least to CEO in that same Thompson interview. Here is CEO Steve Vestergaard on the Q3 CC:
Projections, but in the case of Play MPE, what's held that growth is waiting for the new software. The new software, for example, comes out in 27 languages. There's 27 versions of the website to reach all the different territories. There are a large number of things that labels wanted us to do before they were willing to expand. Besides geography, we're looking to expand into other recipient types.


For example, journalists; for every one radio station there's 10 journalists and we had to upgrade the software to be more appropriate for journalists. The existing software was pretty radio-centric. But we're expecting that going forward that we're no longer held back. As I indicated, we are moving into new territories.
The patented watermarking itself is worth noting, Here is CEO Vestergaard on the Q3 CC:
I think investors may not fully appreciate the value of the watermarking. What watermarking is imbedding secret information into music. In our case we typically imbed the identity of the person that downloaded the song. So if they turn around and upload that song to like a Torrent site or a pirate site, every copy of that song is going to-and I say song; it could be a song or a video, but every copy of that content is going to contain their identifying mark so we can trace back and the content owner can hold them legally responsible.


Now a lot of people have tried to do watermarking, but they typically do it by adding frequencies into the music and that perturbs the audio quality. A lot of people's ears can actually hear that distortion, whereas ours is completely inaudible. It's instant to imbed, instant to-or near instant to detect. It's literally almost impossible to get rid of, whereas everybody else you can filter this stuff out because it's digital. And our stuff survives non-digital technologies, like for example, an on-air broadcast.
However, as nice as this product is, it's not the reason many will buy shares in this company, at least not at the present price. The company has another, bigger trick up its sleeve, a product that addresses a much bigger market.
Clipstream G2
This is a product that enables the provision of streaming media (music, video) that is completely independent of format, device, platform, browser, operating system, etc.. In the process it generates substantial savings in resources for providers (bandwidth, streaming servers). For users, they don't even need a media player anymore, or worry about browser plug-ins or incompatibilities.
Streaming video is the fastest growing category on the web: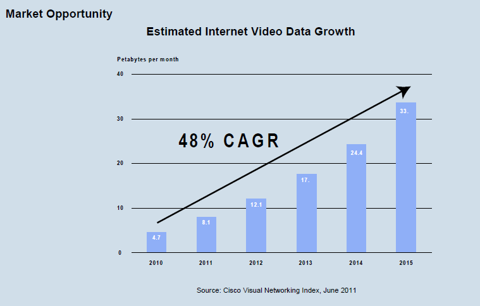 Click to enlarge
(Click to enlarge)
At present, streaming media providers have to install streaming servers. What's more, they have to install different servers for different video formats (addressing different platforms like mobile, PC, etc.).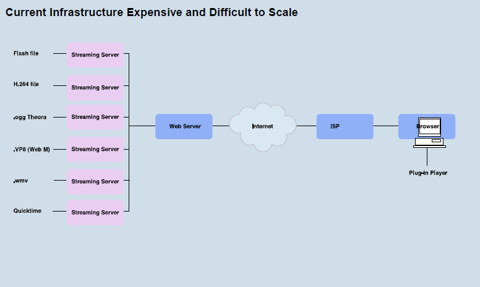 Click to enlarge
(Click to enlarge)
By using Clipstream, media companies do not need even a single streaming server anymore, they can use their regular web servers. Here is Scott Shaffer:
Destiny has developed a single video file format that acts like any other web object, streaming directly from a web server and rendering directly by the browser without a player plug-in. The technology is working well across a wide number of computers and smartphones, including Mac, Windows, Android, iPhone, iPad, Blackberry and any other recent device that is standards compliant.
What's more, your local ISP (Internet Service Provider) recognizes it as web content and as a result, it's automatically cached on their servers. This makes the stream more secure for end-users, but has the important advantage of saving more than 90% bandwidth, as the cached ISP files can be reused.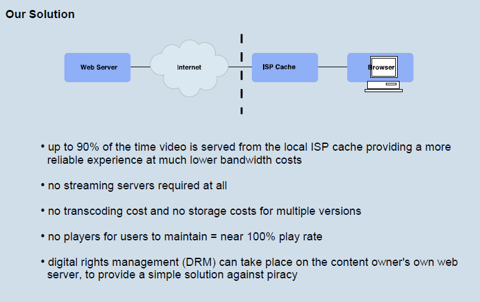 Click to enlarge
(Click to enlarge)
So Clipstream obviates the need for converting media file formats (a $1.6B cost), obviates the need for multiple separate streaming servers, and saves more than 90% of bandwidth. By doing the latter (and, needless to say, if successful), the company stands to take a considerable chunk out of the $3B a year content distribution network business.
So the advantages for the streaming content provider are:
Providing streaming media content in ONE, instead of multiple formats
No more conversion costs (estimated at $1.6B in 2014)
No streaming servers necessary (one for each format), the stream is rendered by a webserver
As normal webcontent, it cashes at your local Internet Server Provider, where it can be re-used, saving up to 90% bandwidth, and hence obfuscating the need for content distribution networks (like Akamai), a $3B business
Maximum coverage, the stream is rendered by all browsers and devices
For the end user there are also advantages:
No hassle with multiple formats
No player software necessary, nor plug-ins, updates, compatibility issues
Plays always, everywhere, on each device and each browser and is the only format to do so
We think that Clipstream G2 provides such a compelling cost advantage for streaming video content providers that this product will be quite a hit.
Future products
While they are concentrating on the new versions of Play MPE and Clipstream, there are a few very interesting future products on the horizon that are based on some of the same technological functions: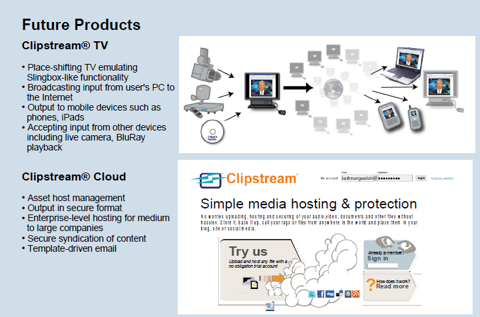 Click to enlarge
(Click to enlarge)
Risks?
We are hard pressed to think of any. The biggest "risk" would simply be that Clipstream G2 would fail to take-off completely. We find this difficult to see, since the cost advantages to content providers are very compelling. But it's a new product, from a small (albeit established) player, so we have to wait and see.
At present, there is no competition with anywhere near the same functionality, but such competition could emerge.
Even in the case that Clipstream would be a complete failure, the company has Play MPE, which is effectively a monopoly. Play MPE is now expanding geographically and entering new customer basis.
On present metrics (which involves almost exclusive revenues from the old version of Play MPE), the company is somewhat expensive, but much of the cost for Play MPE are fixed. Even a small increase in revenues goes disproportionately to the bottom line.
So we think the risks are limited, while the upside could be very large.
Conclusion
With no debt, positive cash-flow, a new expansion phase of Play MPE entering new markets and customer types, the company would be interesting on the basis of that alone (albeit rather fully valued, at present). However, the new Clipstream G2 version provides a much bigger market opportunity.
The stars seem ideally aligned for that. The public prototype version went live on August 22, the cost advantages are compelling and the streaming video market urgently needs a standard. There isn't anything like Clipstream G2 out there.
With a $40M market cap, we think this is a truly ground-floor opportunity at low risk, as the company is debt free and generates a profit and cash flow from Play MPE.
Disclosure: I am long OTCQB:DSNY. I wrote this article myself, and it expresses my own opinions. I am not receiving compensation for it (other than from Seeking Alpha). I have no business relationship with any company whose stock is mentioned in this article.