By G.C. Mays
The USDA reported that net new export sales of corn (NYSEARCA:CORN) were 108,500 metric tons for delivery during the week ending August 16th for marketing year 2011/12 and 217,000 metric tons for delivery during marketing year 2012/13, which officially begins September 1, 2012. While the sales numbers were within market expectations they have remained below year ago levels since prices began to rise in June.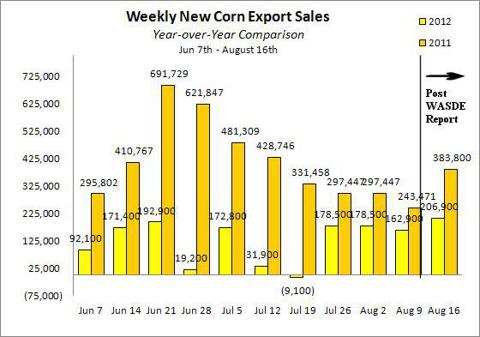 (Click to enlarge) Source: The Mays Report
Sales for delivery during the 2012/13 marketing year are down 10 percent below year ago levels. As I have written before I believe this is due to high prices zapping demand. In an article entitled "Are Unyielding Corn Prices Zapping U.S. Exports?", I wrote
When the USDA releases corn production estimates on Friday, corn prices are likely to pop. However, in my opinion there is an upper limit in the $8.00 - $8.30 per bushel range that buyers are willing to pay for US corn before it becomes cheaper to import. That limit will serve as a cap on any further price gains in corn as well as fertilizer stocks.
Immediately after the release, prices immediately soared higher to an intraday high of roughly $8.48 per bushel before returning to earth and closing at $8.09 per bushel. Since then December corn has traded between $7.92 and $8.39 per bushel.
Source: The Mays Report
After the release of this weeks export report December corn priced between $8.26 - $8.39 per bushel in pre-market trading before opening around $8.30 per bushel. I don't expect to see corn prices plummet because supplies are too low. However, I do expect them to stay somewhat range bound as some companies choose to import and beef producers choose a faster slaughter because current animal feed costs make it unprofitable for many producers to keep cattle in feedlots for the usual five months.
Just a year ago we saw high prices for corn although it was for a different reason. Debt limit issues in the U.S. saw the EUR/USD exchange rate reach $1.45 and corn $7.75 a bushel before problems in Europe sent prices lower. As debt refinancing issues for European countries lurk around the corner, we could see a more modest repeat of the same scenario.
Disclosure: I have no positions in any stocks mentioned, and no plans to initiate any positions within the next 72 hours. I wrote this article myself, and it expresses my own opinions. I am not receiving compensation for it (other than from Seeking Alpha). I have no business relationship with any company whose stock is mentioned in this article. The author has a bear credit spread on corn.