As many of my readers know, I am one of those capital structure guys, looking for value across the capital structure for the appropriate spot to invest. Recently, I saw the debt of Cisco Systems (NASDAQ:CSCO) trading and thought a look at the credit curve (their debt across time) was in order to see if any opportunities stood out.
Debt:
As said earlier, this is where this article all began. Here is the public debt I looked at (all price and yield data from FINRA):

Click to enlarge
As is clearly visible from the above table, all but the shortest debt trades at a decent premium. Expressed graphically, we can see the credit curve to determine if any of the deals look attractive versus their curve: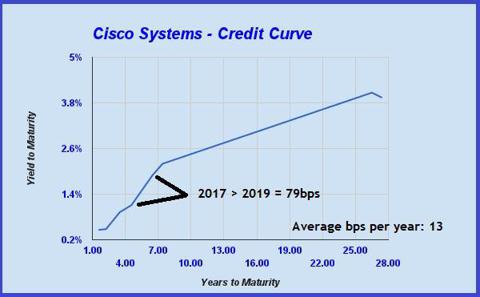 Click to enlarge
As I have marked on the credit curve, the biggest pick-up is between the 3.15% due 2017 and the 4.95% due 2019. This can be shown by the following chart from Barclay's: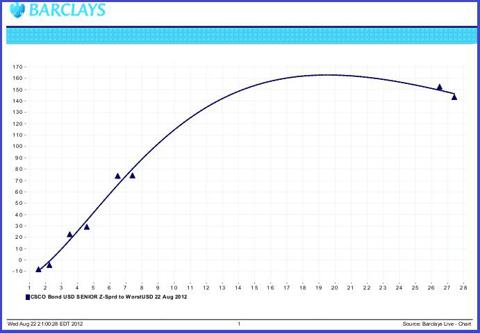 Click to enlarge
Note that the 2019 debt lies to the left of the fitted curve.
One important fact to remember with their debt is that many look at their FQ3 2012 cash horde of $48B and believe it to be available for debt service. Of the $48B, $42B is held overseas, and cannot be repatriated to service debt. That gives the company approximately $6 billion for debt service on $16 billion in debt. Add to this their ongoing share repurchases and new dividend payment and credit quality, while still "A" level, is weakening.
Equity:
Cisco's equity has been vacillating between $15-$20 for the last year: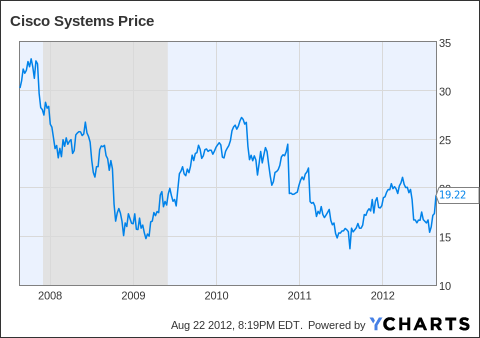 When looking for the cause of the rangebound nature of the equity, we can observe the following: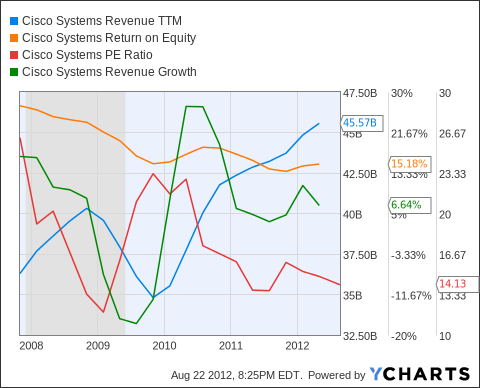 CSCO Revenue TTM data by YCharts
Apologize for the crowded chart, but the option was listing all the variables separately. From the above chart, revenue growth is solid at 6.64%, return on equity is also adequate at 15%, but the market has been reducing the company's multiple and it currently sits at 14x. The problem is that 32% of their revenues comes from switching, which is a commodity product with slower growth. the multiple contraction also results from the downward trend of the company's gross margins (61.9% FYE 2012 vs. 62.7% FYE 2011).
One thing that has noticeably changed, however, is the dividend that Cisco began paying in 2011 and recently increased that dividend from $0.08 to $0.14. During their 2012 fiscal year, Cisco paid out $1.5B in dividends. It is their intention to return 50% of free cash flow to shareholders through dividends and share repurchases.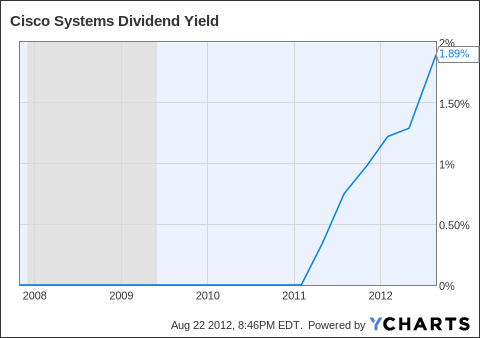 CSCO Dividend Yield data by YCharts
Bottom Line: For a dedicated fixed income portfolio, the 4.95% due 2019 are the most appealing as they are the cheapest point on the credit curve and will enjoy a roll to the five year benchmark treasury as rates are rising (favorable roll down). For an income investor that can roam the capital structure, the equity has become attractive due to its increasing dividend payout and lower earnings multiple.
Disclosure: I have no positions in any stocks mentioned, and no plans to initiate any positions within the next 72 hours. I wrote this article myself, and it expresses my own opinions. I am not receiving compensation for it (other than from Seeking Alpha). I have no business relationship with any company whose stock is mentioned in this article.
Additional disclosure: This article is for informational purposes only, it is not a recommendation to buy or sell any security and is strictly the opinion of Rubicon Associates LLC. Every investor is strongly encouraged to do their own research prior to investing.