Since the China Expert Tech (OTC:CXTI) scam last summer, I have promised myself not to touch OTC stocks again. But then there are occasional exceptions. China Yingxia (OTC:CYXI) has now made my exception since I found it to be a credible growth stock that is trading well below its book value.
At $0.67 a share (June 23 close), this stock is trading at about 0.76x its book value and 3.58 to 3.70x the company's projected earnings for FY 08 (using total diluted shares of Q1). This seems outrageously cheap for a company that, from 2005 to 2007, grew revenue by 157% ($6.18M to 15.91M), operating income by 121% ($2.76M to 6.08M), and net income by 233% ($1.84M to $6.12M).
Besides, the company projected that, for FY 2008, revenue will grow (YoY) 32.6-37.6% to $21.1-21.9M and net income will grow 47.1-52.0% to $9.0-9.3M.
The inset plots CYXI's revenue, operating income (2005-07) and net income from 2005 through 2008. For FY 2008, the midpoint of the company's projection was used.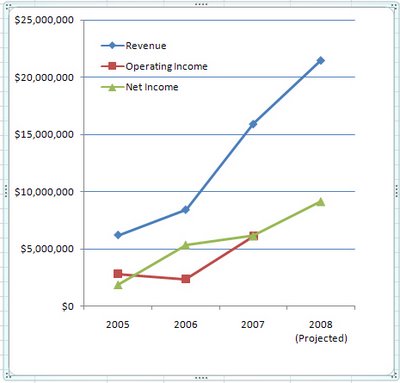 Whether the company can maintain decent growth going into the future remains to be seen. However, the company's recent undertakings and CEO Mrs. Jiao Yingxia's vision should help shed some light on it.
Late last year and early this year, CYXI acquired six soybean milk production lines, technology and marketing resources from Shanghai Jin Ao. More recently, it also acquired Chichi Wang companies in Southern China's Guangzhou City. These acquisitions will serve to enlarge the company's footprint nationwide.
The company is also serious about going international by opening its office in New Delhi, India, in the first quarter.
Perhaps the most significant event is the recent signing of a cooperation agreement with Sanitarium Australia. The agreement aims to develop China's No.1 vegetarian health food brand and was signed June 16th at the 19th International China Harbin Fair for Trade and Economic Cooperation.
The multi-year agreement resulted from five years of due diligence, pre-study, and negotiation. The sheer size of the contract, at RMB 210M, drew a lot of attention at the Green Food section of the Harbin Fair. Last Thursday (6/19/2008), Life Daily devoted a one-page special issue to cover the story as well as highlight China Yingxia's business strategy.
The signing of this agreement will kick off the development of a series of soybean-based fast food products. One major goal was to bring to market the so-called "Chinese Hamburger," which is a soybean-based, all-vegetarian "Hamburger" Mrs. Jiao conceived of as a new generation of healthy breakfast/fast food for China's vast, busy working class.
These undertakings along with Mrs. Jiao's vision in eventually having 10,000 franchise stores clearly delineate a path of sustainable growth for many years to come.
At P/B=0.76 and P/E<3.7, this stock is definitely a steal.
Disclosure: Author is long CYXI as of this writing.