Back on August 9th, I wrote an article about why I thought American Capital Agency Corp (NASDAQ:AGNC) was a better buy right now than Annaly Capital Management (NYSE:NLY). One thing I noticed among the 90 or so comments that followed were multiple discussions on the impact of rate changes.
Changes in rates will impact mortgage REITs as they will affect the financing and investing rates of the portfolio. As interest rate sensitivities are vital in the analysis of an mREIT. I thought it would be a good idea to present this data on the leading residential mortgage REITs. I have not seen an article that has just laid out the facts on this important aspect, so here is my attempt to rectify that.
The following charts are drawn from information contained within each mortgage REIT's most recent 10-Q. The mortgage REITs contained in this article are:
Annaly Capital Management,
American Capital Agency Corp,
Western Mortgage Capital Corp (NYSE:WMC),
Two Harbors (NYSE:TWO),
MFA Financial (NYSE:MFA), and
Hatteras Financial Corp (NYSE:HTS)
I realize this list does not include all residential mREITs, but these are some of the larger and well known residential mREITs. It must be noted that Annaly Capital does not use a +/-100bp rate change, but a +/-75bp change.
Net Interest Margin Sensitivity: Rising Rates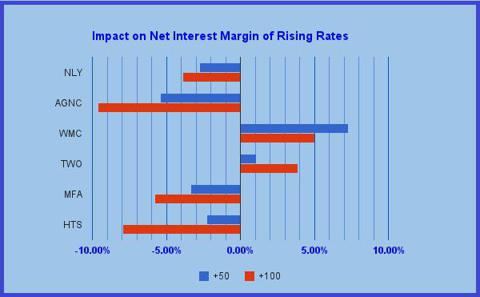 As the above chart shows, the most negatively affected mREITs are American Capital Agency and Hatteras Financial. Both Western Asset Mortgage Capital and Two Harbors do better in the even of rising rates.
Net Interest Margin Sensitivity: Falling Rates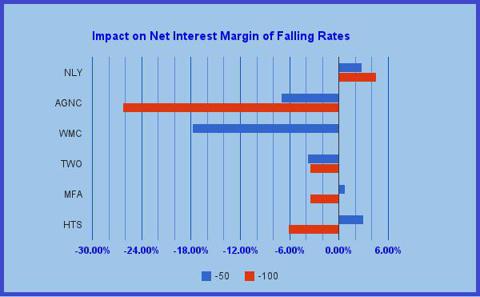 As the chart above indicates, American Capital Agency Corp and Western Mortgage Capital Corp are most negatively affected by falling rates, while Annaly Capital Management is the only mREIT that benefits from either a -50bp or -100bp drop in rates.
Net interest margin bottom line: Depending upon your interest rate outlook the above graphs should help you understand the potential change in the net interest margin of these mREITs. If you believe rates are rising, WMC and TWO might be appropriate for you. If you believe rates will fall again, NLY or HTS might be more appropriate choices. If you are looking for a balance of the two NLY should be on your radar.
Portfolio Value Sensitivity: Rising Rates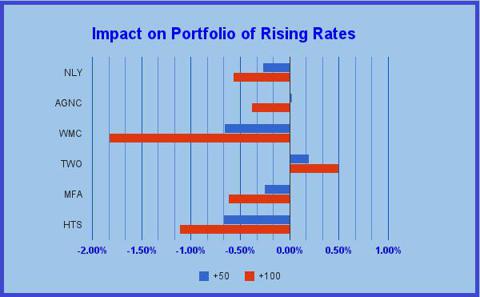 As the above chart shows, the majority of the mREITs will be affected negatively by rising rates (as one would expect). Most portfolios do not fluctuate substantially in a rising rate scenario as the most affected, WMC, drops approximately 180bps in the +100bp scenario. The only exception is TWO whose portfolio shows a value increase in a rising rate scenario.
Portfolio Value Sensitivity: Falling Rates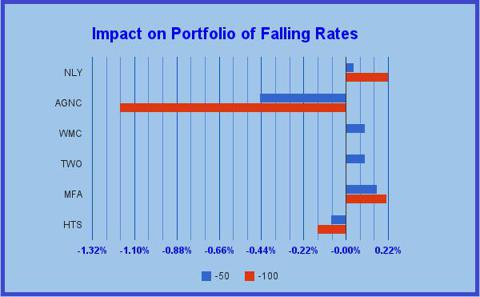 As many would expect, the majority of the residential mREITs portfolios react favorably to falling rates (albeit minimally). The exception to this is AGNC, which actually loses over 1% in the -100bp scenario.
Portfolio value sensitivity bottom line: Due to the hedging policies of the residential mREITs, their portfolios should not exhibit significant swings in the even of either rising or falling rates. Essentially, this data should be combined with the net interest margin sensitivity (i.e. not a standalone basis for inclusion/exclusion) if an investor is positioning an mREIT based on her/his interest rate outlook.
Leverage:
Leverage is a fundamental concept in mREITs, much as it is in all financial entities. If the margin you are earning is smaller (the average of the group for Q2 was 2.19%, then you magnify the income (and the return on equity) by borrowing money to buy more product. The following chart shows the leverage of these residential mortgage REITs as of June 30, 2012 and December 31, 2011 (note WMC has only one quarter of existence so there is no YE 2011):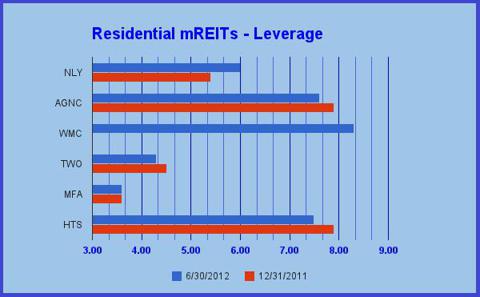 You will notice that TWO and MFA utilize less leverage, and this is due to the fact that they are using non-agency product in their portfolio as well, so leverage is less due to credit risk.
Net Interest Margins: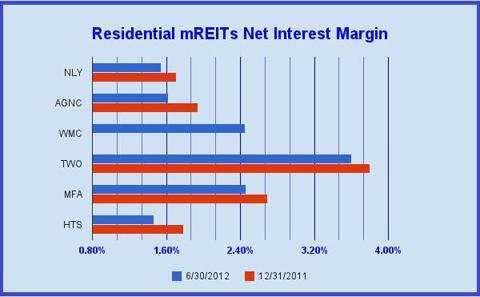 Again, TWO and MFA have higher net interest margins due to the use of credit risk (non-agency MBS) in their portfolios. As is evident, the net interest margins across the peer group have shrunk since year-end (and should continue to do so given the mortgage market dynamics).
Bottom Line: I hope this article has given an unbiased presentation of the facts and the characteristics of this peer group of residential mortgage REITs. This information should help investors - and potential investors - align their interest rate outlooks with an investment in mortgage REITs.
NOTE: Most of the sensitivities are based on parallel shifts in the yield curve, which rarely ever happens. Hedging strategies may yield different results than the modeled results due to changes in swap rates, swap levels, prepayment speeds, etc. The information collected here is from the filings of the companies themselves, so model assumptions are unknown. The use of leverage will magnify results - good and bad - and must be considered prior to investing or reinvesting.
Disclosure: I am long REM, NRF. I wrote this article myself, and it expresses my own opinions. I am not receiving compensation for it (other than from Seeking Alpha). I have no business relationship with any company whose stock is mentioned in this article.
Additional disclosure: This article is for informational purposes only, it is not a recommendation to buy or sell any security and is strictly the opinion of Rubicon Associates LLC. Every investor is strongly encouraged to do their own research prior to investing.