After watching stellar firm Antares Pharma (NASDAQ:ATRS) take a nose dive, I am alerting investors in the spirit of CNBC Jim Cramer that it is a "Buy! Buy! Buy!" if you examine the charts. Contrary to the recent bearish commentary spit out by a commentator who says he never comments on a stock below $5/share, I intend to demonstrate to investors why Antares Pharma is a great investment.
The Chart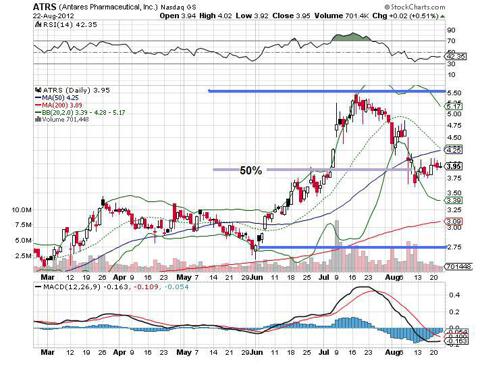 Click to enlarge
Take a long look at the chart! The RSI is bullish, but more importantly, the MACD is about to turn bullish. THIS IS A BUY SIGNAL!
The stock has retraced by 50% and whether now or later, the upside is incredibly bullish. When I see a stock retrace as much as Antares has, the upside on company fundamentals is undeniably bullish. I'd suggest to investors that any buy below $4/share is an excellent entry point.
Is There Risk Here?
I imagine if the Street.com heavy-weights came out (as they did) and piled up on Antares there will be effect on the share price. However, I'm inclined to think that a lot of funds have taken advantage of the dip to buy in on a company that is on the way up.
Irrespective of the recent dip, it hasn't changed the overall picture which is that Antares is a stellar firm. Next year, Vibex MTX will bring strength to the share price and I expect Anturol/Gelnique 3% will show sales strength in Q3 2012. While I don't want to contradict a legendary heavy-weight, I will state that I think Antares will break $5-6/share before year-end. Investors who study the charts will most likely see what I see -- a stock that has retraced and is about to make a major move to the next level.
Reason for Upside
The reason for Antares' upside is that the company's fundamentals have not changed. Taking a tip from CNBC Jim Cramer, he repeatedly teaches investors to study a company's fundamentals.
In the case of Antares, Jim Cramer's thesis would merit Antares being a "Buy! Buy! Buy!" because the fundamentals point to a firm that is on the verge of net positive greatness. Antares is about to make money in excess to its expenses. Following Cramer's thesis, that makes Antares an awesome buy.
While Vibex MTX may fail, it's highly unlikely. Already the company has reported that the study is not only going well, but the results will propel the company in 2013. Meanwhile, Vibex Epinephrine continues to move forward while other exciting medicaments are in the offing. Personally, I can almost hear CNBC's Cramer yelling, "Booyah!" to everything Antares has planned.
I remain VERY BULLISH on Antares Pharma despite its recent downside volatility. Actually, I expect the stock to break $4/share and to recapture its recent losses on speculative negativity that was not commensurate with where the company is heading.
Disclosure: I have no positions in any stocks mentioned, but may initiate a long position in ATRS over the next 72 hours. I wrote this article myself, and it expresses my own opinions. I am not receiving compensation for it (other than from Seeking Alpha). I have no business relationship with any company whose stock is mentioned in this article.
Disclaimer: Investors buy and/or sell at their own risk. For me "long" is until I sell. I do not "short" stocks. I declare that I may day-trade any stock at any time mentioned in this article. I have zero connection to Wall Street other than one penny per view from SA and my own private stock account.