Since its launch in March 2006 the CMBX Index of commercial mortgage-backed securities has helped cause capital inflow to the CMBS market to dry up, according to an analysis by Standard & Poor's.
Less than two years after its debut, trading spreads have just come down from record levels, but remain high enough to deter new loan origination, according to the analysis.
Like the ABX Index in the subprime residential mortgage sector, the CMBX is often used as a proxy for the health of the overall commercial mortgage market. The movements of the yield spreads on the various series that make up the CMBX can provide a sense of the market's current climate. Each series contains credit default swaps that are based on classes of like-rated CMBS.
While it's often used as a gauge of the market's health, the CMBX was primarily intended to create liquidity that participants in the CMBS could use for various trading or hedging strategies–including taking long and short positions at targeted rating levels.
"While the CMBX facilitated investment strategies that weren't previously available, it's only been used by a small handful of traditional investors to date," said credit analyst James Manzi, a director in Standard & Poor's CMBS group.
The unintentional result was that the large amount of activity from the relatively small number of participants has overtaken the trading activity in the cash CMBS market and pushed spreads to the point where capital inflow to the CMBS sector has dried up.
Capital was plentiful in the commercial real estate sector during the year that followed the debut of the CMBX. CMBS and CRE CDO (commercial real estate collateralized debt obligation) issuance was booming, and demand for 'BBB' and 'BBB-' conduit/fusion CMBS classes was insatiable, which pushed cash spreads on these certificates to all-time lows. Over time, however, the tight spreads pushed the "real money" participants out of the game and paved the way for hedge funds and proprietary trading desks looking to make a quick profit by buying and selling in a very tight spread range over and over.
By some estimates, CMBX trading volumes are currently 3 to 5 times that of the cash CMBS market.
CMBS issuance began to slow significantly by November/December 2007, and grew even scarcer by early 2008, primarily because trading spreads had widened well beyond the point where securitization was a profitable exit strategy. This was also the point at which CMBX spreads became the benchmarks for CMBS market spreads, since the cash market wasn't providing enough guidance, the analysis finds.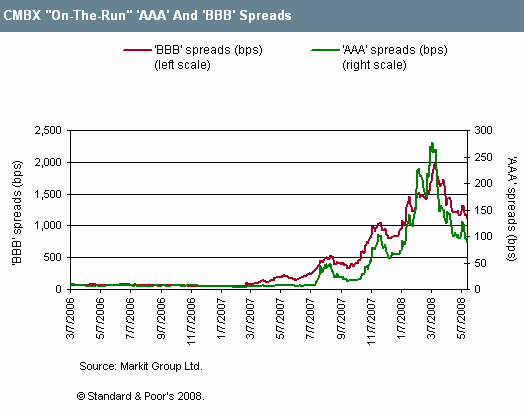 The full report, How CMBX Trading Eclipsed The Cash CMBS Markets—And The Unintended Consequences, is available for purchase.