The TJX Companies, Inc (NYSE:TJX). is a leading off-price retailer of clothing, accessories, and home fashions. Its core Marmaxx division comprises T.J. Maxx (983 stores) and Marshalls(884 stores). Other store chains include HomeGoods (374 stores), Winners (216 stores)and HomeSense (86 stores) in Canada, and T.K. Maxx (332) and HomeSense (24 stores) in Europe.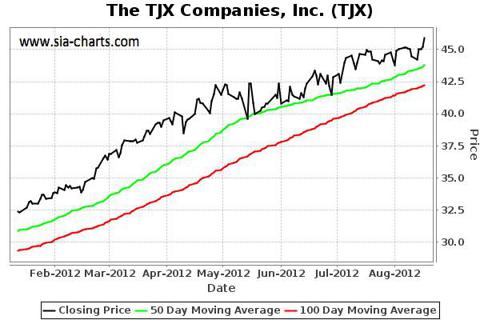 Click to enlarge
The American consumer is struggling to make ends meet these days and is constantly on the look out for quality merchandise at the right price. A high quality company that meets that need is TJX Companies. The company is extremely well run and has excellent management in place. To be able to judge for yourself how excellent they really are I would recommend you read Seeking Alpha's Transcript of the company's latest conference call. In that transcript you will notice that even in these tough economic times that TJX Companies had an amazing quarterly report.
I'm extremely pleased with our quarterly top and bottom line results. Our 24% increase in second quarter earnings per share significantly exceeded our original expectation. This marks the seventh consecutive year that our adjusted second quarter earnings per share have grown by 20% or higher. Consolidated comp increased 7%, also well above our plan, and on top of a 4% increase last year. It is great to see our momentum continue and be so broad based. All of our businesses in the U.S., Canada and Europe are on track and delivering excellent results. -- Carol M. Meyrowitz, Chief Executive Officer and Director
As an Analyst and Portfolio Manager, I like to see a company report their quarterly's in what I call "A Hat Trick":
The company beats the Street's earnings estimates
The company beats the Street's revenue estimates
Then raises their estimates or guides higher moving forward.
I have found over the years that when a company completes a "Hat Trick" that their stock price also moves higher in most cases. And when a company does not, like Aeropostale (NYSE:ARO) for example, you get their chart to look like this: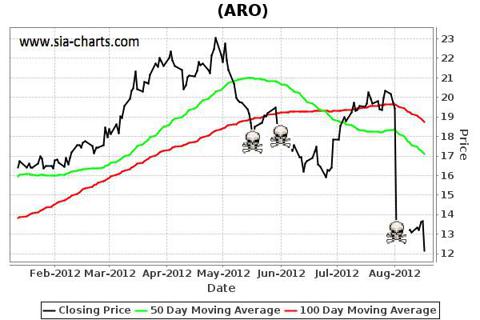 Click to enlarge
Consistency is very hard to find these days, but if you do your homework you can find companies like TJX Companies that can put up long term results like you see in the table below, from a return on equity and return on invested capital point of view: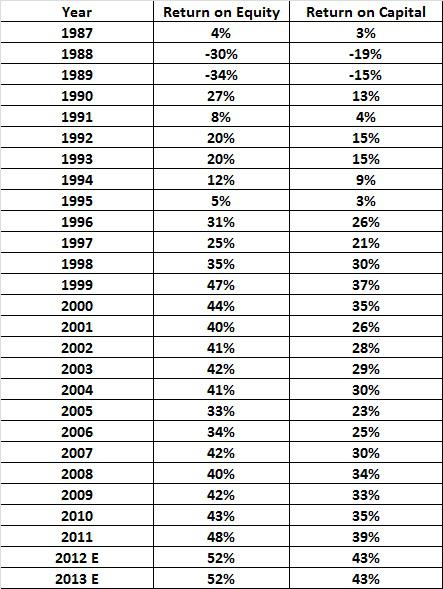 Since 1995 the company has put up some mind blowing numbers that are second to none in their industry. With return on equity expected to be in the 50+% and return on invested capital in the 40+% for both 2012 and 2013, you have a real strong performer on Main Street.
How is TJX Companies able to out-perform their industry peers and put up such consistent results year in and year out since 1995? Well they are able to do so because they have very capable management in place, who consistently take advantage of a thing called "Economies of Scale". Economies of scale is basically = Management's ability to grow sales and thus expand their store count as they do so. Because they have more stores to fill, they end up putting in larger orders through their suppliers and thus get better prices as they buy in bulk. As the price they pay per item is lower, they are able to pass on lower prices to their customers, which in turn increases volume and thus increases sales even more and just feeds the monster that is economies of scale. Two other superstar companies that are able to take advantage of economies of scale are Wal-Mart (NYSE:WMT):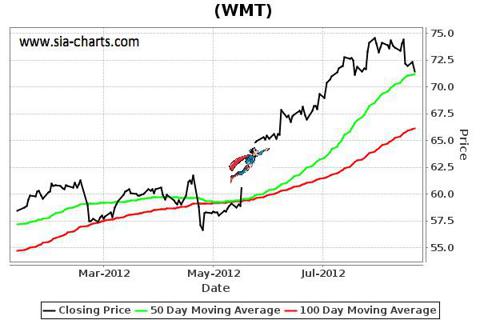 Click to enlarge
And Costco Wholesale Corporation (NASDAQ:COST)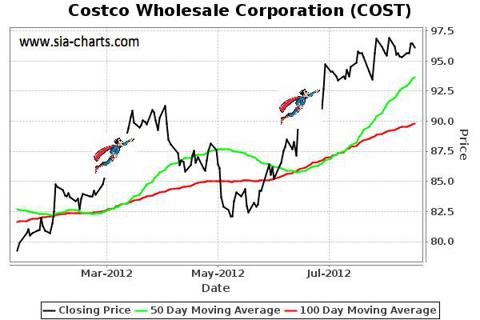 Click to enlarge
So if you want to find retailers that are strong investments, then always look for consistency in their financial results and that their management has mastered the art of economies of scale by continuing to expand their operations by adding new stores. When a retailer stops building new stores then you should start worrying. One such example is Staples (NASDAQ:SPLS):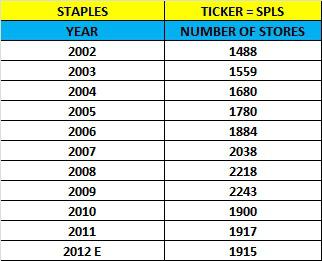 And with declining store counts you eventually end up with a chart that looks like this: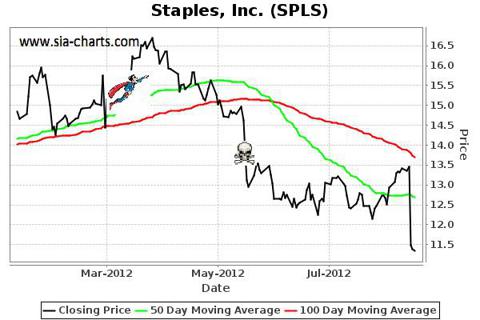 Click to enlarge
As for me I sleep very well at night having my clients invested in TJX Companies, Costco and Wal-Mart.
Disclosure: I am long TJX, WMT, COST. I wrote this article myself, and it expresses my own opinions. I am not receiving compensation for it (other than from Seeking Alpha). I have no business relationship with any company whose stock is mentioned in this article.
Disclaimer: Please note, investments involve risk and unless otherwise stated, are not guaranteed. Past performance cannot be used as an indicator to determine future results. Strategies mentioned may not be suitable for everyone. The information contained in this article represents the opinions of Peter "Mycroft" Psaras, and should not be construed as personalized investment advice. Before acting on any information mentioned, it is recommended to seek advice from a qualified tax or investment adviser to determine whether it is suitable for your specific situation.