I recently took my Authentec Inc. (NASDAQ:AUTH) proceeds (acquired by Apple (NASDAQ:AAPL)) and reinvested them into another strong small cap name. The company is inContact (NASDAQ:SAAS) which develops cloud-based software services for the massive call center industry. Over the past 3 months, the IPO market for cloud based software stocks has been red hot and as this trend seems likely to continue it is pushing the entire sector higher. In my review of inContact I discovered that one of the world's largest investment management firms, Fidelity Management, is now the largest institutional holder of inContact shares. This makes the chance of a winning trade/investment much greater.
inContact is transforming call centers from the premise to the cloud. Proof of this is its announcement of an all-time high 69 contract adds in its most recent quarter. These 69 contracts consisted of 42 new customers and 27 expansion deals. inContact is in the right place at the right time and is poised to take advantage of business trends as call centers continue their movement to cloud. inContact said that the estimated value of its contracts increased 41% over the same period one year ago. It is calling for software sales growth of 37% for the 4th quarter 2012 over 4th quarter 2011.
I believe that one of the reasons that it will continue to have very strong market share gains and will be able to hold up to its 37% software revenue growth target is the recent hire of a key sales executive named Bill Richardson. Bill was previously with Witness Systems, where he was responsible for 200 sales heads and saw sales triple in 3 years which positioned the company for a $1 billion merger with Verint Systems (NASDAQ:VRNT). His past performances show that he's the right fit for this powerful growth company.
Part of inContact's strength lies in the strategic distribution partnership it signed with industry giant Siemens one year ago. Siemens invested $24 million (7 million shares) in the company and garnered two board seats. The agreement also guarantees a minimum of $10 million in sales in 2013 up from the previous minimum of $5 million for 2012. Clearly in Siemens, inContact has a powerful long term partner powering its cloud services. Further indications of strength were announcements that the company had formed a distribution agreement with Verizon (NYSE:VZ) and with Verint. Backed by this 1-2-3 combination, I see inContact as an industry leader and a pure play in the $8 billion call center business.
After some thorough research, I recently discovered that Fidelity had become inContact's largest institutional investor owning 3.4 million of the 44 million shares outstanding. Fidelity most recent action was to increase its stake by adding 317,000 shares over the past 3 months. After inContact's recent impressive Q2 results last week, I wouldn't rule out seeing an announcement by Fidelity in the coming weeks that it has increased its holdings to 8-9% of the company. Fidelity's ownership has increased my belief in the success of inContact and led me to believe that it has a lot more value than the street currently values it at today. Fidelity does not take pole position unless there's strong evidence that this company has pole position in its industry.
Let's take a look at some of the other companies where Fidelity was or still is the number one institutional holder and how they eventually became Wall Street darlings.
Medivation (NASDAQ:MDVN): MDVN shares have skyrocketed from $10 - $100 per share in the past 52 weeks - a ten bagger! This Israeli small cap is a pure play that saw expansion of its multiples due to its strong growth and high barriers to entry.
Lululemon (NASDAQ:LULU): LULU has been a retail smoke show over the past 3 years going from $3 - $80 per share - a life changer. This retailer is taking yoga clothing mainstream and consumers cannot get enough of these high priced articles of clothing.
Acme Packet (NASDAQ:APKT): In 2010, AKPT shares exploded from $10 - $80 per share in 18 months. Over that same period Fidelity increased its holdings from 1 million to 6 million shares - perfect timing. This telecom infrastructure play saw its price/earnings multiple explode to match its growth.
Riverbed (NASDAQ:RVBD): In 2009, RVBD shares went from $5 to $45 per share in 24 months.
Ariad Pharma (NASDAQ:ARIA): From the lows in 2009 of $1 per share ARIA is currently trading at its all time high of $19. Fidelity is still the number one holder.
Those are just a few examples of how Fidelity being the number one institutional holder in small capitalization names proved to be very helpful to other investors with less resources. Today, I see SAAS as being one of Fidelity's great stocks for 2012 - 2013 and more importantly one of our potential biggest winners for September and thru 2013.
Charts: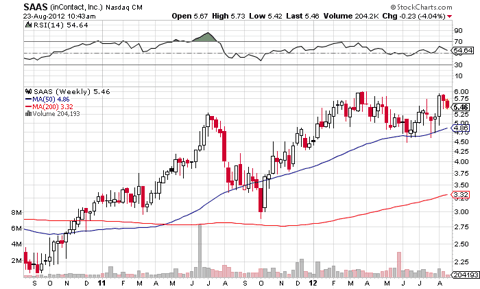 It is well known in charting circles that when a stock makes a big move it usually has three major moves up before reaching its highs. Looking at inContact's weekly chart we can see that inContact has had two big moves so far. It made a move from $2.00 to $5.25 with a pull back to $3.00, and them from $3.00 to $6.00 with a pull back to $4.50. I believe that we are in the third move up from the recent lows of $4.50 and that we could easily see it go to $9.00. A breakout above its all-time high at $6.00 would be confirmation that we are in the third major move up. With no further resistance above $6.00 the move to $9.00 could be fast.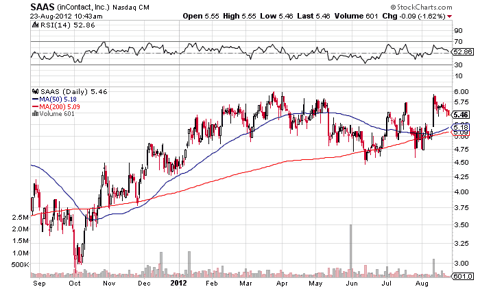 Looking at the daily chart, we see that there has been a lot of backing and filling over the past 6 months between $4.60 and $5.80. The stock has strong support in the $5.10 - $5.20 area as the 50 day moving average sits at $5.20 and the 200 day moving average resides at $5.10, or dead smack in the middle of its trading zone. I believe that once the shares break $6.00 with volume greater than 750,000 - 1,000,000 shares then it will have open skies ahead of it with no overhead resistance.
Fundamentals:
Shares Outstanding: 44 million (49.4 million - fully diluted basis)
Ownership: Siemens - 17%, Management - 12%, Institutions - ~65%
Research analysts: (4) - Buy: Target $7.44, (2) Sector Perform: Target $6.00
Cash on hand: $16.45 million
Credit line: $5.50 million
Current debt(12 mths): $3.00 million
Long term debt(July 2014): $6.00 million
Debt credit facility: $4.00 million (for IT acquisitions)
Software revenues (2012) ~$50 million
EBITDA: Q1 2012 - $955K vs. Q1 2011 - $938K
Q2 2012 - $1.2M vs. Q2 2011 - $54K
Catalysts:
· Needham could initiate coverage at any time. SAAS has been presenting at Needham's conferences over the past year. It usually takes some time for an analyst to write up an initiation of coverage so we could see this coming out soon.
· Two research analysts currently rate SAAS as sector perform with a $6 price target. The shares are close to this target price and a break of $6 with volume and news could prompt one, or both of them to upgrade the shares.
· We could hear SAAS announce a slew of new contract wins. SAAS's partners Siemens, Verizon and Verint are now fully trained in SAAS's products and their sales reps have been bringing SAAS to their thousands of customers worldwide.
· InContact will hold its 7th annual inContact Users Conference (ICUC) on October 9th - 13th where 300 plus customers, prospects, industry analysts and partners will converge to see the latest products and updates to cloud services. This year will be unique in that Siemens started fully selling inContact this past January and it will be interesting to see what companies they lure into this event. InContact's CEO, Paul Jarman, said it best in last year's Q3 conferencce call: "We had a record number of prospective customers at the conference this year and several of the contracts we signed in Q3 were a direct result of ICUC."
· Management could use their industry conference to announce high profile wins of Fortune 100 customers and allow one of the 6 or 7 research analysts that follow them to take them on a marketing tour throughout the major investment cities pre or post ICUC.
· The company could spin off, or sell non-core assets in its telecom group to align itself with a pure play model. A move like this would surely be embraced by all investors which could double or even triple the price of the shares.
· A larger software player like an Oracle (NASDAQ:ORCL), SAP (NYSE:SAP) or Salesforce.com (NYSE:CRM) could take SAAS out at a discount to the multiples of comparable software cloud companies and still bring SAAS shares into the $10 - $12 range.
Valuation:
inContact is surely not getting the proper valuation it deserves, especially when you consider that the company has a very strong, high barriers to entry product portfolio along with large institutional ownership (65%). That said, I will look into one or two recent cloud based software IPOs to compare to SAAS.
· Jive Software (NASDAQ:JIVE): The one name that jumps out is JIVE which went public a few months back. JIVE had a $1.7 billion market cap, but has since settled at around $1 billion. Jive has sales of approximately $115 million and sales growth of approximately 40%. SAAS will have software sales of $50 million and an approximate growth rate of 37%. Using Jive's metrics, SAAS could have a $500 million market cap ($10 per share) - $750 million market cap ($15 per share) in the short term on any of the aforementioned developments.
· Palo Alto Networks (NYSE:PANW). Another recent hot IPO cloud play was PANW. This company trades at 12 times next year's revenue estimates. SAAS would trade at $14 per share using a $60 million software number for 2013 (20% growth rate over 2012 even though company is guiding for 37%).
· Splunk Inc. (NASDAQ:SPLK) went public in this space and had a market cap as high as $3.7 billion and now trades with a $3 billion market cap or 12.5 times 2013 estimates. SAAS would trade at $15 per share if given the same multiples.
I believe SAAS is one good piece of news away from being $7.50 - $8.00 per share and a few weeks or months away from hitting double digits once the street uncovers this cloud in the market place.
In real estate, there are 3 words to know: location, location, location. In investing, there are 3 words investors and management of public companies needs to know: Fidelity, Fidelity, Fidelity. I'm confident that my work in SAAS will uncover value. I also believe that anyone who buys into this investment whether right or wrong can feel much more comfortable knowing that Fidelity has looked this investment over 8 ways to Sunday. I'm confident that once we see volume in SAAS the price of the shares will reflect the value Fidelity sees in it and its place in the cloud space.
Disclosure: I am long SAAS. I wrote this article myself, and it expresses my own opinions. I am not receiving compensation for it (other than from Seeking Alpha). I have no business relationship with any company whose stock is mentioned in this article.