Wal-Mart Stores, Inc. (NYSE:WMT) is the world's largest retailer, operating 3,029 supercenters (includes sizable grocery departments), 629 discount stores, 611 Sam's Clubs, and 210 Neighborhood Markets in the U.S., plus 5,651 foreign stores, mainly in Latin America, with the balance in Asia, Canada, and the U.K. Total store space = 1.037 billion square feet.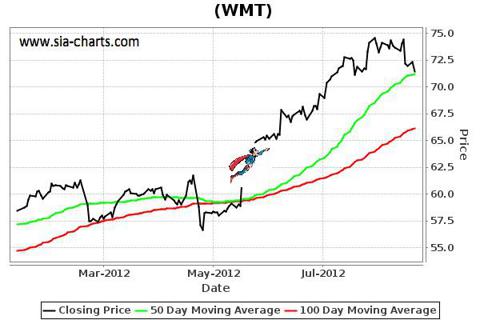 No company on earth is a better indicator of how the US economy is doing than Wal-Mart is as their cash registers perform around 200 million transactions a week or 10.4 billion transactions a year. When Wal-Mart makes a decision to open new stores, at a higher growth rate than the year before, as an investor it is important to pay close attention to this fact. But when you have two years of such maneuvers in a row then it is a real sign that good times are coming for the economy. Here is a table of Wal-Mart's track record of store openings and the growth rates associated with them.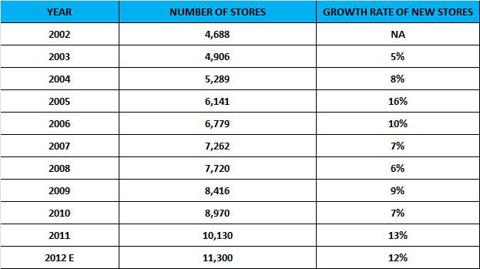 From the table above you can clearly see that Wal-Mart over the past two years has been ramping up for what it obviously sees as good times ahead. But is this growth, company specific or is it a signal for the economy in general as well? The answer to this question is quite simple in that Wal-Mart has projected sales of $475 billion for 2012 and that comes out to about 3.15% of the total gross domestic product of the USA. Therefore when Wal-Mart decides to build 1,170 new stores that means that they are going to order billions of items from manufacturers. This act alone will spur economic activity for the economy as a whole. One example may be that they will place an order for 58,500 new Keurig coffee makers (50 per store) from Green Mountain Coffee Roasters (NASDAQ:GMCR) and from the look of the chart below it couldn't come at a better time for that company.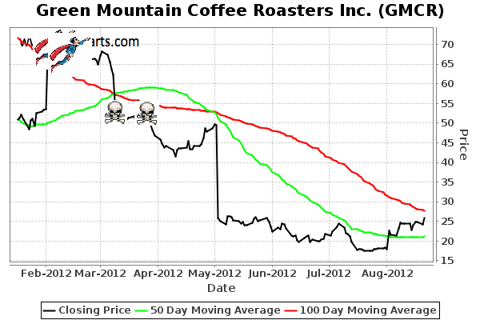 Or for a company like Clorox (NYSE:CLX), where Wal-Mart contributes to 26% of sales, this could mean an order for 250,000 items that will need to be produced just to open the stores. After that millions upon millions of new items will need to be shipped to Wal-Mart from just Clorox alone. Kimberly Clark (NYSE:KMB), known for supplying Wal-Mart with diapers and toilet paper products, will also benefit from Wal-Mart's expansion.
The two charts below show, as goes Wal-Mart so goes Clorox and Kimberly Clark: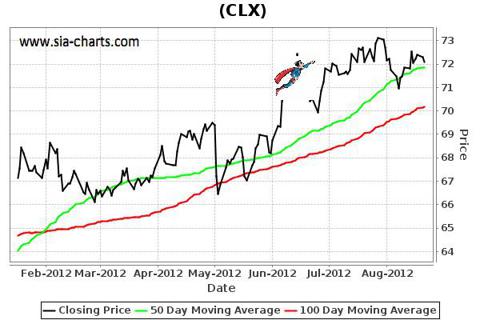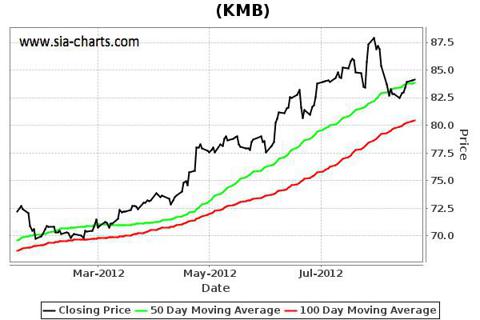 Wal-Mart's stock price as you remember back in 2008 did not fall much in the stock market crash and one of the main reasons for this was that management saw that tough times were coming ahead of time and thus slowed down their building of new stores tremendously in 2007. With each store selling over one million items, Wal-Mart deals with tens of thousands of suppliers and can thus see clearly how Main Street is doing at all times. Therefore one of the key indicators in my work is to closely track Wal-Mart's new store growth rate.
Another company that I also track new store projections, is Dollar General (NYSE:DG) because although Wal-Mart is in a lot of locations, they are not in very small towns like Dollar General is. Here is a map of Dollar General's expansion plans going forward: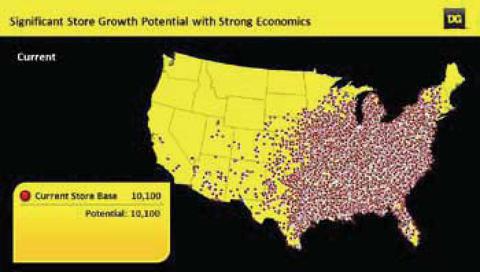 So as you can see Dollar General is only now making its way to the west coast and for them to project that they will double in size within the coming years is a very good sign for the economy as well as those invested in Dollar General as the chart below clearly shows: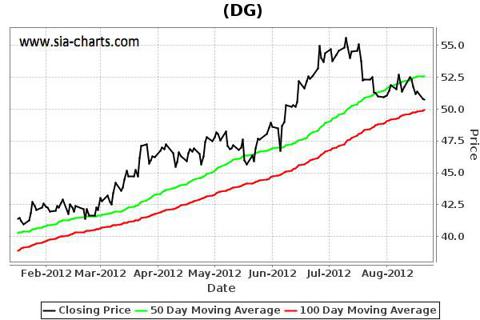 As an investor I have become very bullish recently after seeing that Wal-Mart's management has decided to expand so rapidly. I am a big fan of watching what the "Big Boys" are doing and much of my success as an investor has come from riding on their coat tails. Currently I have my clients invested in stocks at a higher percentage than I ever have before and going into the Presidential elections season I am looking for a nice bull run in stocks at least until November 6th when we find out who will be the next President of the United States. By tracking a company's new store opening growth rates you can get a clear view into what a company's management is thinking, because why on earth would they open new stores if they were seeing bad times ahead. Wal-Mart's management is clearly very bullish on the economy going forward and that's good enough for me.
Disclaimer: Please note, investments involve risk and unless otherwise stated, are not guaranteed. Past performance cannot be used as an indicator to determine future results. Strategies mentioned may not be suitable for everyone. The information contained in this article represents the opinions of Peter "Mycroft" Psaras, and should not be construed as personalized investment advice. Before acting on any information mentioned, it is recommended to seek advice from a qualified tax or investment adviser to determine whether it is suitable for your specific situation.
Disclosure: I am long WMT, CLX, KMB, DG. I wrote this article myself, and it expresses my own opinions. I am not receiving compensation for it (other than from Seeking Alpha). I have no business relationship with any company whose stock is mentioned in this article.