Toronto-Dominion Bank (NYSE:TD) has achieved critical mass in the U.S. with the acquisition of Commerce Bancorp, and although TD is now significantly more exposed to the weakening U.S. economy than its Canadian peers, there is plenty of upside from the deal, according to National Bank analyst Rob Sedran.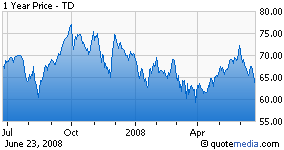 The combination of Commerce and TD's existing platform, TD Banknorth, will see TD rank in the top ten for deposit market share in eight states in the U.S., including New York, New Jersey and Massachusetts. It also increases TD's existing branch platform from 626 branches to 1,071 branches, and positions the bank to do more deals.
In a note, Mr. Sedran said:
As a result of this larger footprint, future acquisitions are more likely to carry expense synergies, allowing TD to compete for assets on a more equal footing with the large U.S. banks.
The National Bank analyst also points out that TD appears to be committed to Commerce's high-service level culture — what executives call the "wow" factor — which is a strong source of competitive advantage. The bank has already done a lot to bring Banknorth up to the high-service level model, he notes. Although TD now has more at stake in the U.S., it is mainly located in the northeast, where recent negative trends have not been as dramatic as in other parts of the country.
TD's capital position is looking tight after the Commerce deal, but unlike its Canadian rivals, "the fact TD's balance sheet has been stretched no by writedowns and losses, but by deployment, is a crucial distinction," Mr. Sedran said.
Although all the Canadian banks have suffered a fairly lackluster performance so far this year, that outlook could brighten in 2009 for TD at least. If TD hits or even beats its targeted earnings from the U.S. of $1.2-billion in 2009, there is potential upside to earnings estimates, Mr. Sedran said.
National Bank rates TD "outperform" with a C$77.00 target price.