Netherlands ETF Gives Heineken Cold Shoulder And Warms Up To Renewable Energy
It has been all quiet on the Netherlands front, so what's going on with the related ETF?
As of now, the Dutch government has set aside 7.5 billion euros ($11.6 billion USD) to invest into the energy supply between now and 2011. Top priority will be given to renewable energy, energy saving and CO2 reduction in an effort to lesson the country's dependence on oil and gas, reports Yan Liang for China View.
The energy plan states that the government wants the country's energy production to be cleaner and more diversified while remaining reliable and affordable. By 2020, the government wants 20% of energy consumed to be sustainable.
iShares MSCI Netherlands Index (EWN) does not hold any assets in energy. However, it has 29.6% in consumer goods, while Heineken has 3.4%. Will the ETF be saying "Cheers!" anytime soon? Apparently not, as the prospects for Heineken's first half results are set for release in August, and will not be anything worth celebrating, since there are weak comparables and a tough economic climate.
But go ahead, and crack a cold one, as it may help the earnings better than not. Year-to-date, the fund is down 11.8%.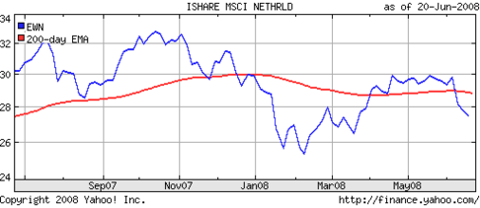 Germany's Green Ambition Could Enter ETFs
Germany has taken ambitious attempts to cut down on energy consumption, and with the government backing this serious effort, there will likely be changes within their economy and possibly, the focused ETF.
The ambitious package of measures just signed off by the German cabinet targets reduction of CO2 emissions by 40% relative to the levels seen in 1990, by the year 2020, reports Speigel Online. By taking the lead in the fight against the global climate change, Germany has set itself apart from the rest of the European nations, and set an example.
The sky-high oil prices have naturally set this plan into motion, but the oil giant BP (BP) presented a recent report in Berlin stating that Germany's oil consumption fell by a greater extent than any other country in the world.
Primary energy is defined as oil, gas, coal, nuclear power, and hydropower, and German companies and consumers lessened their use of these by 18.5 million tonnes of oil equal equivalent in 2007. This is a clear 5.6% reduction.
iShares MSCI Germany Index (EWG) does not hold assets in energy, however, it does hold 15.2% in utilities. Year-to-date, the fund is down 12.1%.
It would be far-fetched to imagine iShares Goldman Sachs Natural Resources Index Fund (IGE) or WisdomTree International Energy Sector Fund (DKA) taking a hit from this reduction, since there will always be a demand for energy in some form or fashion.
But if more countries take this "lead by example" lesson, what will the impact be? DKA holds 5.4% of assets in BP. IGE is up 11.4% year-to-date, while DKA is up 6.8% year-to-date.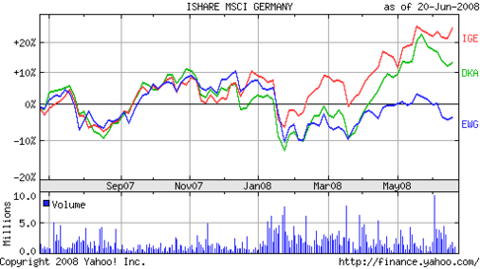 Unemployment Rate Could Drag Italy's ETF
Italy's unemployment rate is now at its highest point since the third quarter of 2006, which could weigh down its ETFs.
The rate rose to 6.5%, report Robin Pomeroy and Gavin Jones for Reuters. Economists had put their estimates around 6.1%. Italy's economy minister Giulio Tremonti said last week that the economy would grow about 0.5% this year, down slightly from the previous prediction of 0.6%.
In France, the unemployment is at 7.2% - but it's the lowest level there in 25 years.
One economist says that growth in Italy has apparently stopped, and the unemployment situation is likely to continue to get worse.
Italy also approved a tax on oil companies so it could fund aid for low-income households hit hardest by the rising food and energy prices, reports The Associated Press. Tremonti says the money from the tax will be used partly to assist senior citizens in paying for food and electricity.