As per the original article published here and last month's update that you can read here,
The Plan

$25,000 starting equity; split into 5 "streams" of approximately $5,000 each.
Will use mostly leveraged ETFs, midcaps, and a few well-known large caps.
Goal is to take 10% to 15% per trade and let the money "compound" by repeating the same process with another stock.
Unless you've read the first article and the subsequent pieces, you may assume that the Moneyball series is about an "in depth" coverage of various securities. It was not meant to do that. The articles were meant to show a "live portfolio" trading based on mechanical trading signals and share the "lessons" along the way.
As of the time of writing, Apple (NASDAQ:AAPL) closed at $630.83 (up 53.4% YTD) and the SPY closed at $140.95 against the backdrop of the Greek, Italian and Spanish gong show. Our portfolio is now worth $32,251 (up 33.0% YTD) including a cash balance of 4,061. This was down from a 55% YTD gain from last month. So what happened?

Click to enlarge
Two words: Complacency and a total disregard of my own "rules"! Before I get to what "rules" I broke, I believe a picture is worth a few thousand err...bucks!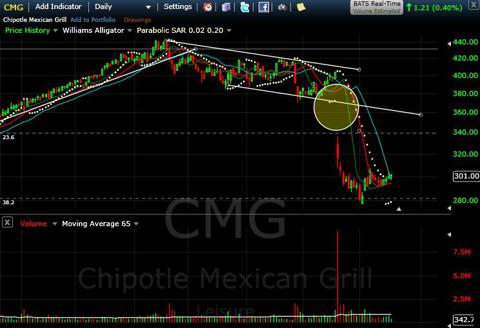 Click to enlarge
Chipotle Mexican Grill (NYSE:CMG), apparently didn't sell enough Burritos to justify its lofty valuation.
Friday, July 20, 7:47 AM Chipotle crumbles premarket after a [[weak earnings]] report yesterday that reflected a slowdown in customer traffic growth. CFO Jack Hartung also warned extreme weather may boost food costs this year and next. Shares -16.8%. (conference call transcript) 8 Comments [U.S. Economy, Earnings, On the Move]
Thursday, July 19, 4:25 PM More on Chipotle : Comparable restaurant sales +8% Y/Y vs. 10.1% expected. Operating margin 28.3%, +280 bps. 55 restaurants opened during Q2, bringing total count to 1,316. Full-year outlook: Mid-single digit comparable restaurant sales growth and 155-165 new store openings. Conference call at 4:30 ET. Shares -7% AH. (PR) 5 Comments [Earnings, On the Move, Consumer]
Outside of Apple , I rarely ever hold a position (let alone an option position) over earnings. I also rarely ever trade when I'm on an extended vacation (kinda defeats the purpose of a rest and relaxation!). I scaled back in to Apple after it bounced off its "earnings miss" induced sell off.
Sure, I can blame travel, lack of internet connection in the places I've been or too much good looking women. The bottom line is...I forgot to check that Chipotle was reporting earnings (takes less than 3 minutes to do so). This was also a great reminder on the importance of position sizing specially when it comes to option trades on stocks with rich valuations. Given that the approach to this portfolio exercise does not center around "valuation"; the nasty consequence thereafter was hardly a surprise. I have no one to blame but myself.
Addition to the portfolio:
Banco Santander (NYSE:SAN) - is a Spanish Global Bank; here is an excellent write up about it after taking into account its recent earnings results. My decision to overweight Apple and my intention to add more later dictated the less than optimal position sizing for the rest. I am holding on to my gains despite the "sell" signal that was recently generated by the system.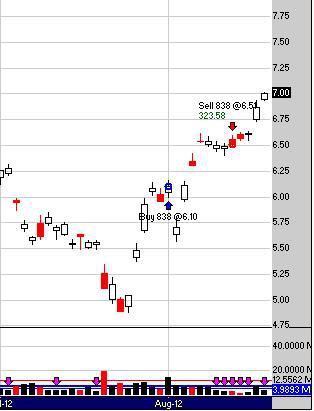 Coinstar (NASDAQ:CSTR) - recently reported earnings that disappointed the Street; here is a bearish stance on the company.
Thursday, July 26, 5:59 PM More on Coinstar's Q2: The revenue miss was due to Redbox sales (affected by seasonality) falling 9% Q/Q to $458M. Guidance (accounts for NCR deal) is mostly in-line. Coinstar expects Q3 revenue of $550M-$575M and EPS of $1.09-$1.24 vs. a consensus of $545M and $1.17. It expects 2012 revenue of $2.21B-$2.31B and EPS of $4.60-$4.90 vs. a consensus of $2.28B and $4.74. Between Coinstar's figures and Netflix's, DVD rental demand appears to be softening. CSTR -12.7% AH. (PR) 4 Comments [Consumer, Earnings, On the Move]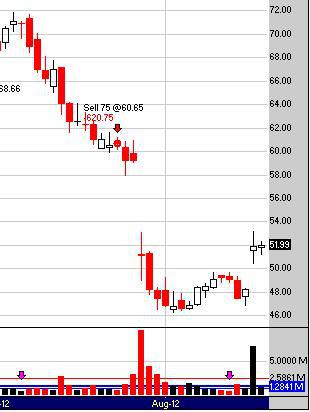 No buy signal on Coinstar as per our scans; I was breaking the rule (again) to play the bounce.
Lululemon (NASDAQ:LULU) - like Coinstar , it recently reported earnings that didn't make the Street smile. Here are contrasting perspectives for you to consider - Bull or Bear.
Thursday, June 7, 7:26 AM More on Lululemon's FQ1: Comparable-store sales rose 25% Y/Y. Direct to consumer revenue increased 179% to $38.4M. SG&A expenses as a percentage of revenue fell to 29.4%, from 31% a year ago. Sees Q2 EPS of $0.28-$0.30 vs. $0.33 and FY12 EPS of $1.55-$1.60 vs. $1.63 consensus. Shares -13.1% premarket. (PR) 1 Comment [Earnings, On the Move]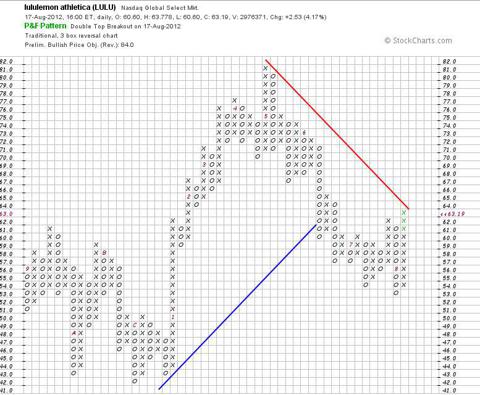 Click to enlarge
As per my previous write up on Lululemon here, I was expecting to scale in when it breaches $62. Looks like we are getting that opportunity.
Given the results YTD, I find it ironic that in my quest to search for consistent returns outside of Apple makes me think that I should stick trading with a few stocks that I know well; I was never ever good at managing to date multiple women at the same time!
Note to self: the positions are within the 15% gain parameters. Oink?
Disclosure: I am long AAPL, SAN, LULU, CSTR.
Additional disclosure: may buy and sell anytime