Roughly one year ago (9/6/2011) gold hit a spot price high of $1,921 an ounce. In mid-May of 2012, the yellow metal reached $1526 - a bearish drawdown of -20.5%. And yet, the resilient commodity has worked its way back up to $1,670 per ounce.
Numerous articles lambasted investors who demonstrated interest in owning the precious commodity at the $1,500 level. Scores of pundits belittled buyers for even attending the party, suggesting that the balloon had already burst and that more pain was ahead.
But did a balloon actually pop? I mean, was there ever really a gold bubble in the first place? Not from my vantage point.
Every asset can lose over a given period of time ... there are no sacred holdings. In fact, U.S. treasury bonds are far more likely to get clobbered going forward than gold. Why? Because there's nearly complete buy-in on bonds being good, whereas there are plenty of doubts about the benefits of owning precious, shiny, transition metals.
Think about it. At every level, there are gold lovers and haters. That includes billionaires like Soros (lover) and Buffett (hater). Without complete "buy in," gold may reascend the wall of fiat currency worry and/or respond favorably to genuine global demand.
On the other hand, people believe bonds are safe. Unsophisticated investors typically look at 1, 3 and 5 year performance numbers, determining that U.S. treasury bond ETFs have been a less volatile success story. Friends and relatives will talk about having slept soundly at night, bragging about their bond funds and about having left the stock market. Moreover, U.S. treasuries enjoy a special place in the minds and hearts of every type of investor as a "risk-free" asset.
Which asset type - gold or U.S. treasuries - genuinely exhibits more characteristics of a bubble or a balloon?
I am not suggesting that a treasury bond bubble is on the cusp of breaking. In fact, in the short-term, treasury bonds may have a bit more to run. (Review "Are Treasury Bond ETF Investors Beginning To Panic?")
I am suggesting that the $1.5 billion in new assets under management for the SPDR Gold Trust (NYSEARCA:GLD) in the last two weeks may be a positive indication. Similarly, the 50-day slope for GLD is positive and the current price just climbed above a 200-day trendline.
Click to enlarge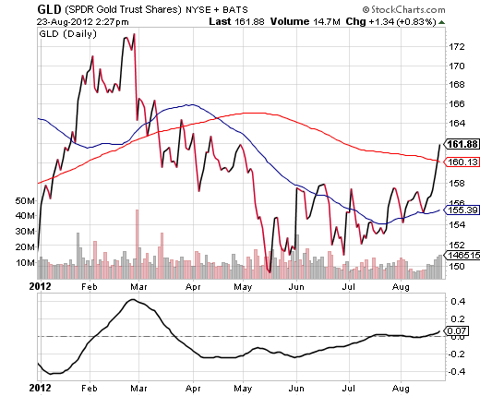 There are other signs that the gold bull may have returned. The $21 billion PIMCO Commodity Real Return Fund recently raised its stake by 9%. Soros Fund Management LLC doubled its SPDR Gold (GLD) holdings between 3/31-6/30. And who could argue that the probability of more Fed stimulus is likely to boost gold's prospects.
Of course, there's also the ongoing European debt dilemma alongside a possibility of inflation returning. Yet neither of those concerns represents a guarantee that gold ETFs will appreciate in price.
It follows that if you conclude that gold is a sensible investment, know how to protect yourself from the possibility that you might be wrong. Whether you use a particular hedge strategy with ETFs, stop-limit orders or options, your plan to reduce risk must extend beyond your "gut."
Disclosure: Gary Gordon, MS, CFP is the president of Pacific Park Financial, Inc., a Registered Investment Adviser with the SEC. Gary Gordon, Pacific Park Financial, Inc, and/or its clients may hold positions in the ETFs, mutual funds, and/or any investment asset mentioned above. The commentary does not constitute individualized investment advice. The opinions offered herein are not personalized recommendations to buy, sell or hold securities. At times, issuers of exchange-traded products compensate Pacific Park Financial, Inc. or its subsidiaries for advertising at the ETF Expert web site. ETF Expert content is created independently of any advertising relationships.