At a time when discretionary spending on luxury brands is taking a toll on companies like Ralph Lauren (NYSE:RL), which has European exposure, and on mid-priced retailers like Kohl's (NYSE:KSS) because of a consumer shift to discount stores, Fossil's (NASDAQ:FOSL) latest earnings performance came as quite a surprise. The company was able to beat analyst estimates of $634.86 million for revenues and $0.778 for EPS, when it posted revenues of $636 million and EPS of $ 0.93 for Q2 2012. The shares rose 34%, and this rise is helped by the fact that the company did not cut its Europe revenue guidance any further, along with the fact that the weak outlook had already been priced in after the first-quarter results (~37% decline in May).
We advise against buying Fossil based on the recent sharp increase in price, as the company will still suffer from macroeconomic headwinds. We advise to wait until the end of Q3, when we will get a better idea about the initiatives (Asian growth, jewelry line repositioning, new watches launch, and more revenue from Skagen) that the company is undertaking to drive growth.
Company Performance and Future Outlook
Fossil is a manufacturer and distributor of fashion accessories, clothing, shoes, eyewear, and watches. In 2011, 49% of its revenues came from the U.S., 33% from Europe, 14% from Asia Pacific, and 4% from other regions. 23% was comprised of direct consumer sales, which include online, third-party distributors, and its own retail store sales, while the rest are wholesale. Watches constituted the main component of revenues (71%), while the rest was comprised of leather and jewelry. The company acquired Skagen Designs, Ltd. in April 2012.
The company has a history of beating earnings. The earnings surprise of 19.6% is far more than the 5.3% surprise in the same quarter last year. The table below is the guidance that the company gave:
| | | |
| --- | --- | --- |
| | Guidance | Estimate |
| Full-year 2012 EPS | $5.29-$5.34 | $5.28 |
| Q3 2012 EPS | $1.15-$1.17 | $1.2 |
The company expects that revenues from its acquisition of Skagen will have a more significant effect from the fourth quarter onward, when the transition from third-party distribution of Skagen to Fossil is complete. This is why the sales growth for Q3 2012 is expected to be 11%, and for Q4 2012 it's expected to be 16%, compared to the Q2 sales growth of 14.3%. In 2011, Q3 and Q4 sales grew 22.7% and 18.5%, respectively. Some sales would shift from Q3 to Q4, as the third quarter is supposed to end earlier this year, as compared to the last year.
The strategic spending in Asia last year will start to provide more significant leverage for the company from Q4. Growth in Asia is expected to continue to be 25% and higher, according to the Q2 earnings call transcript.
Only the jewelry segment will continue its downward trend in Q3. The company is repositioning the line and will re-launch it in the end of Q3. The company is also looking forward to a major watch launch for Burberry (starting at $1,000) in a few months. Online sales also showed an increase of almost 4%. The comparable same-store sales continued to show an increase for the 17th straight quarter (1.8%).
The company has $300 million in loans with maturity in December 2013. The interest coverage ratio is 124 times and the debt-to-equity ratio is a mere 1.8%. The company has a beta of 1.69, so a weak economy does take its toll on the company. The graph below gives the gross, operating and net margins summary since Q2 2011. The company's operating and net margins metrics have contracted since the same quarter last year. Gross margin is the same year over year, as revenue growth was in line with the cost of goods sold growth. Gross margins are mainly affected by the currency conversion (from euros to dollars), which is not expected to be resolved anytime soon.
Click to enlarge image.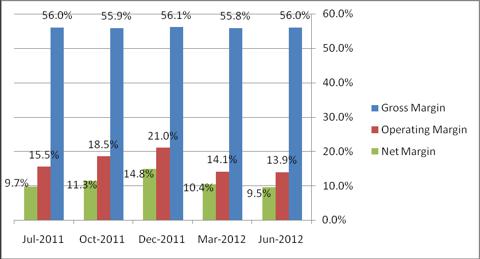 The net margin (last 12 months) for Fossil is 11.7%, which is more than its competitors like Citizen's 2.8%, Guess' (NYSE:GES) 9.5%, and Movado's (NYSE:MOV) 8%. But it's less than Coach's (NYSE:COH) 21.8% and Swatch's (UHR) 19%.
European sales are expected to increase by 2%-5% for the whole year, according to the guidance cut that was made in Q1 2012. In 2011, they grew by 27%. The good news is that the company did not cut it further as most other companies with European exposure have shown a decline in European sales. Going forward, the company expects to gain a market share in Europe, based on Skagen's performance, new brands and categories.
Valuation
There were mixed reactions to the earnings news, with some sell-side analysts cutting their price targets, while others raised theirs. Citigroup cut its rating to neutral from buy, while raising its price target to $100 from $88. Benchmark raised the price target to $105 from $85, with a buy rating.
The forward P/E is 15 times, compared to Coach's 14 times, Guess's 11 times, Fifth and Pacific's (FNP) 44 times, Citizen Holding's (7762) 11 times, Swatch Group's 14 times and Movado's 18 times.
The long-term EPS growth for Fossil is 19%, compared to COH's 14%, FNP's 11%, MOV's 12%, UHR's 10%, Citizen holding's 27%, and GES' 11%.

We recommend buying Fossil only when the planned initiatives discussed in this article begin to show their desired effect, and the company navigates through the macroeconomic headwinds in the coming months.
Disclosure: I have no positions in any stocks mentioned, and no plans to initiate any positions within the next 72 hours. I wrote this article myself, and it expresses my own opinions. I am not receiving compensation for it (other than from Seeking Alpha). I have no business relationship with any company whose stock is mentioned in this article.