The Israel financial daily Globes is reporting that email animation company Incredimail (MAIL) wants to reprice options for five senior managers. The company which works in the space of email animation, clearly has a problem distinguishing between reality and fiction.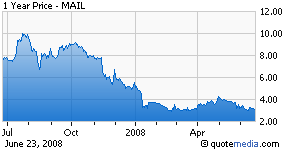 The stock is down more than 40% YTD, there was a management shakeup, issues with Google (NASDAQ:GOOG), and senior management wants to re-price their options - I don't know. Are they planning to sell the company for some kind of premium and attempting to make a boatload of money on the transaction, while all investors will see, is a slightly lower tax loss?
According to the article:
The options are held by Incredimail CEO and director Ofer Adler, who is the company's largest shareholder, president Yaron Adler, the company's second-largest shareholder, chairwoman Tamar Gottlieb, and directors Yair Zadik and Gittit Guberman.
I would understand if the company wanted to reprice employee stock options [ESOP] as it would want to retain its employees, but senior management? My hunch is that most investors wouldn't mind if senior management was let go. Why should these executives profit when investors have seen tremendous losses? Why should two directors and the chairwoman get their options repriced?
Just today, IOI spoke with a hedge fund manager who said that this highlights what many view as the flaw with Israeli companies - they have great technology but the management is inexperienced and can't take the company to the next level. Then they operate as if no one is watching and try to and make out like bandits. Newsflash: This doesn't play well on Wall Street.
The company will hold a general meeting on July 17 to vote on the proposal. Investors should think long and hard about how to vote.
Disclosure: The author's fund has no position in any stock mentioned as of June 24, 2008.