Addex Therapeutics (ADXN.SW) (OTC:ADDXF) is developing dipraglurant, an oral negative allosteric modulator (NAM) of the metabotropic glutamate receptor 5 (mGluR5), for the treatment of Parkinson's disease levodopa-induced dyskinesia (PD-LID). The company reported encouraging phase 2a data with dipraglurant in PD-LID in March 2012. On August 22, 2012, management held an update call with analysts to discuss the first half 2012 financials and plans to move its two candidates, dipraglurant and ADX71149, forward.
For this article, we will focus solely on dipraglurant for PD-LID. Management plans to meet with the U.S. FDA in the fourth quarter 2012 to outline the protocol for a phase 2b program to start in early 2013. The company is also guiding to a partnership for this program, with a larger pharmaceutical company, by the end of the year. We think this has the potential to send shares of Addex significantly higher. Below we provide a quick background on Parkinson's disease, the PD-LID opportunity, and why we think investors should start paying attention to Addex.
Parkinson's Disease
Parkinson's disease (PD) is a neurodegenerative brain disorder that results from the death of dopamine-generating cells in the substantia nigra region of the midbrain. PD is also characterized by the accumulation of a protein called alpha-synuclein into inclusions called Lewy bodies in neurons. The cause of PD is generally idiopathic, although some atypical cases have a genetic origin. The disease is named after the English doctor James Parkinson, who published the first detailed description in An Essay on the Shaking Palsy in 1817.
PD patients often exhibit marked reduction in motor control and an increase in parkinsonism (tremors, hypokinesia, rigidity, bradykinesia, and postural instability). However, as the disease progresses, patients often exhibit non-motor symptoms that include autonomic dysfunction, neuropsychiatric problems (mood, cognition, behavior or thought alterations, psychosis), and sensory and sleep difficulties. Parkinson's disease psychosis (PDP) is common in nearly 50% of PD patients a decade after initial diagnosis. Anxiety and depression are common co-morbidities. Initial signs of PD include shaking, loss of smell, difficulty writing, trouble sleeping, constipation, and poor posture. Diagnosis of a typical case is mainly based on symptoms, with tests such as neuroimaging used for confirmation.
…Treatment Options…
There is no cure for PD. Instead, physicians attempt to manage the symptoms of the disease through a multidisciplinary approach that may include pharmacological, social, and surgical options. The most common pharmaceutical treatment options are those which look to increase the level of dopamine in the brain. These include dopamine replacement therapies (DRT) combined with dopa decarboxylase inhibitors, dopamine agonists, and MAO-B inhibitors. The treatment option is often tailored specifically for the patient based on the stage and severity of the disease and the balance between good symptom control and side-effects resulting from enhancement of dopaminergic function.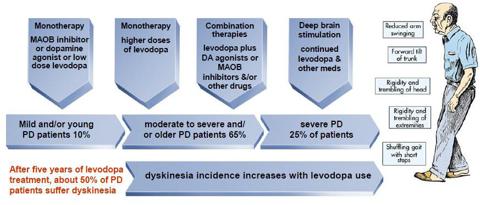 The most commonly used DRT therapy is Levodopa. It has been available for over 30 years. Levodopa (L-DOPA) is converted into dopamine in the dopaminergic neurons by dopa decarboxylase. The administration of levodopa temporarily diminishes the motor symptoms associated with the lack dopamine in the substantia nigra. Unfortunately, only about 5-10% of L-DOPA crosses the blood-brain barrier. The remainder is often metabolized to dopamine elsewhere, causing a variety of side effects including nausea, dyskinesias and joint stiffness. Carbidopa, a dopa decarboxylase inhibitor, is commonly doses with Levodopa to prevent L-DOPA metabolism before it reaches the blood-brain barrier. In fact, co-formulations of Levodopa/Carbidopa (Sinemet) are available.
Despite these co-formulations, Levodopa carries significant risk of side-effects, including dyskinesia. As a result, despite its effectiveness in reducing motor symptoms associated with Parkinson's disease, physicians often attempt to delay Levodopa therapy until the disease progresses to a more moderate-to-severe stage. Most early-stage PD patients start out on MAO-B inhibitors and / or dopamine agonists, or low-dose Levodopa. However, PD is a progressive and degenerative disease, and patients typically progress to the point where starting Levodopa or increasing the Levodopa dose is necessary in five years after initial diagnosis. After a decade on therapy, almost all PD patients require high doses of Levodopa, as well as surgical options including deep brain stimulation (DBS). As the dose and use of Levodopa increases, the incidence of dyskinesia also increases.
Levodopa also has a relatively short half-life, requiring dosing averaging three to four times a day. Peak plasma concentrations of Levodopa occur 60 to 90 minutes after dosing. Unfortunately, this is also when peak side effects such as dyskinesia occur. The hefty dosing requirement of Levodopa creates compliance issues, especially at night when patients may sleep through their dose schedule - dosing every six hours. The peaks and troughs associated with Levodopa create significant "on" and "off" treatment times for PD patients.
On times are when the drug is in their system and they may be experiencing dyskinesia, and off times are when the Levodopa has left their system and the patient may awake in a frozen or rigid state. Slow or controlled release intravenous formulations exists in an attempt to smooth the peaks and troughs associated with frequent Levodopa/Carbidopa dosing, but these formulations have not proven to be more effective in relieving parkinsonism, or reducing dyskinesia. In fact, a continuous infusion of Levodopa may bring upon symptoms of dyskinesia at a greater rate than quick-release / immediate release oral formulations.
Levodopa-Induced Dyskinesia
Levodopa-Induced Dyskinesia (LID) is a major side-effect of Levodopa use. LID is characterized by hyperkinetic movements, including chorea (abnormal involuntary movement), dystonia (sustained muscle contraction, abnormal posture), and athetosis (involuntary convoluted movements). It is most common at times of peak L-DOPA plasma concentrations (peak-dose dyskinesia), although it may also occur when plasma concentrations of L-DOPA rise and fall (diphasic dyskinesia) or during off-time (off-period dystonia).
In the U.S., there are an estimated 500,000 to 1 million patients suffering from Parkinson's disease. There are no approved treatment options for PD-LID. Approximately 50% of PD patients will experience LID after 4 to 6 years on L-DOPA therapy. The number rises to 90% after 10 to 15 years on L-DOPA therapy.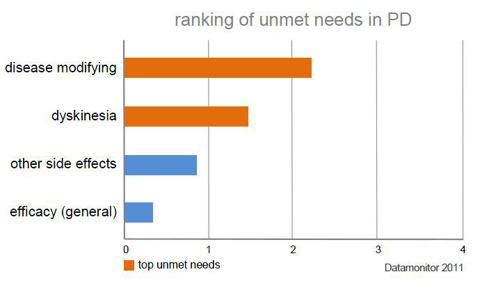 It is a significant problem for patients and physicians seeking treatment for PD. In fact, a survey of key opinion leaders (KOLs) in the Parkinson's treatment space showed that dyskinesia is the most important unmet medical need in the treatment of PD after a disease modifying agent (Datamonitor 2011).
The most common treatment for LID is to reduce dose on L-DOPA. However, reducing dose on L-DOPA causes increased parkinsonism and worsening motor performance. Therefore, once established, LID becomes difficult to treat.
Dipraglurant
During the neurodegenerative process of PD, loss of striatal dopaminergic neurons results in an increase in gluatamatergic output from the substantia nigra. It has been shown that mGluR5 are abundant in the striatum and implicated in the excess glutamate activity observed in patients with PD. In fact, mGluR5 are the only mGlu receptor type involved in substantia nigra neuronal depolarization. Addex Therapeutics has demonstrated that blockade of mGluR5 has anti-PD and anti-dyskinetic effects in a variety of animal models as well as early trials in patients.
…Preclinical Data…
Addex, through a partnership with Motac Neurosciences, has conducted significant proof-of-concept work with dipraglurant (and other mGluR5 NAMs) in animal models. Motac is a private, UK-based company that provides highly-specialized services for the pharmaceutical and biotechnology industry to support the discovery and development of therapeutics for neurological and psychiatric disorders. Motac personnel have extensive expertise in neurodegenerative conditions, particularly Parkinson's disease and other movement disorders. Motac also has an intellectual property portfolio protecting a number of novel therapeutic targets for movement disorders, which it is developing through strategic alliances and partnerships.
In a preclinical model of Parkinson's disease levodopa-induced dyskinesia (PD-LID), designed to be predictive of efficacy in humans, dipraglurant (immediate release 3, 10, and 30 mg/kg) or placebo was administered 30 minutes prior to Levodopa in a 4-way crossover protocol. Behavior was recorded upon Levodopa administration and video was reviewed by trained observers. Dyskinesia (chorea and dystonia) as well as Parkinson's disability were scored during the first 10 minutes of every half-hour period over two hours. Results (presented below) show a marked and statistically significant reduction in dyskinesia symptoms on the 10 and 30 mg/kg dose.
Pharmacokinetic (NYSE:PK) and Pharmacodynamic (PD) data demonstrated predictive efficacy in humans with LID at an effective concentrations of approximately 1000 ng/ml. Since LID occurs most commonly at peak L-DOPA plasma concentration (peak-dose dyskinesia), Addex has designed an optimal formulation of dipraglurant that mirrors the clinical PK/PD of Levodopa (CMax of approximately 1500 ng/ml). Accordingly, dipraglurant offers rapid onset of action and rapid clearance to reduce unnecessary drug exposure and unwanted side-effects. We believe the immediate release (IR) formulation of dipraglurant offers the kind of dosing flexibility that physicians treating patients with PD seek given the significant variability in Levodopa dosing per patient.
…Phase I Clinical Data…
Addex Therapeutics has conducted three phase 1 clinical studies in a total of 132 healthy male and female subjects demonstrating a desired safety, tolerability, dose titration, and PK profile.
Study 101: Single ascending dose (Part-1, n=48) and food effect study (Part-2, n=16) dosing 20, 50, 100, 250, 400, and 500 mg of dipraglurant.
Study 102: Single (100mg) and multiple (50, 100, 200 mg) ascending dose study with immediate release formulation over 7 days.
Study 102: Gender and food effect study of dipraglurant-IR in health male (n=15) and female (n=15) subjects aged 50 to 70 years of age.
…Phase 2a Data…
Based on the encouraging safety, tolerability and PK data from the three phase 1 programs, Addex Therapeutics moved into a phase 2a, randomized, double-blind, placebo-controlled study of dipraglurant-IR in March 2011. The trial screened 83 patients with moderate-to-severe LID at 25 clinical sites split evenly between the U.S., France, Germany, and Austria. Patients were maintained on a constant dose of Levodopa (300 - 1500 mg/day), and dosed dipraglurant-IR (or placebo) at the time of their Levodopa dosing over 4 weeks. Work from this phase 2a trial was supported by a $0.900 million grant from The Michael J. Fox Foundation (MJFF).
Data from the phase 2a study was released in March 2012. The primary endpoint of the study was safety and tolerability. A total of 76 patients were randomized between dipraglurant (n=52) and the placebo (n=24). After four weeks, 90% of the patients on dipraglurant (47 out of 52) completed the study. Two patients withdrew and three patients were removed for protocol violations.
- Safety Tolerability Results
The study treatment duration was 4 weeks and patients followed a dose titration regimen, receiving 50 mg doses up to three times daily in the first 2 weeks of the study until day 14; and then from day 14 to day 28, they escalated to 100 mg three times daily. Results show that both dose levels, 50 and 100 mg, were well tolerated and there were no safety concerns arising from any of the safety monitoring parameters. These include things like heart rate, blood pressure, ECG, and blood tests looking for impact on liver function. Adverse events in the study were common in both the dipraglurant and placebo arms, coming in at 88.5% and 75%, respectively. The data did show typical mGluR-type adverse events, such as vertigo, blurred vision, and a drunk feeling, but management noted that none of these were severe and did not compromise the use of the drug.

- Efficacy Results
Secondary endpoints in the study were exploratory, but centered on validated clinical measures for Parkinson's disease assessment, including the modified Abnormal Involuntary Movement Scale (modified AIMS), patient and clinician global impression of change (PGIC & CGIC), Unified Parkinson's Disease Rating Scale (UPDRS), and the Hospital Anxiety & Depression Scale (HADS).
Results on the modified AIMS scale showed statistically significant improvement on days 1 and 14, with impressive and clinically relevant reductions in the dipraglurant group on all three periods tested (days 1, 14, and 28). Management will have to control the escalating placebo response in the next clinical study, as the Day 28 data just missed statistical significance.

Interestingly, management did not notice a difference in the AIMS reduction trends for patient with an implanted electronic DBS (deep brain stimulation) device. DBS is a sort of pacemaker for the brain for patients with severe PD. This is encouraging and opens the door for potential dipraglurant use in this population.
Targeted reduction in Levodopa-induced dyskinesia severity over the entire 3 hour post Levodopa dose period (area under the curve) demonstrated solid results for dipraglurant at Day 14 (32.7%) and Day 28 (27.5%). The Day 14 AIMS AUC0-3 data was statistically significant (p=0.042) at Day 14, but missed at Day 28 due to lack of statistical powering and a meaningful reduction in the Day 28 AIMS AUC0-3 data for the placebo. This is something management will have to address in the next clinical trial, and remains our single biggest concern going forward.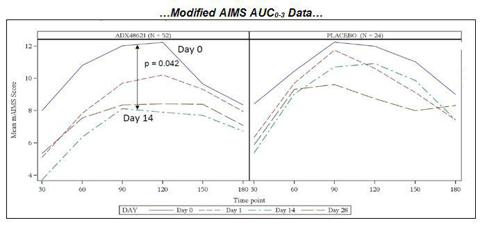 We note for the above data, patients received 50 mg TID dipraglurant on Day 1, 100 mg TID on Day 14, and 100 mg TID on Day 28. We expect that for the phase 2b program, patients will be on 100 mg TID for a much longer period of time (8 to 10 weeks). Phase 1 data suggests up to 500 mg per day was well-tolerated, so we expect the dose frequency to be increased as well. Controlling the placebo response in the phase 2b trial will be management's biggest challenge. We think there are strategies they can employ, such as a run-in period and longer duration of therapy, to mitigate placebo response.
The phase 2a trial also included 7 patients with dystonia. The data were limited, so no statistical analyses was performed, but management noted a similar response with respect to the magnitude of improvement for the 4 patients receiving dipraglurant to the response in chorea. This opens the doors to potential further studies in patients with peak dose dystonia in the future.
Patient and Clinician Global Impression of Change (PGIC & CGIC) and patient diary data also yielded encouraging results. The data showed no increase in "off" time seen with dipraglurant use - meaning that dipraglurant had no detrimental effect on the underlying Levodopa efficacy. In fact, by week 4 of the study, the mean "off" time for the dipraglurant group actually decreased by 50 minutes compared to no change for the placebo. This is suggestive of a beneficial (symbiotic) effect of dipraglurant on parkinsonian symptoms. UPDRS (motor function scoring) remained unchanged at all treatment visits during the 4 week program, again suggestive of no detrimental effect to the drug.
Similarly, an increase in "on" time effect without dyskinesia was observed for the dipraglurant group compared to the placebo in all 4 weeks of treatment. By week 4 of the study, patients in the dipraglurant group had an extra 2.3 hours per day of "on" time without dyskinesia. We find this to be highly clinically relevant, and suggestive for a potential blockbuster opportunity.
…What's Next…
The next steps for management with dipraglurant-IR for PD-LID is to partner for the registration program. Addex Therapeutics is currently seeking a partner with the expertise and capability to fully exploit dipraglurant's attractive commercial potential. This will most likely include follow-on, extended release formulations of dipraglurant for non-Parkinson's dystonia. The above phase 2a data not only clearly demonstrates proof-of-concept for dipraglurant in PD-LID, but also validates the company's research on the mGluR5 target. Management's goal is to secure a partnership before the end of the year.
From a regulatory standpoint, Addex and its partner will need to submit two statistically significant pivotal trials to the U.S. FDA and European authority when seeking approval for dipraglurant. Additional analysis of the phase 2a program has recently completed, with data presented at the Movement Disorder Society meeting. Now that the final analysis has been presented, management will step up the partnering efforts. Additional funding with the MJFF is a potential as well. Our guess is that one pivotal phase 2b will commence during the first half of 2013, followed by one confirmatory phase 3 in 2015. Addex plans to meet with the U.S. FDA later in 2012 to design the phase 2b study.
…Market Opportunity & Sales Forecast…
Parkinson's disease is the second most common neurodegenerative disorder after Alzheimer's disease. According to the National Institute of Neurological Disorder and Stroke, there are an estimated 500,000 people in the U.S. living with Parkinson's disease. The National Parkinson's Foundation estimates 50,000 to 60,000 new cases are diagnosed each year. The European Parkinson's Disease Association (EPDA) estimates another 500,000+ Parkinson's patients in Europe. According to an article published in The Lancet in June 2006 (5(6):525-35), Epidemiology of Parkinson's Disease, prevalence of Parkinson's is about 0.3% of the whole population in industrialized countries. PD is more common in the elderly and prevalence rises from 1% in those over 60 years of age to 4% of the population over 80.
Between North America and Europe, we estimate there are over 1 million addressable patients living with Parkinson's disease. Roughly 90% of these patients are considered moderate to severe in their parkinsonian symptoms, as many mild cases of Parkinson's go undiagnosed. The majority of these 900,000 moderate to severe Parkinson's patients will be on Levodopa therapy, either monotherapy or in combination with MAOB inhibitors.
Parkinson's patients and physicians feel strongly PD-LID is a high unmet medical need. After five years of Levodopa treatment, 50% of PD patients will suffer from dyskinesia. The number jumps to 90% of PD patients following 10 years for Levodopa therapy. With dipraglurant, Addex Therapeutics and its commercialization partner have an opportunity to target the vast majority of these 900,000 patients, as early as their second or third year of Levodopa therapy.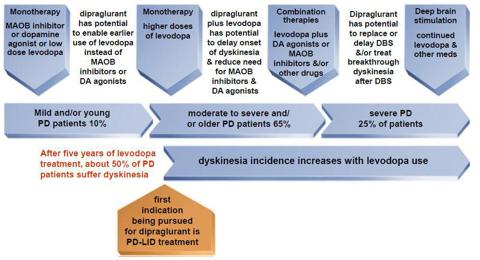 We estimate dipraglurant could cost approximately $3,000 per year in the U.S. We believe that 30% peak penetration is reasonable considering the significant nature of the problem and lack of competition from existing therapies. Peak sales for dipraglurant-IR in PD-LID are $650 million in our view.
Between North American and Europe, there are another 700,000 patients living with non-Parkinson's dystonia. The development of dipraglurant-ER opens the door to potential indications in dystonia, anxiety / depression, compulsive disorders, and other motor symptoms and movement disorders. We estimate another 1 million patient opportunity for dipraglurant-ER. This sort of follow-on / life-cycle management product could deliver peak sales between $500 million and $1 billion.
As noted above, we expect Addex Therapeutics to partner the dipraglurant molecule with a larger pharmaceutical company with the expertise and capability to fully exploit this sort of broad commercial potential. A partnership for the phase 2b trial could bring an upfront payment in the area of $25 to $50 million (USD) and mid-double digit royalties on worldwide sales. We expect a deal in the fourth quarter 2012. We think that could be a major catalyst for the shares. We believe the company plans to use this event as a springboard to a listing on the NASDAQ in 2013 (the shares are currently listed on the Swiss-SIX and OTCPK).
Disclosure: I have no positions in any stocks mentioned, and no plans to initiate any positions within the next 72 hours. I wrote this article myself, and it expresses my own opinions. I am not receiving compensation for it (other than from Seeking Alpha). I have no business relationship with any company whose stock is mentioned in this article.