In my previous post here, I recommended buying platinum. In the present article, I recommend buying platinum's cheaper relative, palladium.
The price of palladium has had a steep decline of 34.5% from its high value of $857.7 an ounce on February 18, 2011 to $561.6 an ounce on July 24, 2012. Since then, its price has rebounded 12.6%, and the last price of the leading September 2012 contract on NYMEX was on August 23, 2012 at $632.15 an ounce.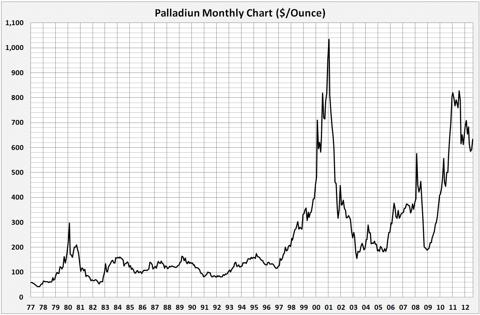 Click to enlarge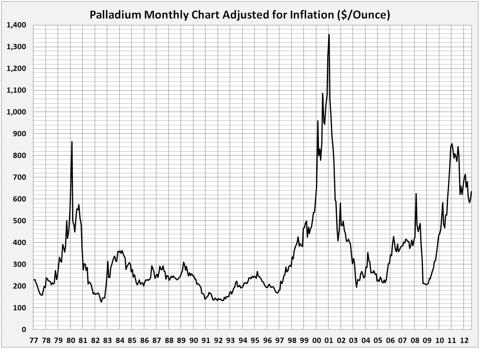 Click to enlarge
The price of palladium has suffered from the European crisis, the decline of growth rate in China and from the imbalance between supply and demand in 2011, which showed a surplus of 1,255,000 ounces, mainly due to net selling by investors, as it is shown in the charts below.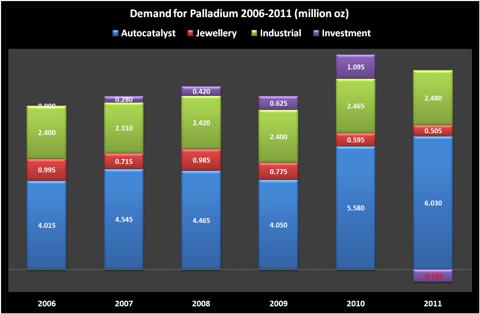 Click to enlarge
Source: Johnson Matthey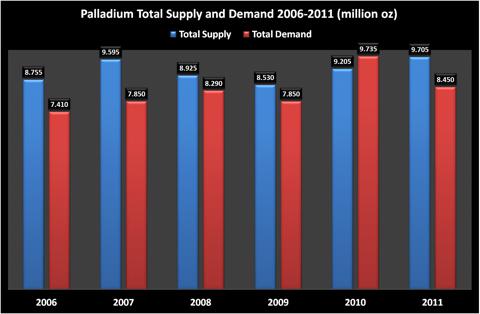 Click to enlarge
Source: Johnson Matthey
According to Johnson Matthey, in its publication Platinum 2012:
Elevated palladium prices for much of 2011 put many investors in ETFs in a position to sell at a profit. There were deep sell-offs in many of the funds during periods of falling prices in March, August, and between late September and early October, which suggests there may have been some selling as investors covered losses in other markets. With net disinvestment in the ETF market from late February onwards, total net ETF investment for 2011 was in negative territory by 530,000 oz. Together with liquidation in the coin and small bar market, the investment sector supplied 565,000 oz back to the market last year.
On August 09, 2012, Kitco news published HSBC estimates about the demand for palladium for this year and 2013. According to HSBC, because of the likely lower Russian exports, the palladium market should move back to a substantial deficit of 544,000 ounces this year, after 2011's hefty surplus of 1.255 million ounces. The palladium deficit is expected to widen to 932,000 ounces in 2013. HSBC thinks that a swing back to a deficit would support the belief that prices are likely to rally from current levels.
This opinion was expressed before the riots in Marikana platinum mine in South Africa, where 34 striking miners were killed after police opened fire on protesting workers, in the worst violence to afflict South Africa's mining industry in recent years. This incident might influence the whole mining industry in South Africa, and since this country is responsible for 35% of the world primary palladium supply, we can expect a reduce supply from South Africa.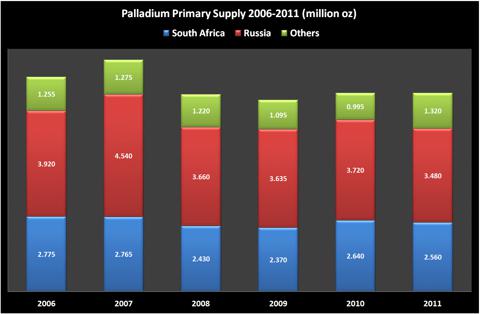 Click to enlarge
Source: Johnson Matthey
The largest use of palladium today (71% of 2011 total demand) is in catalytic converters, which are capable of eliminating over 90% of the harmful emissions from car and truck engines. And today, over 85% of new cars built in the world are being fitted with catalytic converters. At first, platinum was used in converters, but today, more and more palladium, which is much cheaper than platinum, is being used. According to Stillwater Mining:
The move to palladium for gasoline catalytic converters is complete - globally. Palladium now accounts for about 90% of all catalyst used in new applications for gasoline auto emissions. And - the substitution ratio between the two metals is one-for-one - they are virtually interchangeable in gasoline engine applications. The use of palladium in diesel catalytic converter and diesel particulate matter filter applications has advanced. At present palladium accounts for about 20% in new diesel applications.
Summary
I expect a rise in the demand for palladium, which will cause a significant rise in its price due to the following reasons:
The prospective exhaustion of Russian state stocks: in 2011 it represented about 11% of primary palladium supply, and only one more year of sales from Russian state stocks is expected .
South Africa mine industry suffers from strikes, insufficient electricity supply and mining security problems, thus an increase in production there is unlikely.
An increase in the use of palladium in catalytic converters for diesel engines, including off-road diesel equipment.
High growth in car builds rate in the emerging economies of China, India, Brazil, Eastern Europe and Russia.
How to invest
Palladium miners:
Stillwater Mining Co. (NYSE:SWC)
North American Palladium Ltd. (NYSEMKT:PAL)
Palladium physical ETF:
ETFS Physical Palladium Shares (NYSEARCA:PALL)
Disclosure: I have no positions in any stocks mentioned, and no plans to initiate any positions within the next 72 hours. I wrote this article myself, and it expresses my own opinions. I am not receiving compensation for it (other than from Seeking Alpha). I have no business relationship with any company whose stock is mentioned in this article.