On July 12th, Bill Ackman of Pershing Square Capital disclosed a new position in Procter & Gamble (NYSE:PG), which has been a catalyst for the recent rise in its stock price. On August 3, Procter & Gamble reported its Q4 2012 results. We were not surprised to see that it saw a slight 1% revenue decline in Q4 2012 versus Q4 2011 levels due to negative headwinds due to the translation of its foreign currency operating subsidiaries back into its reporting currency of US Dollars. One piece of good news for shareholders is that P&G finally completed the sale of its global snacks business consisting of Pringles potato chips.
P&G originally planned to sell Pringles to Diamond Foods (NASDAQ:DMND) for $2.35B worth of cash and stock. The deal was to be structured as a Reverse Morris Trust and consisted of $1.5B in Diamond Foods stock and the assumption of $850M of Pringles debt. Under this split-off transaction, P&G shareholders would have been able to exchange P&G shares for Diamond Foods shares. P&G and Diamond called off the transaction when Diamond ran into its accounting problems and was forced to restate its earnings and financial results. P&G did not have to despair though because Kellogg's (NYSE:K) came in and offered a better deal than Diamond. Kellogg's offered $2.695B and offered it all in cash. P&G agreed to the deal in February and closed the transaction on May 31st. P&G ended up using the proceeds to reduce outstanding short-term debt balances.
When Ackman was asked about Pershing's position in P&G, Ackman stated that he believes that he can influence management. When asked if he supported the efforts of P&G's CEO Bob McDonald to turn P&G around, Ackman diplomatically said that he looks forward to meeting him (McDonald). We sincerely appreciate the understated diplomacy that Ackman displayed in regards to Bob McDonald and P&G. We were glad that Ackman did not rattle off how P&G's EPS has been steadily declining since A.G. Lafley retired in 2009. We were also glad that Ackman did not feel compelled to discuss how P&G's cumulative revenue growth under McDonald has only been a pitiful 11% over McDonald's 3 years as CEO of the company. Plus we can't say that McDonald's tenure has been all bad since McDonald oversaw the sale of Pringles to Kellogg's and the sale of its pharmaceuticals business to Warner Chilcott.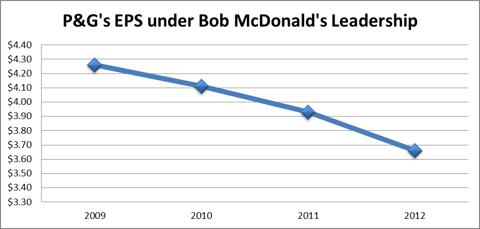 Source: Procter & Gamble's 2012 Annual Report
When McDonald succeeded A.G. Lafley in 2009 as P&G's CEO, it was obvious that he had some big shoes to fill. Lafley was successful not only for generating consistent annual growth for P&G with regards to its organic revenue, EPS and cash flows. Lafley also executed the blockbuster acquisition of Gillette in 2005. During Lafley's leadership, P&G was able to overcome its malaise of the late 1990s and helped it grow its EPS by a compounded annual growth rate of 14.8% while serving as P&G's CEO from 2000 to 2009. Lafley was able to revitalize P&G through focusing on its core brands such as Tide, Crest and Pampers rather than trying to develop some next blockbuster product. Lafley's low-key personality was credited with restoring the morale at P&G after the tumultuous mismanagement of Durk Jager as well as overseeing P&G's return to being one of the most admired companies in the world.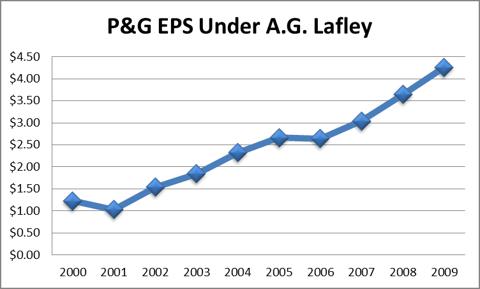 Source: Procter & Gamble's 2012 Annual Report
While P&G is still able to generate strong levels of free cash flows and has a history of returning cash to shareholders through dividends and share repurchases, it is apparent that the company has lost its way when Lafley handed power over to McDonald. Due to the severity of the economic downturn, P&G is seeing stronger competitive headwinds from private label products. We have a mixed opinion about management walking back its comments about suspending its share repurchase program in order to maintain its AA credit rating. On the one hand, we like share repurchases because it returns cash to shareholders. On the other hand, we believe that P&G's share price is fairly valued because activist investor Bill Ackman's investment in the company has resulted in a 10% boost to the stock price in the month that he has held it. Considering that P&G is trading at 17X and is expecting EPS growth of 5% in 2013, we would rather the company use excess cash flows for dividends or to reduce leverage.
In conclusion we follow P&G primarily because it acquired Gillette. We remember Gillette as an industry leading global blue-chip consumer products company and that its pre-merger headquarters was located in our hometown of Boston. Another reason why we follow it is because although Warren Buffett has recently reduced his stake in the company, Bill Ackman of Pershing Square Capital has purchased over 1% of P&G's stock through the form of direct common stock and call options. Pershing's position in P&G represents about 25% of its $7.6B portfolio as of June 30th and since Ackman disclosed Pershing's stake on July 12th, P&G's shares have outperformed the market. Ackman had liquidated or reduced a number of Pershing's positions in order to fund the new investment in P&G. We think that investors should wait until a market or company specific pull-back before entering into a long position in P&G since P&G is trading at 17X expected FY 2013 EPS and we believe that it is pretty fairly valued already. We also believe that it is fairly valued at 17X expected 2013 EPS because it is expected to generate a pedestrian EPS growth of 8.7% in FY 2014 and a middling long-term growth rate of 7.3%.
Disclosure: I have no positions in any stocks mentioned, and no plans to initiate any positions within the next 72 hours. I wrote this article myself, and it expresses my own opinions. I am not receiving compensation for it (other than from Seeking Alpha). I have no business relationship with any company whose stock is mentioned in this article.
Additional disclosure: This article was written by an analyst at Saibus Research. Saibus Research has not received compensation directly or indirectly for expressing the recommendation in this article. We have no business relationship with any company whose stock is mentioned in this article. Under no circumstances must this report be considered an offer to buy, sell, subscribe for or trade securities or other instruments.