Yesterday, Hewlett-Packard (NYSE:HPQ) released their third quarter results.
Practically speaking, nothing improved year-over-year at Hewlett-Packard according to their earnings release. Only their (relatively small) software segment improved, and that included the results of their acquisition of Autonomy, which makes the year-over-year comparison significantly less meaningful.
Quite literally, if one looks at page 13 of the release, one would get a pretty negative feeling about the company. Nearly everything declined quarter-over-quarter and year-over-year. I've replicated page 13 here: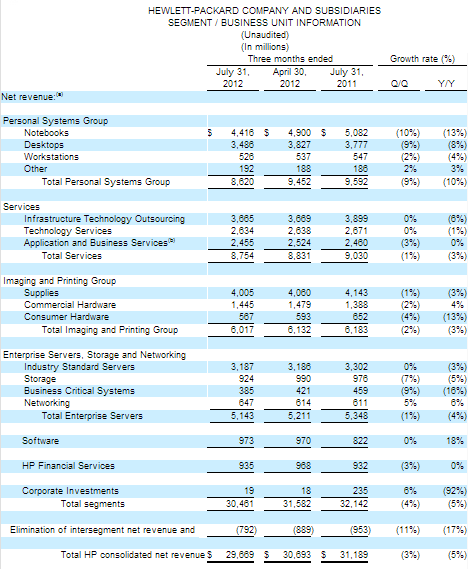 That is a lot of negative information on one page--just look at all those negative percents on the right hand side.
To further push the negative story, CEO Meg Whitman pointed to work force cuts as a sign of positive progress:
"Moving on to other parts of our restructuring, we achieved our targets in Q3 with approximately 4,000 employees leaving the company. Given the timing of the action, we saw minimal savings due to these efforts inside the quarter. However, greater-than-expected acceptance of the early retirement program has accelerated the workforce reduction program, and we now expect approximately 11,500 employees to leave the company in fiscal year '12 versus our prior estimate of 9,000." (Third Quarter Earnings Conference Call Transcript)
It is a sign of process if those employees are not needed, which is the assumption we have to make. But, those job cuts reinforce the idea that some big mistakes were made in the past.
All that said, HP's still maintained a robust, but much smaller, cash flow.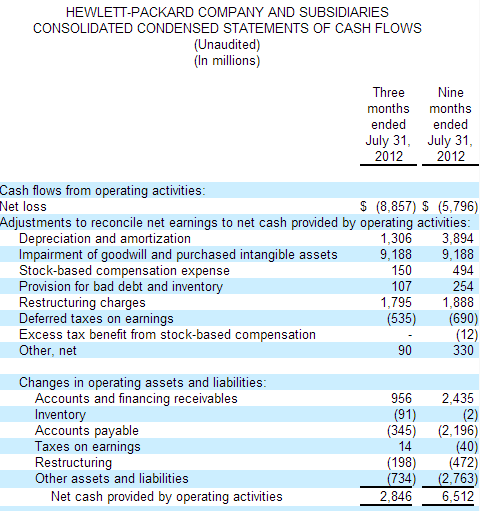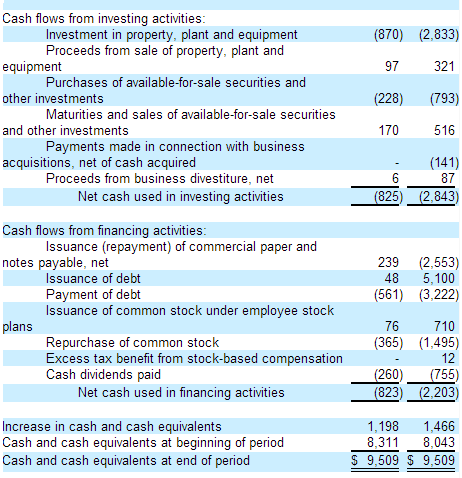 If we define free-cash-flow ("FCF") as GAAP operating cash flow less capital expenditures (or in HP's case, "Investment in property, plant and equipment"), then we get a FCF calculation like:
For nine months ended July 31, 2012

FCF = Operating Cash Flow - Capital Expenditure

FCF = $6,512 - $2,833 = $3,679 million
For the nine-month period ended July 31, 2011, Hewlett-Packard's FCF was:
FCF = $10,239 - $3,154 = $7,085 million
Basically, FCF for the last nine-months is about half of what it was last year. There are two questions we must ask ourselves:
At this rate of FCF, is HP undervalued?
What is the proper rate of FCF?
To answer #1, let us pretend that seasonality does not affect HP (it does a little bit, see 2011 10-K page 10), then we can say at the current nine month FCF rate of $3,679 million, they are on track to have FCF of approximately $4,905 million at year end. (Please ignore the conceptual weakness of using such a short historical period.)
At the current market price of $17.65, the market capitalization is $38.8 billion. If the current rate of FCF was to continue year-in and year-out, then the free-cash-flow yield of HPQ is currently 14%. That is a pretty high figure considering the free-cash-flow yield of the DJIA is 7.35% by my calculation.
To answer #2, it is very probable that many customers are waiting to "refresh" their systems because of Windows 8. For instance, Morgan Stanley found 25% of tablet buyers are waiting for Windows 8. If such a figure carries over into the PC world (consumer or enterprise), then it is quite reasonable to think that the "darkest hour is just before the dawn," and that their deteriorating revenue and cash flow are consequences of a larger industry purchase deferment, which is shortly to be reversed.
Other Points of Interest
Within the earnings call transcript, we also get a macro image of what is going on with HP around the world (as stated by Catherin Lesjak):
"In the Americas, revenue was $13.4 billion, down 5% year-over-year as reported and down 3% in constant currency. Revenue in EMEA was down 4% to $10.6 billion, and revenue in Asia Pacific was down 7% year-over-year to $5.7 billion…[Asia Pacific] was down 6% in constant currency, largely driven by continued weakness in China."
We all know that the PC segment is doing poorly because HP is behind in maintaining capital expenditures, because of the poor macro environment and, of course, because of the likely deferment of purchases going on because of the upcoming Windows 8 release. In the conference call, it was stated as:
"Total [PC] units shipped were down 10% year-over-year as we saw weakness in overall consumer demand as well as geographic softness across Asia Pacific and the Americas. By category, commercial revenue was down 9% and consumer revenue declined 12% year-over-year." (Catherin Lesjak)
Again, maybe these trends will not correct themselves, but it is very difficult to determine the effect of the forthcoming Windows 8 on PC sales.
The Impairment Charge
Impairment charges are merely accounting adjustments, but they sometimes reflect underlying trends visible to management. We get an interesting explanation in the conference call (transcript) for HP's most recent impairment charge:
"As we announced on August 8, we are recording a GAAP-only noncash pretax charge of approximately $8 billion for the impairment of goodwill within the Services segment. The impairment stems from the recent trading values of HP stock coupled with market conditions and business trends within the Services segment. We do not expect this goodwill impairment charge to result in any future cash expenditures or otherwise affect the ongoing business or financial performance of the Services segment." (Emphasis Added.)
The "impairment stems from the recent trading values of HP stock" is a peculiar statement, and, in my humble opinion, it is not a good reason for an impairment charge considering the fickle nature of the Stock Exchange (is the bipolar Mr. Market really a good guide to the value of a business segment?). Nevertheless, it is more important to focus on the other reasons listed: "market conditions and business trends." That is a very negative sentiment particularly considering the importance of the service segment (29.3% of revenue last quarter). To clarify what they mean, Catherin Lesjak continues:
"We saw strong sequential growth in the total contract signings for our Strategic Enterprise Services, which includes cloud, application modernization, security and information management and analytics. The revenue pipeline is promising, although it is not yet significant enough to outweigh the revenue declines created by the runoff of lower margins in that strategic business."
Basically, business is not as good as it has been.
Conclusion
The position and advantages HP has are eroding, but the share price might be low enough to signify a margin-of-safety with the purchase.
If one believes that these past nine-months were unique because of the upcoming Windows 8 release, then HP's operating results might look much better in the future. But, as noted above, if they can simply maintain their present position, the shares are still undervalued. Indeed, even their earnings guidance has them with a forward P/E of 4.4. HP might be under pressure for an extended period, but their current share price is very undervalued.
See my other article on HP, written when HP was trading at similar prices: Hewlett-Packard's Future Share Price: Higher Than Its 2901-Day Low?
Disclosure: I have no positions in any stocks mentioned, but may initiate a long position in HPQ over the next 72 hours. I wrote this article myself, and it expresses my own opinions. I am not receiving compensation for it (other than from Seeking Alpha). I have no business relationship with any company whose stock is mentioned in this article.