Amarin Corporation (NASDAQ:AMRN) received FDA approval for its drug, Vascepa, last month, which will primarily be used to treat cardiovascular ailments. The drug has been classified as relatively safe and more effective than its closest competitor, Lovaza. The company's top management has a reputation of being more inclined towards a sell-off rather than commercialization of its drugs. Possible acquisition news can break after the FDA's Orange Book announces its decision on AMRN's NCE classification. Therefore, we have a strong buy recommendation for AMRN.
Amarin Corporation PLC
Amarin Corporation PLC is a biopharmaceutical company that develops drugs for treatment of cardiovascular diseases. Vascepa is the company's only drug to date.
Vascepa, which received FDA approval during the last week of July, is a prescription grade omega-3 fatty acid that is used to treat cardiovascular ailments. Vascepa will be used as an adjunct diet for reduction of triglyceride by patients who have severe hypertriglyceridemia. The drug's primary competitors are relatively-less purified fish-oil products, like Glaxosmithkline (NYSE:GSK)'s Lovaza and Abbott Laboratories (NYSE:ABT)' Tricor & Trilipix. Vascepa is safer and has a higher success rate as compared to these competitors.
The market is waiting for Vascepa's FDA classification as an NCE (New Chemical Entity) or a new drug product. In case of an NCE classification, Vascepa will have market exclusivity for another five years. In case the NCE approval does not come through, this exclusivity would be limited to three years. The decision can have a short term impact on AMRN's stock price due to bad market sentiment. In case the approval doesn't come through in the future as well, AMRN can explore further options to increase its exclusivity. Investors were expecting Friday's (August 17) Orange Book to classify AMRN's product. The book did list the approval for Vascepa, but failed to mention its classification. Stakeholders will have to wait until next month at least to get an update in this regard.
Three major drugs have received FDA approval in the past few months, namely Arena's (NASDAQ:ARNA) Belviq, Vivus' (NASDAQ:VVUS) Qsymia, and Vascepa. If we look at the respective stock movements since the FDA approvals came through, we can see a decline in prices of all three stocks. For Vivus, the decline is the biggest, partially owing to a strict FDA guidance for Qsymia. A pending DEA approval for the drug also caused VVUS' decline. Arena Pharmaceuticals has declined due to an approval for VVUS, a rival obesity control product; however, in the last week, ARNA has seen a substantial gain due to buyout rumors. There are a lot of acquisition rumors around AMRN, owing to the fact that the company still doesn't have a clear commercialization strategy in place.
Table : Market performance after FDA approval
| | | |
| --- | --- | --- |
| Company | Drug | Decline Since FDA Approval |
| Arena Pharmaceuticals | Belviq | -3% |
| VIVUS | Qsymia | -19% |
| Amarin | Vascepa | -23% |
Table : AMRN price and EV
click to enlarge

Click to enlarge
The stock is currently trading at $11.8, giving an EV of $1.484 billion. There has been a constant increase in the stock price during the last 6 months due to positive news surrounding Vascepa. The last two quarterly results have missed analyst expectations by substantial margins. Last quarter, the company reported EPS of $-0.38, missing analyst estimates of $-0.15.
Acquisition Rumors
Amongst all the new drugs launched in the last couple of months, acquisition rumors related to Amarin are the strongest. Until the NCE and 889 patent statuses come through for Vascepa, we cannot give safe revenue estimates for the drug. However, it should be considered that its closest competitor Lovaza generated sales of approximately $1 billion last year. Considering the fact that Vascepa has a better safety rating and efficacy profile, it would be a choice drug for most doctors. The current CEO of Amarin is none other than Joseph S. Zakrzewski, who as COO oversaw the development and sale of Lovaza to GSK (through acquisition of Reliant Pharmaceuticals). It should be expected that in the next couple of months, AMRN will be sold to the highest bidder. Any potential acquirers will want to wait for the NCE and 889 statues to come through before placing any potential bid, as these will affect the company's valuation. Therefore, investors should expect acquisition news to break during late September or early October (after next month's Orange Book release).
Valuation
We have previously valued companies, with new FDA approvals and no current sales, using a P/E multiple of 30x. Sell side data is giving EPS targets of $0.55 for 2014. The increase in EPS estimates for 2015 is due to relatively reduced estimated marketing costs and increased market share estimates for Vascepa. The price target for 2015 using EPS estimate of $1.45 is $43.
Table : Price Targets for AMRN
| | | | |
| --- | --- | --- | --- |
| | 2013 | 2014 | 2015 |
| EPS | $0.05 | $0.55 | $1.45 |
| Price Target | | $17 | $43 |
| P/E | 30x | | |
| | | | |
Analyst Opinion
Analyst opinion about the stock has been consistent over the last three months. A total of nine analyst opinions have been considered, and all have given a buy rating for the stock. The number of strong buys has come down from 5 to 4 in the last two months.
Table : Analyst Opinion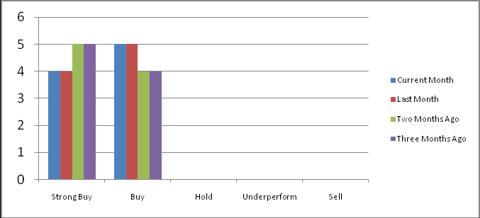 Click to enlarge
Conclusion
Regardless of an NCE approval for Vascepa, the company is a strong acquisition target. The history of its executive management and the lack of commercialization efforts both point towards this occurrence. We believe that acquisition news will break sometime in late September or early October. Therefore, we are classifying ARMN as a strong buy.
Disclosure: This article was written by Qineqt's Biotechnology Analyst. We did not receive compensation for this article (other than from Seeking Alpha), and we have no business relationship with any company whose stock is mentioned in this article. The analyst has no positions in any stocks mentioned, and no plans to initiate any positions within the next 72 hours.