As a result of the 1992 Supreme Court ruling on Quill Corp. v. North Dakota, businesses were not required to collect sales taxes on behalf of state or local governments unless the business had a nexus of operations in the state. That ruling gave a price advantage at least the size of the sales tax to mail-order and/or Internet companies over traditional bricks-and-mortar establishments.
The price advantage is not chump change. According to the National Conference of State Legislatures, states lost $18 billion in uncollected taxes in 2008, of which $7.7 billion were the result of online transactions. They estimate that lost tax revenues will jump to $23 billion in 2012, with roughly $12.5 billion coming from e-commerce.
With local retailers struggling from the price disadvantages amid the weak economy and state and local governments in need of revenues after the housing bubble crash, new laws have been enacted with limited success that force Internet retailers to collect sales taxes.
That is likely to change, however.
Click to enlarge images.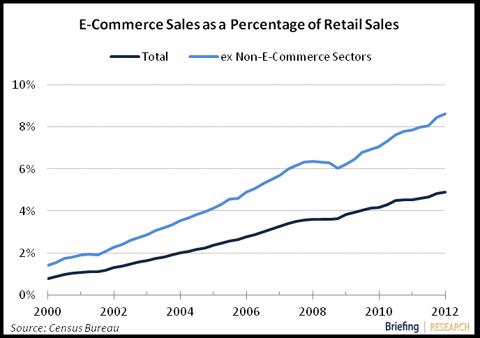 Online Vs. Bricks-and-Mortar
Amazon.com (NASDAQ:AMZN) and the state of California came to an agreement in 2011 that required the company to start collecting state and local sales taxes beginning in September 2012. Amazon agreed to set up a fulfillment center in San Bernardino. In return, San Bernardino extended tax breaks to Amazon that nearly equaled the local taxes Amazon was set to collect.
Similar agreements were negotiated between Amazon and the state of Texas, forcing the e-retailer to collect the 6.25% state sales tax on all sales starting July 1, 2012. Another agreement with the state of Nevada will call for Amazon to collect that state's 8.1% sales tax beginning on Jan. 1, 2014.
As Amazon goes, the rest of online retailing will follow.
Bipartisan support in Congress is growing to pass the Marketplace Fairness Act. Once enacted, this law would standardize the collection methods of sales taxes for online transactions, which would make it easier for companies to comply with state and local sales tax laws. Small businesses with sales of less than $500,000 would be exempt from the requirements.
There is also the Marketplace Equity Act, which is a similar bill and was introduced in the House instead of the Senate. The key difference is that this bill says small businesses with sales of less than $1 million, or less than $100,000 in a specific state, would be exempt from the requirements.
Wal-Mart (NYSE:WMT) is a proponent of the bill (one of the authors of the legislation is Republican Representative Steve Womack from the company's district in Arkansas). The company has been stepping up its lobbying efforts as it faces increasing competition from online retailers such as Amazon.
In essence, Amazon is being proactive and positioning itself for the inevitable. By negotiating peacefully before Congress acts, Amazon is able to reap the benefits of large tax breaks, whereas other online retailers will find themselves stuck with less competitive prices without any recourse.
From an Economic Perspective
Currently, the average state and local sales tax rate is over 9.6%. Yet, state and local governments are only collecting an effective rate of 6.8%. A large portion of the spread between the actual and effective rates was the result of stronger online demand, especially over the last few years. The Marketplace Fairness Act, or something similar, would mitigate some of the loss.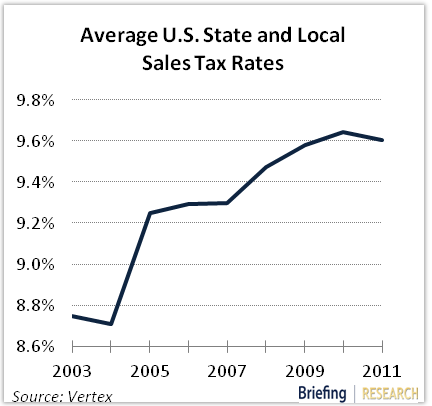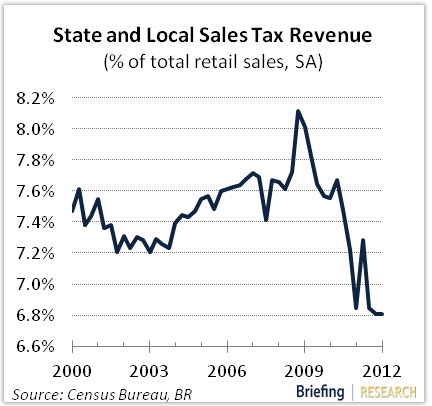 Some lobbyists for the online retailers are contending that these new requirements are actually a new consumption tax. That is not necessarily true.
All 45 states that have sales taxes require consumers to collect the tax on online transactions themselves and submit them when filing taxes each year. States, however, lack proper enforcement gauges and audit abilities. Thus, most consumers understate the sales taxes they actually owe. The benefits to state and local governments and bricks-and-mortar retailers should outweigh the decline in consumers' disposable income.
State and local governments currently have nearly $3.0 trillion in outstanding debt. While the recovery of lost tax revenue will not be enough to pay off the debt, it will help prevent more cuts to projects and services until the economy fully recovers.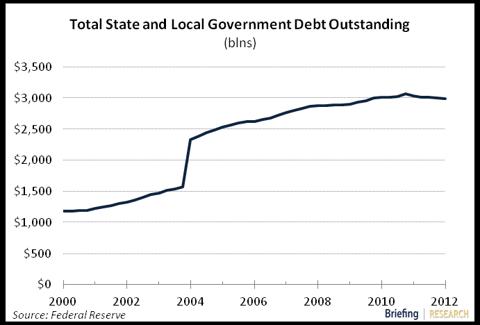 On the business side, retailers like Best Buy (NYSE:BBY) will see their prices become more competitive with online retailers. That should boost overall retail sales, increase profits, alleviate pressure to cut payrolls further, and improve hiring conditions.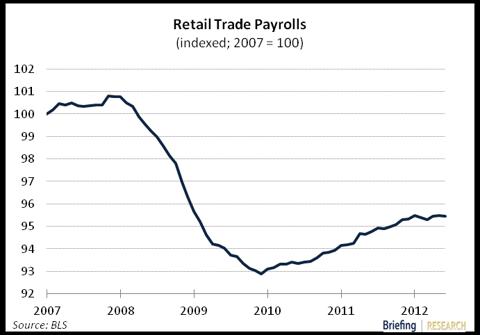 At the same time, online retailers like Amazon generally do not have large workforce or sales staff. The loss of online sales will lower online retailer profits, but should have few negative effects on overall employment levels.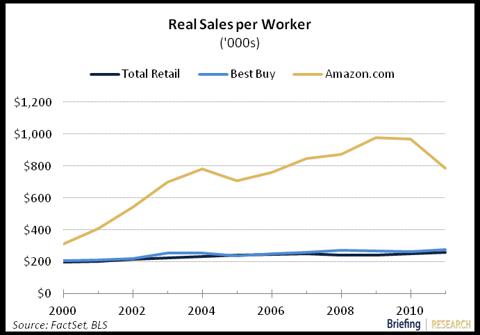 That means the collection of sales taxes by online companies should result in a net gain in aggregate wages as stronger employment levels at bricks-and-mortar establishments more than offset the potential losses from online retailers.
From a Corporate Perspective
Examples of online retailers and competing bricks-and-mortar stores include the following:
Amazon.com vs. Barnes & Noble (NYSE:BKS), Best Buy and Wal-Mart
Reports in the Wall Street Journal and the Financial Times suggest that Amazon may be deploying new fulfillment centers as a way to initiate same-day delivery. That would eliminate the main advantage that bricks-and-mortar establishments have over Amazon.
Thus, Amazon would not only see benefits from tax breaks, but demand for its products would increase as consumers are able to receive purchases without shipping delays. That thought will likely be a key point of contention going forward for bricks-and-mortar retailers aiming to level the playing field with Amazon and other online retailers.
Blue Nile said in its most recent 10-K that "net sales may be negatively affected if we are required to collect taxes on purchases and/or disclose our customers' private information to tax authorities." The company currently only collects sales taxes in Washington, New York, and certain foreign countries.
Overstock also discussed the sales tax issue in its most recent 10-K. The company said "new state tax regulations in states where we do not now collect state and local taxes, may subject us to the obligation to collect and remit state and local taxes, or subject us to additional state and local sales and income taxes, or to requirements intended to assist states with their tax collection efforts." It believes these tax collection obligations could have an adverse effect on cash flows and results of operations, as well as the possibility the company may be subject to "significant" fines or other prepayments for any past failures to comply with these requirements.
Finally, eBay (NASDAQ:EBAY) has been campaigning against federal legislation. The company is different than the online retailers mentioned above because it provides a platform for other retailers to sell products. It does not, however, collect taxes on goods or services sold by users of eBay.
The company said in its most recent 10-K that "collection responsibility and the additional costs associated with complex use tax collection, remittance and audit requirements would make selling on our websites less attractive for small business retailers, and would harm our business."
The company expects online sales tax to happen at some point. It said during its second-quarter conference call that the goal is to mimic efforts in California, where it worked with legislature to create a small business exclusion for retailers who sold less than $1 million in the state.
Conclusion
From an economic perspective, there is little negative impact -- and perhaps some positive impact -- from an increase in tax revenue and a more level playing field in the retail sector.
From a corporate perspective, the battle is only in the initial stages. As the political story plays out, other online retailers are likely to go the route of Amazon (and eBay) by negotiating regional/state agreements to mitigate the impact of potential tax increases.
At the end of the day, online retailers have gotten away with not paying/collecting taxes. Eventually, that will come to an end.
Disclosure: I have no positions in any stocks mentioned, and no plans to initiate any positions within the next 72 hours. I wrote this article myself, and it expresses my own opinions. I am not receiving compensation for it. I have no business relationship with any company whose stock is mentioned in this article.